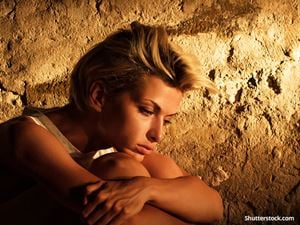 We cannot deny it. These are perilous times we are living in. You can turn on your television or scroll through your Facebook newsfeed right now and see that there is so much violence, fear and hatred in the hearts of those around us. Many feel like God has been removed from everything, especially when it comes to the public square. Courts have taken prayer out of the classroom and public institutions. The Ten Commandments have been removed from parks, schools, and courthouses. Through the banner of separation of church and state and political correctness, many institutions have succeeded in removing God from the essence of our American society. Some feel that God is absent or simply doesn't exist to take on these great challenges.
Is America becoming a secular nation? For actor Kevin Sorbo, 57, known not only for his roles in "God's Not Dead," and "Hercules: The Legendary Journeys," but also for his outspoken Christian views, the answer is self-evident. Our country is falling apart; he believes that many of the problems we are facing today are a result of our nation becoming too secular.
"We live in a really strange world with the violence going on, with all the terrorism," Sorbo said. "America is turning into a secular country."
Because we are taking God out of everything, many people in our country lack biblical and moral principles to guide them in their decision-making and hope for a better future. Sorbo spoke at a Youth for Christ event in Baltimore just days after the riot broke out and he asked those who were gathered if they believed those who were doing the destruction – the vandalizing, the looting, the destruction of private and public property – would be doing it if they had any sort of biblical principles in their life? His answer: no.
"We need something that sends a message out there to people that there is hope out there, that there's real opportunity to grow and to better yourself as a human," Sorbo said.
It's clear that the world is broken right now – full of spiritual apathy, selfishness, religious extremism, violence and terrorism, and the list goes on. But we know from Scripture that when light stands in the darkness, light always wins. Jesus said, "I am the Light of the world; He who follows Me will not walk in the darkness, but will have the light of life" (John 8:12). We also know from Joel 2:25 that God can restore what is broken and change it into something amazing. All we need is faith. We may live in dark times, but we have hope, because light always wins. At our lowest points, God is our hope and at our weakest points, God is our strength.
Sorbo believes that faith-based films can help capture a strong message of hope. While he says that faith-based films have gotten far better in recent years, he acknowledges that there is a lack of these types of stories out there.
"People are tired of the violence and the sexuality in every television show and in every movie. People don't want their kids watching that," Sorbo said. "Nighttime TV now is nothing like nighttime TV growing up."
Faith-based films prove that there's an audience out there starving for these films. The problem is, what Hollywood does with these films, Sorbo said.
"The trouble is, they do movies likes 'Exodus' and 'Noah' and hire atheist directors. That makes no sense to me," Sorbo said. "That's why these movies didn't do well. In these instances, Hollywood couldn't get it."
Sorbo believes that when you get a group of people together that actually have a belief in God, and they're doing a movie that deals with God, that the set is blessed in some degree. There are a lot of people out here that have Christian values that are making better movies and people want to see these. Movies today don't have to be heavily violent or overly sexualized to capture a large audience.
Sorbo's latest faith-based film, "Joseph and Mary," out on DVD focuses on the story of Mary and Joseph as their newborn son inspires faith in unlikely places. In the film, Elijah, a devout Rabbi, during a time of unrest when King Herod the Great's slaughter of innocents claims the lives of two boys Elijah had sworn to protect. Elijah makes it his life's mission to avenge their deaths, but when he meets Joseph and Mary and their young son Jesus, the beliefs furling his revenge are put into question.
The movie really deals with the birth of Jesus and the first years of His life. However, it doesn't cover Jesus' life as much as it covers what Joseph and Mary had to go through in terms of hiding who Jesus was given King Herod was hell bent on destroying this king who had been prophesied, Sorbo said.
Sorbo really wanted to work on this film not only because of his interest in Christian films, but also because of his interest in the direction the writers went with Joseph's story.
"People know about Mary, they certainly know about Jesus. But no one really talks about Joseph," Sorbo said.
There's little we know about Joseph given there are no recorded words for him in Scripture. We can learn a lot from Joseph's story. His actions speak louder than his words and there's a lot he can teach us through them. 
"The way that the writers went with this was really to show that [Joseph] was obviously a man of faith already and he felt more than humbled, more than blessed that he was chosen to take on this position and task so to speak as a protector of the Son of God," Sorbo said. "I think he was in awe more than anything else and I hope it comes off that way in the movie."