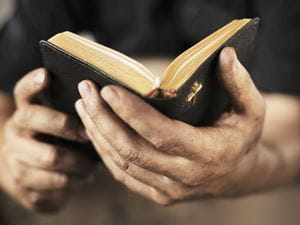 Shutterstock.com
Pastors are worn out. What many people don't realize is just how exhausting their position can be. In fact, there are many pastors who have few friends or social lives because of the nature of their work. They may even struggle with feelings of isolation and loneliness. Then, add the current political climate and social tensions to the conversation. A recent story was released in The Holland Sentinel about a pastor with more than 30 years of service who resigned "amid political tensions." Pastors are struggling with fatigue at a moment where we need them the most.
William Vanderbloemen, the founder of Vanderbloemen, the largest Christian executive search firm, took the time to speak with Beliefnet about the epidemic of exhaustion facing pastors and the surprising future of the Church in the face of this crisis.
1.) What do you believe are the biggest reasons behind exhaustion in pastors?
In the U.S. in 2020, we have faced a perfect storm of stressors that I've never seen come together at once. Obviously, the pandemic has stressed everyone and unless you were alive 102 years ago, no one as experienced anything like this. Not only is this uncharted ground, but pastors love to be around their people, like shepherds like to be around their flock. Never in the history of Christendom have pastors been forced to be so separate from their congregations.
I know the unprecedented has been the word of the year, but this year is just that. This pandemic has forced pastors to accelerate in technology and the pace with which they try new things. As most would agree, Churches aren't always the leaders in that. Arguably, the United States hasn't seen this much civil unrest since the 1960s. If you were leading a Church then, you have experience. However, nearly everyone currently pastoring isn't that old, and this is brand new ground. No matter what pastors say or don't say, they receive heated criticism from all sides. So much of it has been rooted in racial injustice, but the pandemic as augmented the stress. Finally, the political climate surrounding the presidential election has polarized groups who normally aren't. I think it may have even polarized my two dogs. Any one of these three things are hard on their own, but all three added together has created stress on everyone, left most people angry than a normal year and has left pastors struggling for what to do.
2.) Why do you think exhaustion is such a prevalent issue right now?
In addition to the reasons above, working from home has presented brand new challenges for keeping boundaries. Far too many pastors are working from the rooms where they sleep, tables where they eat and the couch where they relax and unwind. The lines between work, family, rest and leisure have been blurred because of quarantine. A recent study showed that Americans are working more hours than before. More work, plus more stress, almost assure increased exhaustion.
3.) What role do you believe politics is playing in the Church? How should pastors be responding?
The fact that I don't want to answer this question shows how pastors are paralyzed with political discussion. Every Church we represent has opinions on all sides.
Anger is intensified
Pastors are afraid of having their work torn apart and the meaning of their words twisted.
Some speaking out when they shouldn't and others staying silent just the same.
Just one more thing.
The Church has always been political. You can't do Church without justice. Pastors should lean into the hard conversations and avoid using alienating language. You can't just say you "don't do politics," just do them more carefully than ever. My prayer every morning is that I would grow in wisdom, just as Jesus did. I pray the same for pastors.
4.) What is one thing pastors wish their members knew?
That they work more than one day a week. All kidding aside, having been a pastor for many years, I don't know of any job that consumes more of a person's identity. It defines who you are, where you pray, friends, family. There's no escaping it. It is the best, but most consuming job.
5.) What are some ways that pastors can regain their passion and energy, particularly during this stressful period?
Set appropriate boundaries.
Rest.
Keep the Sabbath.
Remember that your first Parish is your family.
Practice Self-care.
I'm always amazed at how much time Jesus spent alone and with a few people, not the masses.
It's incumbent upon pastors to lay this out for themselves. No one is going to do it for you.
6.) What are some ways we can assist our pastors when they are going through an especially difficult season?
Write them a handwritten note and see how to get it delivered on a Monday morning. Mondays are difficult days and having a tangible scrap of prayer in the form of a note means more than you know.
Pay them fairly. Many churches are cutting costs financially, but this isn't the year to underpay your pastor. We've spent the past year helping Churches determine Compensation and Benefits for their team members and it has been invaluable during this season.
7.) What do you believe the future of the Church looks like after the pandemic? Are you optimistic about this future?
I'm very optimistic, but it will look different. Online services are not going away, but neither are in person services. I believe people are longing for connection with other people and as soon as it is safe, they will gather again. Churches will need to create margin, opportunity, and time for people to connect face to face. Our team at Vanderbloemen has worked a great deal to create resources for pastors to re-open their Church's in a safe and effective way.
The intensity of expectations, along with all the pressures inside and outside of the Church can really wear on pastors. This is a critical moment, not only in our nation but also in the Church. Luckily, there is hope for pastors who take out time for their own care and well-being. If you notice your pastor is struggling, support them. They need it now more than ever.