There are many stories from the Bible that are widely-known, even by non-Christians, like the events of Adam and Eve or Noah and the ark. The Bible is a huge book, though, and there is quite a lot more hidden within the pages than just those popular tales. There are additional stories that can teach us about God's love, humor, and strength.
Sometimes these stories don't show up much in our churches because they can be downright strange and weird. Others are of lesser-known miracles that God did to help those in need. There are even a few that have great lessons but would probably scare children in Sunday School more than inspiring them.
They might not come up in Sunday school, but these stories are in there. Here are some of the most interesting stories you haven't likely heard in the Bible.
---
2 Kings 6:1-7

Shutterstock.com
This story is short and simple, but it reminds us that God care about even the little things. In this chapter, Elisha and his group of friends were chopping down trees to build a house when one of the axes broke and fell into the nearby Jordan River. It sank to the bottom, stressing out one of the men who said it wasn't his and he had borrowed it. Elisha took a stick and laid it on the surface of the water. Miraculously, the axe head floated back up to the top and the man was able to get it back. There is nothing too insignificant to the Lord where He won't use His powers to help those in need.
---
---
Matthew 17:27

shutterstock.com
Some people think that the Lord may not have much of a sense of humor, but this story proves otherwise. Many times through the Bible leaders and officials would try to trip Jesus up to show He wasn't the perfect Son of God He said He was. In this passage a group of tax collectors checked to see if Jesus had paid taxes. Jesus said He was exempt, but that He and the disciples would pay anyways to avoid offending them or other further issues. When Jesus told Simon Peter where to get the money, though, He said: "Not to give offense to them, go to the sea and cast a hook and take the first fish that comes up, and when you open its mouth you will find a shekel. Take that and give it to them for me and for yourself" (Matthew 17.27). Jesus could have snapped His fingers and brought the money out immediately, but decided to make a joke of it a bit instead.
---
2 Kings 2:23-25

Public Domain
This story is a little too scary to tell in Sunday School to kids, but is a great one to remind us that we should always respect our elders. In this story it says, "Elisha went up from there to Bethel, and while he was going up on the way, some small boys came out of the city and jeered at him, saying, 'Go up, you baldhead! Go up, you baldhead!' And he turned around, and when he saw them, he cursed them in the name of the Lord. And two she-bears came out of the woods and tore forty-two of the boys. From there he went on to Mount Carmel, and from there he returned to Samaria" (2 Kings 2.23-25). Next time you see a baldheaded man, make sure you don't make a joke about them!
---
---
Numbers 22-23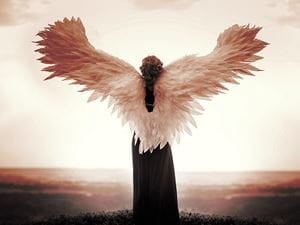 Shutterstock.com
Could you imagine talking to a donkey, and having the animal respond to you? While most people know the story of the burning bush, this is another one that proves God can work in strange ways to get our attention. Baalam was instructed to put a curse on the Israelites by the king of the time, so hopped on his donkey and headed to them. The donkey started acting strangely on the way, by running away and smashing his leg into the canyon. Baalam became frustrated, but then the donkey looked at him and said: "Quit beating me up! I'm just trying to keep you from being cut to pieces by the angel with the giant sword blocking our path." The angel then revealed himself, and informed Baalam that the curse would not work. What a strange way to get a message from God!
---
Judges 3:12-30

Shutterstock.com
This story doesn't necessarily have a tie-in for a lesson with God, but it's one that is interesting and crazy nonetheless. Ehud smuggled a weapon into an evil king's palace with the intention of killing him. After he got past the guards, he convinced the king he had an important private message. The king dismissed the court. Ehud stabbed him, pushing the sword in so deep that the king's guts fell out. The sword completely disappeared inside the kin's belly, swallowed up because he was quiet obese. No one in the court wanted to go back inside because they were too worried that the king was using the privacy to the bathroom. When they finally checked in, they found their dead king and sounded the alarm, but Ehud had already made his escape.
---
---
Matthew 21:18-19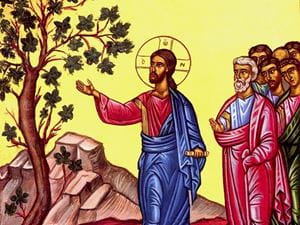 Public Domain
Stories like this one remind us that Jesus is clearly the Son of God, because He was able to do even the most strangest of things no normal human could. In this story, Jesus woke up early ready to head back into the city but was hungry. He found a fig tree by the road, but was disappointed when he found nothing on it except leaves. He then said to the tree: "May you never bear fruit again!" The fig tree immediately withered away. The disciples saw this, completely amazed. Jesus replied with authority, stating that if you only believe and keep your faith strong, that you will receive what you ask for in prayer.
---
Matthew 10:16-25

Before Jesus accepted His disciples into His circle, He prepared them for the violence that they were going to endure. He promised them that they would get hurt, saying: "… You will be handed over to the local councils and be flogged in the synagogues… You will be hated by everyone because of me… If the head of the house has been called Beelzebul [Satan], how much more the members of his household!" This is one of the stories you don't learn in Sunday School because it's uncomfortable to hear that Jesus would promise that His followers would endure suffering. It's much easier to tell children scriptures that boost their self-esteem and promise us the love of Jesus.
---
---
Judges 4:14-23

This story is one that should be told more often, as it reminds us that God can work through people that society might see as weak or unimportant to carry out His mission. In this story, the Canaanite general Sisera was forced to retreat after the Israelite army drove him away. He was able to take refuge in a nearby tribe that was an ally for his nation. He chose to stay in Jael's tent, who promised to feed Sisera and stand guard while he slept. Jael, though, was a double agent and took the opportunity to kill Sisera. Jael, a foreign woman, was able to make a great defeat in the war because of God's help.
---
There will always be those Sunday School classics that we all know and love, but there is so much more in the Bible than most people realize. These stories can be strange, obscure, and pretty bizarre at times, but they can still teach us about the power of God. Take the time to sit down and really read the Bible, because you'll find more gems like these stories along the way.