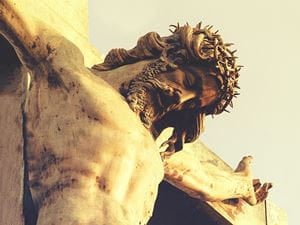 Shutterstock.com
While the Bible is often quoted, Jesus is often misquoted. Too often, Christians and other readers of the Bible will hear particular verses and passages in the Bible the way they want to hear them. Believers must be clear on the things that Jesus said and didn't say, so they truly understand the Word of God. Here are seven times Christians misquoted Jesus.
"You will be saved. All you need to do is believe."
Many Christians think that Jesus says this, but He didn't. There is more to salvation than just believing. Yes, faith is essential, and salvation comes through faith. Ephesians 2:8-9 says, "For by grace you have been saved through faith, and that not of yourselves it is the gift of God, not of works, lest anyone should boast." This isn't the only passage that speaks to the necessity of faith to be saved. However, we must be careful when it comes to verses like Romans 10:13, which says, "For whoever calls on the name of the LORD shall be saved." This is one of the biggest mistakes that many who profess to be believers make. In Acts 22, Paul gives us the greatest example of what salvation looks like – to be baptized in water and immersed in new life with Christ. Read the entire New Testament to understand what Jesus really taught.
"When you die as a good person, you will go to heaven."
Many believers think that their good works or simply doing the right thing will get them into heaven. Jesus never said this. The Bible tells us that getting into heaven isn't the result of our works. The Bible says, "For it is by grace you have been saved, through faith – and this is not from yourselves, it is the gift of God – not by works so that one can boast." Yes, Jesus wants us to love our neighbors and do good deeds, but it doesn't mean all the good we do will get us in heaven. The truth is, not everyone will get into heaven. It's a reality many believers don't want to confront. Thankfully, we have the assurance that those who come into faith in Jesus Christ can receive the gift of eternal life.
"The more you do great things, the richer you will become."
Some believe this is the gospel of Jesus, but this is more in line with the prosperity gospel. This distortion of the gospel traps Christians into believing that they will receive more if they give more to the church. It also teaches that if you are financially prosperous, you were a good Christian. If you aren't, you didn't pray hard enough or do what you were called to do by God. Churches that preach the prosperity gospel usually equate church membership with service and tithing, with no formal commitment to God. This is not what Jesus preached. Jesus warned His disciples, "Watch out! Be on your guard against all kinds of greed. A man's life does not consist in the abundance of his possessions" (Luke 12:15). Jesus preached in great contrast to this belief system. Jesus also said, "Do not store up for yourselves treasures on earth, where moth and rust destroy, and where thieves break in and steal." We can't serve two masters and be believers.
"Jesus went to Church every Sunday."
Some Christians don't realize that Jesus kept the Sabbath on the seventh day. The Sabbath day is Saturday. Luke 4:31 says, "And [Jesus] went down to Capernaum, a city of Galilee. And he was teaching them on the Sabbath." Observing the Sabbath created great conflict with religious leaders of Jesus' time, more than anything, apart from Jesus claiming to be the Messiah. Jesus' critics wanted to kill Him because he broke the Sabbath by breaking one of their rules.
"I love Christians more than unbelievers."
Many Christians believe that God doesn't love those who aren't saved, the unbelievers. We must remember that God loves everyone, even those who are lost or haven't found them yet. Titus 3:3-5 says, "We also were once foolish, disobedient, deceived, serving various desires and pleasures, living in evil and envy, filled with hatred and hating each other. But when the kindness and the love of God our Savior toward mankind appeared, not by works of righteousness which we have done, but according to His mercy He saved us, through the washing of rebirth and the renewal of the Holy Spirit." While God's desire is for all to know and accept Jesus into their hearts, He doesn't love anyone any less.
"Church isn't that important."
Never once did Jesus say going to church isn't important. In fact, it was Jesus' custom. Going to church was a regular part of Jesus' practice. The Bible says, "He went to Nazareth, where He had been brought up, and on the Sabbath day, He went into the synagogue, as was His custom" (Luke 4:16). There is a reason why Jesus wants us to go to church. When we become believers, we go to church not only because it's a place to worship our Heavenly Father but also to grow in spiritual maturity. God calls us to be members of His body. We can go to church to be inspired to live our lives after Jesus. We should make church attendance a priority.
"You don't have to do everything commanded in the Bible."
Jesus calls believers to be radically committed. This includes radical commitment in the way that we live. This means we're "all-in," including what we are commanded in the Bible. Too often, we water down the gospel, picking out the things we want to do and avoiding the things we think are difficult to do. Jesus never once said we don't have to follow God's commands. First John 5:3 says, "For this is the love of God, that we keep His commandments. And His commandments are not burdensome." Second John 1:6 says, "And this is love, that we walk according to His commandments; this is the commandment, just as you have heard from the beginning so that you should walk in it." Only when we take God's Word and commandments seriously, the world will also take Him seriously. If we don't follow Jesus as our Lord and Savior, we can't expect others to.
When we hear the words of Jesus the way God intended, we can fully experience their power. Don't be afraid to open your Bible and immerse yourself in the gospel. God is ready to reveal something amazing to you there.