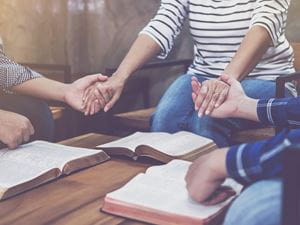 Shutterstock.com
Most people would probably agree that there are far too many lies in the world today. There are outright lies that are intended to manipulate people. There are also unintentional lies that are born of ignorance. But they hurt the world and its people just as badly. If we believe, as it says in John 8, "You shall know the truth, and the truth shall make you free," then, we know that lies hold us back from all the best things in life.
Fortunately, along with so many other beautiful things, God gives us the truth in His Son, Jesus, Our Lord and Savior. In John 14, Jesus said, "I am the way and the truth and the life; no one comes to the Father but through me." As Christians, we believe that Jesus is the Good Shepherd who ardently works to keep His flock together. We can trust that He wants to share the important truths with us so that we can live the abundant life that He wants us to live.
Jesus shares those truths with us through His teachings and through the way He lived His life when He walked among us. There's certainly no better place to learn about the life, death and Resurrection of Jesus than through the Holy Gospel. Within the verses of the Holy Gospel according to Matthew, Mark, Luke and John are powerful truths that can not only set us free in various ways, they can change our lives and the way we live them. Here are just seven of those truths.
Only God knows our future.
How many times have people listened to predictions about their futures from others? Whether it be those devastating timelines regarding illnesses and diseases, predictions of failure in various areas of life, or seemingly hopeless employment outlooks, callous predictions hurt many people by nearly paralyzing them with fear and drastically limiting their hopes for the future.
But the good news is that no living person knows the future except Jesus, Our Lord and Savior Who is both God and man. In Luke 12, Jesus told the parable of the rich fool who refused to share his good fortune with others. One hidden truth within this Gospel passage is that the rich fool wouldn't have been so greedy and lazy if he knew he wouldn't live to see another day. Jesus made it clear that people don't know the future. Consequently, all those negative predictions are nothing but shallow guesses. They are not the Gospel truth.
We can make a positive difference in the world.
In the same way that we limit ourselves when we believe other people's predictions, we limit ourselves when we let self-doubt overwhelm us. We might believe that we can't do great things in the world because we don't have much money. Or we might think that we're not smart enough to have a positive impact in the lives of others. The same could be said if we don't feel that we're strong enough, talented enough, healthy enough, young enough or old enough.
But the good news is that God doesn't limit us. Jesus tells us that we can make a positive difference in the world. In Matthew 5 (The Sermon on the Mount), Jesus said to His disciples, "You are the light of the world. A city set on a mountain cannot be hidden. Nor do they light a lamp and then put it under a bushel basket, it is set on a lampstand, where it gives light to all in the house. Just so, your light must shine before others, that they may see your good deeds and glorify your heavenly Father."
We can find forgiveness.
The weight of sin is tremendous. We can sometimes carry it around for so long that it can cause us to continuously stumble and fall. It can even slow us down on our journey of faith if we feel that we've made too many mistakes for God to want us to be on a holy path. And if we give up, the weight of sin can be crushing.
But the good news is that God rejoices when we return to Him. In the Gospel, Jesus helps us to see that God truly loves us unconditionally, despite our sins. He helps us to understand that God wants to forgive us, and all we have to do is go to Him and repent of our sins. In Luke 15, Jesus told the parable of the prodigal son. Even though the prodigal son was cruel to his father and squandered the money he demanded of him on a sinful lifestyle, when the son returned – due to poverty and hunger – the father was so happy to see him that he ran to meet him. When the son repented of his sins, the father forgave him, lavished him with gifts, and held a celebration in honor of his son's return. Jesus said that the father said to his other son, "My son, you are here with me always; everything I have is yours. But now we must celebrate and rejoice, because your brother was dead and has come to life again; he was lost and has been found.
We will have greater peace if we are peacemakers.
It's so easy for us to get angry at others. They might unintentionally hurt our feelings. They might disagree with us about something we believe is important. They might inadvertently betray us in some way. But getting angry and lashing out at our brothers and sisters doesn't lead to anything good.
But the good news is that we don't have to be angry with our brothers and sisters. We can find a greater sense of peace. To do so, we need to be peacemakers. In Matthew 5 (The Sermon on the Mount), Jesus said to His disciples, "You have heard that it was said to your ancestors, 'You shall not kill; and whoever kills will be liable to judgment.' But I say to you, whoever is angry with his brother will be liable to judgment, and whoever says to his brother, 'Raqa,' will be answerable to the Sanhedrin, and whoever says, 'You fool,' will be liable to fiery Gehenna. Therefore, if you bring your gift to the altar, and there recall that your brother has anything against you, leave your gift there at the altar, go first and be reconciled with your brother, and then come and offer your gift." In the Beatitudes, Jesus also said, "Blessed are the peacemakers, for they will be called children of God.
We can trust God to provide for our needs.
Just as it is so easy to become angry, it is also human nature to worry. We sometimes end up worrying about big things, small things and a myriad of things in between. And in times of economic hardship and uncertainty, we might even find ourselves worrying about whether or not we'll have enough food to eat.
But the good news is that we don't have to worry. God will provide for our needs. In Luke 12, Jesus said to His disciples, "Therefore I tell you, do not worry about your life and what you will eat, or about your body and what you will wear. For life is more than food and the body more than clothing. Notice the ravens: they do not sow or reap; they have neither storehouse nor barn, yet God feeds them. How much more important are you than birds! Can any of you by worrying add a moment to your life-span? If even the smallest things are beyond your control, why are you anxious about the rest? Notice how the flowers grow. They do not toil or spin. But I tell you, not even Solomon in all his splendor was dressed like one of them. If God so clothes the grass in the field that grows today and is thrown into the oven tomorrow, will he not much more provide for you, O you of little faith? As for you, do not seek what you are to eat and what you are to drink, and do not worry anymore. All the nations of the world seek for these things, and your Father knows that you need them. Instead, seek his kingdom, and these other things will be given you besides. Do not be afraid any longer, little flock, for your Father is pleased to give you the kingdom. Sell your belongings and give alms. Provide money bags for yourselves that do not wear out, an inexhaustible treasure in heaven that no thief can reach nor moth destroy. For where your treasure is, there also will your heart be.
Jesus helps us to avoid judging others.
Although we understand that Jesus instructs us that we shouldn't cast our "pearls before swine" and have relationships (friendships or romantic relationships) with people who could lead us astray, we also know that we're not supposed to judge others. We know that it's wrong, and many of us are aware (by Jesus' words in the Gospel) that we will be judged by God according to the way we judge others. So, if we judge others harshly, we will be judged harshly. But despite that awareness, it's still tempting to do so, when we live in a society that seems obsessed with publicly judging and shaming people. But the good news is that Jesus helps us to overcome that temptation. In John 8, Jesus accomplishes this by what He says and what He does when He's confronted by scribes and Pharisees about stoning a woman because she was caught in the act of adultery. Although stoning was considered to be a just punishment at that time, Jesus told them, "Let the one among you who is without sin be the first to throw a stone at her." After they all left, because they knew they had sinned, Jesus was left with the woman. Because He is without sin, He could have stoned her. Instead, He told her, "Neither do I condemn you. Go, [and] from now on do not sin any more.
We can turn from sin and find the righteousness we long for.
In our modern world, the temptation to sin is a force to be reckoned with. It's a force that has been nurtured by countless mainstream books, magazines, films, shows and influential people that mock the traditional beliefs and values that Jesus teaches us to uphold. It has even been nurtured by many schools, governments and other institutions that ignorantly promote sin. When sin is so widely accepted in our world, it's no wonder that it's so difficult to avoid. It's also no wonder that so many Christians believe that completely turning from sin and attaining righteousness is impossible.
But the good news is that it's not impossible. And Jesus shows us this, in the Holy Gospel, through multiple teachings. In John 8, the hidden truth of that Gospel passage is that when we're forgiven of our sins and shown mercy, we're expected to turn from sin. Jesus told the adulterous woman to sin no more. If He didn't believe that we could turn from sin, would He have given her that clear instruction? And in Matthew 7, Jesus said, "Ask and it will be given to you; seek and you will find; knock and the door will be opened to you. For everyone who asks, receives; and the one who seeks, finds; and to the one who knocks, the door will be opened." Finally, in the Beatitudes, Jesus said, "Blessed are they who hunger and thirst for righteousness, for they will be satisfied."
There's no doubt that being free from sin – including the lies that poison the world – brings us infinitely more joy and peace than indulging in sin and being deceived by lies. At the wedding feast at Cana, Jesus performed His first known miracle. He turned water into wine and restored dignity to the family hosting the reception. In order to accomplish that miracle, Mary told the servants to listen to her Son and do as He instructed them to do. Perhaps, this is one of the most important truths in the Holy Gospel. If we listen to Jesus and do what He asks us to do, He will restore our dignity, and we will be set free.