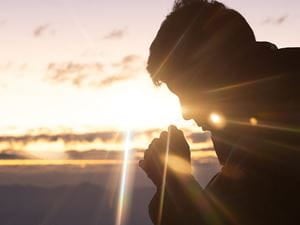 Shutterstock.com
It's hard to deny that we're living in terrifying times. You can turn on your television or scroll through your Facebook newsfeed right now and see that there is so much violence, fear and hatred in the hearts of those around us. Many see the current events of our world as warning signs of the End Times. While this is a time of judgment, there is no need to fear as children of God. While the language used in the Book of Revelation may make you nervous or fearful, for those who know the truth, we feel the opposite. We know there is no need to fear with Jesus. Here are seven End Time promises that will give you hope.
God is Never Far From Us
It's hard to recognize that God is always around us because we can't physically see Him, but trusting that He is near is one of God's greatest promises. Psalm 27:1 says, "The Lord is my light and my salvation – whom shall I fear? The Lord is the stronghold of my life – of whom shall I be afraid?" Like many psalms, this was written from a season of trouble. Yet, it is a song of confidence and triumph because David was not in darkness or ultimate peril because the Lord was his light and salvation. God Himself brought light to David's life. He did not despair in darkness and all that it represented. His life was filled with the Lord, and his life was filled with the light. David trusted God and let go of fear. When you're worried about all the evil forces in the world, remember that the Lord is the stronghold of your life. Only when we you recognize this can you truly be filled with light.
God's Word Can Be Used Against the Enemy
Being equipped with God's Word is the greatest way to prepare for the End Times. It's important that we use His Word to combat the enemy and all his evil forces. In order to overcome evil, we must be alive in Christ – having access to God's resources, wisdom, power and weapons He has placed at our disposal. Most people don't know how to use the Word of God against the devil – even people who have been in the church for years who have heard the Word the whole time. However, hearing the Word isn't the same as using the Word. Being able to use God's Word against Satan is one of the most important marks of spiritual maturity, Begin with key verses in areas where you're often tempted. Then, when you're tempted, you'll be able to use God's Word against Satan.
God Gives Us Spiritual Weapons For Battle
In order to defeat the kingdom of darkness, God equips us with supernatural tools. One of those tools is the Holy Spirit. God's wants to restore His people with the gifts of the Holy Spirit. These are tools and weapons that are needed for doing the work. When a Christian is equipped with the power of the Holy Spirit, they have more power and more spiritual authority in them than all the power of the enemy. We have been given divinely powerful weapons. However, few understand how to use them. It's so important that this changes. Those who do not understand and walk in this authority, and know how to use these divinely powerful weapons, will find themselves in increasingly difficult situations and even jeopardy. The Lord gave us the armor and the weapons of our warfare because we need them.
God Will Hold Your Hand
Even when we don't know it, God is carrying us in the palm of His hand, even in our darkest hours. Isaiah 41:10 says, "So do not fear, for I am with you; do not be dismayed, for I am your God. I will strengthen you and help you; I will uphold you with My righteous right hand." Sometimes, we can read certain verses from Scripture a hundred times and fail to take them to heart the way the Lord wants us to. Other times, we can linger on a verse or two, and let them minister life, healing and comfort to us. Isaiah 41:10 is so rich with the promises of God that it warrants special attention from us. Ultimately, the Lord wants to impart to us through this verse that we shouldn't be afraid. "Fear not [there is nothing to fear]." One reason why God warns us against fear is that it can short-circuit the answered prayers and blessings that He has in store for us. In these perilous times, hold onto the promise that God is upholding you in His righteous hand.
God is Our Refuge
While we know that we can turn to God, too often we forget that God is always right there in our corner. Psalm 46:1 reminds us that, "God is our refuge and strength, an ever-present help in trouble." By definition, a refuge is a safe place. When the Bible describes God as our refuge, it is saying that God is our safe place when we need protection from something. Knowing God is our refuge enables us to trust Him more freely. We need not fear situations or people who threaten our well-being, whether in a physical or spiritual sense. There is no situation we will ever face that is out of God's control, so the best place to be is right with Him.
God Gives Us the Peace That Passes All Understanding
We know from Scripture that the peace of God passes all understanding. Philippians 4:6-7 says, "Do not be anxious about anything, but in every situation, by prayer and petition, with thanksgiving, present your requests to God. And the peace of God, which transcends all understanding, will guard your hearts and your minds in Christ Jesus." This is a wonderful promise and assurance. The believer who places his or her full confidence in a loving God and is thankful in every circumstance will possess a supernatural peace. This will help us, even in the final days. An inner calm will dominate the heart. The faithful believer will know peace – his heart and mind are guarded by it. No one, especially those outside of Christ, will be able to fathom that peace. The most, it will remain a mystery how someone can be so serene in the midst of turmoil. Hold onto the promise that God's supernatural peace surpasses all natural understanding.
Praying Will Give Us Strength
Prayer is an incredibly powerful tool. While the Word itself is powerful, prayer is also essential. Combining the two is even more powerful still. As we abide in God and His Word abides in us, we can more confidently pray His will, enabling us to prepare for the End Times. This doesn't mean we need spend hours in prayer each day, it is simply a time to remind yourself who you are and where you are in Christ. Too often, people are praying ineffective prayers that can't be answered because they are asking for what God has already given them. We are in a war and we need to pray like it.
The apostle Paul taught, "The weapons of our warfare are not carnal, but mighty through God to the pulling down of strongholds" (2 Corinthians 10:4). This promise is life-changing, meaning the difference for us between victory and defeat during the coming days. As the world gets darker and darker around us, we have hope through Jesus Christ.