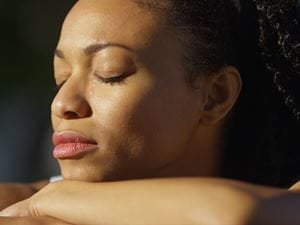 Shutterstock.com
We have all sinned. The Bible tells us, "For all have sinned and fall short of the glory of God" (Romans 3:23). One of the outcomes of sin is guilt. The first step to take against sin is to repent. The importance of repentance is hard to overstate. After all, Jesus' first public exhortation was "Repent!" (Mark 1:15). Jesus mentioned repentance first for a reason.
Repentance requires honesty and honesty that can only come through relationship with God. The Bible tells us, "How happy is the man the LORD does not charge with sin, and in whose spirit is no deceit!" (Psalm 32:2). No one comes to God with true repentance in their heart unless they've first acknowledged their need for forgiveness and reconciliation with Him. Only those who have ceased trying to cover up their sin with self-righteousness and deceit can experience the deep and lasting change that comes only through repentance. It's important that you acknowledge the danger of sin and the damage of guilt. We must honestly assess the consequences of our sin, which means assessing both personal consequences and impact it has had – and will continue to have on others. We can turn to God's promises in the Bible to help us find freedom from guilt. Here are seven Bible verses to help when you're struggling with guilt:
John 3:17
Many believers struggle with guilt that they can't seem to shake. You know that God has saved you but you still feel guilt from your past. When you are experiencing guilt, you are feeling the weight of your sin. It feels like a sentence. But Christ didn't die for that condemnation. John 3:17 says, "For God did not send His Son into the world to condemn the world, but that the world through Him might be saved." While sin can weigh heavy on our hearts as believers, we are fortunate to be covered over by the grace of Jesus.
Proverbs 3:5-6
Many of us are familiar with the passage: "Trust in the LORD with all your heart, and do not lean on your own understanding. In all your ways acknowledge him, and he will make straight your paths" (Proverbs 3:5-6). This verse is particularly helpful when battling with guilt. We are being told that if we trust in the Lord, we can't also depend on our own ability to understand everything God is doing. That includes guilt. We often have a desperate need to understand why we chose to make a particular decision or why we feel the way we do, but we must acknowledge that we can't understand. We must trust God's ways, even when we don't comprehend them.
Psalm 46:1
One of the biggest challenges we will face when dealing with guilt is completely trusting God's Will and His ability to help us overcome it. In these moments, we wrestle with God and may even question our faith. Psalm 46:1 says, "God is our refuge and strength, an ever-present help in trouble." While we can't avoid guilt and discouragement in all situations, we are told through Scripture to trust in Jesus and His promises for us.
2 Corinthians 5:21
Born under the law of God, all humans are guilty of transgressing that law. Only a perfect human – Jesus Christ – could perfectly keep the law and perfect fulfill the law, thereby redeeming us from that guilt. Second Corinthians 5:21 says, "For He made Him who knew no sin to be sin for us, that we might become the righteousness of God in Him." Jesus accomplished our redemption on the cross exchanging our sin for His perfect righteousness.
Romans 8:1
Romans 8:1 says, "There is therefore no condemnation to those who are in Christ Jesus, who do not walk according to the flesh, but according to the Spirit." Jesus death on the cross was sufficient for all of our sins. Scripture tells us that there is no condemnation for those who are in Christ Jesus. This doesn't mean that you won't feel bad about your sins and that they won't weigh on your heart but God's desire for us is love not guilt. What a blessed assurance this is.
Joshua 1:9
Joshua 1:9 says, "Have I not commanded you? Be strong and courageous. Do not be afraid; do not be discouraged, for the Lord your God will be with you wherever you go." There is nothing we need to be discouraged about, including guilt, when we have full faith in God. When we're struggling with guilt, it is common to begin to question God. This is a sign that we desperately want to know the answers to our current circumstances. It is also a sign that we want to get closer to God in the midst of our struggle. God is right there with you in the midst of your struggle, confusion, even pain.
Isaiah 55:6
"Seek the Lord while he may be found; call upon him while he is near."
As Christians, we need to be aware of the reality of the presence of evil. As we struggle to stand firm in our faith, we must realize that our enemies are not merely human ideas, but real forces that come from the powers of darkness. The Bible says, "For our struggle is not against flesh and blood, but against the rulers, against the powers, against the world forces of this darkness, against the spiritual forces of wickedness in the heavenly places" (Ephesians 6:12). The most effective weapons we have against the devil are our faith, wisdom and knowledge about God and His Word.
Each of us can learn the healthy practices of confessing our sins, including the sin of guilt. We may not be good at it right away, but we can make it a point to practice confessing them daily. Let go, let God and remember these Bible verses when you're struggling with guilt. God will lift you up.