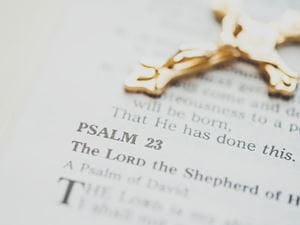 Unsplash.com
Every Christian knows that God has a plan. He has plans for each person, each nation and for the entire world. That does not mean, however, that Christians do not sometimes look at the world around them and struggle to find the method to the madness. They may even struggle to remember that there is a plan at all. In those moments, Scripture can be a good way for Christians to remind themselves that God has a plan.
Everything happens for a reason…
The hardest times to see God's plan are when everything seems to have fallen apart. When wars, disease, death and disaster strip everything away from people, it can be difficult to remember that there is a loving God who has a plan. Violence can seem so random and so pointless. Yet, the Bible shows clearly that God sometimes uses terrible circumstances to move His plan forward. Good things sometimes require bad things to happen first. In Genesis, for example, Joseph is sold into slavery by his brothers. It is Joseph's presence in Egypt, however, that saves both Egypt and his family from famine. Joseph states in Genesis 50:20, "[Joseph's brothers] intended to harm [Joseph], but God intended it for good to accomplish what is now being done, the saving of many lives." Joseph knew well that there was a reason for everything, no matter how terrible.
…and no one can foil God's plans.
God has a plan, and no one can foil it. Humans may think they have screwed up the Divine plan by accident, but no one is that powerful. Job 42:2 states, "I know that You can do all things; no purpose of Yours can be thwarted." God's plans will come to fulfillment, whether anyone else likes it or not. The prophet Isaiah agreed with Job in this matter. Isaiah 14:27 reads, "For the LORD Almighty has planned, and who can thwart Him? His hand is stretched out, and who can turn it back?" The short and the long answer to Isaiah's rhetorical questions are the same: no one.
God's plan can be long term…
Some elements of God's plan can be seen in a single lifetime. Other sections of His plan may take far more than one lifetime to bear fruit. As such, humans may think that some events are random happenings, but such events may simply be elements of God's long term plan. Psalm 33:11 states that "The plans of the LORD stand firm forever, the purposes of His heart through all generations." God's plan does not begin and end with a single person. His plans may span centuries, but He still has a plan.
…so humans cannot always see it, but He protects His people…
Given that God's plans may take generations to come to fruition and that He sometimes uses terrible circumstances to accomplish good things, some people may only see the low points that are necessary for His plan. As such, they may think that the Lord has abandoned His people. Jeremiah 29:11, however, reminds Christians that is not true. Jeremiah 29 was written to the Jews in exile, a group of people who were only seeing the low points of God's plan. Jeremiah reminded them in Jeremiah 29:11, however, that God is always watching over His people. The verse reads, "'For I know the plans I have for you,' declares the Lord, "plans to prosper you and not to harm you, plans to give you hope and a future."
The early verses of John 15 also remind Christians that God's plan does not end with death and that He continues to watch over His people even after they die. God welcomes His people after their deaths, and Jesus reminds the Apostles of this in John 14. "My Father's house has many rooms; if that were not so, would I have told you that I am going there to prepare a place for you? And if I go and prepare a place for you, I will come back and take you to be with me that you may also be where I am. You know the way to the place where I am going." God has a plan, and it includes the afterlife of the faithful.
…but He is always working for their good and the good of the world.
God's plan has a happy ending. He is always working toward the good of His people and for the good of the world. After the end of days, Eden will be restored. God's people will live in a great city where the "river of the water of life, clear as crystal, [flows] from the throne of God and of the Lamb down the middle of the great street of the city." Revelation 22 reveals the fate of the faithful in this incredible city after the end. "No longer will there be any curse. The throne of God and of the Lam will be in the city, and His servants will serve Him. They will see His face, and His name will be on their foreheads. There will be no night. They will not need the light of a lamp or the light of the sun, for the Lord God will give them life. And they will reign forever and ever."
Humans cannot always see or comprehend God's plan, but that does not mean that He does not have one. Pieces of His plan make take place within one person's lifetime, but other segments will take centuries or even millennia to come to fruition. This can leave humans feeling like they are staggering around in the dark, but the Bible provides some comfort and numerous reminders that, no matter how crazy the world may seem to be, there really is a divine method to the madness.