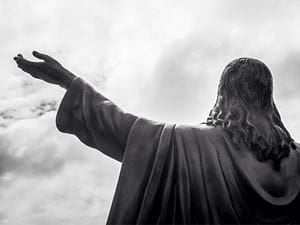 Twenty20
We all want to hear Jesus' voice, but it can be difficult to tap in. There will be times when we will put ourselves entirely out there to feel like He doesn't hear us. When Jesus seems quiet, it can be disheartening, agonizing and frustrating, to say the least. There are also times when you will turn to Jesus for answers or relief and still experience silence. Being able to hear Jesus' voice is essential in building a strong and intimate relationship with Him. It is also vital that you can distinguish Jesus' voice from the noise of the world. While it's easy to bring our concerns to Jesus, many Christians have trouble hearing what is being said. God never wanted it to be this way. When we can't hear Jesus' voice, we can become more susceptible to the enemy's schemes. Here are six ways to communicate with Jesus and hear His voice.
Learn the art of listening.
Most of us want Jesus to send us a sign when He is trying to reach us. It is difficult to know when Jesus is really speaking to us because we don't know what His voice sounds like or if we are genuinely being told to. There are times when Jesus' voice is super clear. We can hear Him in ways we've never heard Him before. This can only be done when we understand the art of listening. This requires discipline and training. It's also difficult to hear Jesus' voice when we are distracted by the voices of the world. It's so easy to tune into every other voice but God's. The Book of Hebrews reminds us that we can train our ears to hear the voice of Jesus above all other noise. Hebrews 5:14 says, "But solid food belongs to those who are full of age that is, those who by reason of use have their senses exercised to discern both good and evil." Knowing this can allow us to distinguish between the voice of God and the enemy. It is also essential that we are in tune with the voice of the Spirit and understand the way it is working through us. In Matthew 13:9, Jesus says, "He who has ears to hear, let him be listening and let him consider and perceive and comprehend by hearing." To tune into the voice of Jesus, begin with a prayer that God will give you a hearing heart.
Let of go of what is blocking you.
Sometimes, life's clutter and our lack of focus can distract us from hearing Jesus' voice. We have a greater ability to hear Jesus' voice clearly when we let go of the chatter that's in our heads. Stop right now and start examining. Ask yourself specifically what may be keeping you distracted and separated from Jesus. Is there a sign that you haven't confessed to God yet? This may be blocking you from the voice of Jesus. Scripture says, "If I had not confessed the sin in my heart, the Lord would not have listened" (Psalm 66:18). To do this, you must go deep into your heart. Ask yourself, Is there something or someone that you are putting before Jesus? As you become more aware of what's separating you from Jesus, call on Him forgiveness. Repenting not only pleases the Lord it also reestablishes fellowship with Him.
Practice patience.
Listening to Jesus begins with patience. Some days, it will be easier to be patient than others. When you take our concerns to Jesus over and over, it can be difficult to wait. It may even feel like the prayers you're lifting up are falling on deaf ears. Galatians 5 reminds us that one of the fruits of the Spirit is patience. We should call on the Holy Spirit to fill us so that we are empowered and directed, even as we wait on the Lord. We can gain this strength when we are filled with the Spirit. All we have to do is trust that the Holy Spirit is dwelling there. Call on the Spirit no matter what situation we're in. Thankfully, this is a provision that can be claimed by faith. We are taught this in Romans 5:1-5, which says, "Therefore, since we have been justified through faith, we have peace with God through our Lord Jesus Christ, through whom we have gained access by faith into this grace in which we now stand. And we boast in the hope of the glory of God. Not only so, but we also glory in our sufferings because we know that suffering produces perseverance; perseverance, character; and character hope. And hope does not put us to shame because God's love has been poured out into our hearts through the Holy Spirit, who has been given to us." The ultimate source of patience is within us.
Have a humble heart.
One of the most challenging parts about hearing Jesus is that learning how to discern His voice takes time. It also requires a humble heart. Scripture reminds us in Jeremiah 29:12-13 says, "Then you will call upon Me and go and pray to Me, and I will listen to you. And you will seek Me and find Me, when you search for Me with all your heart." We are never able to make demands to the Lord. However, we can ask, seek and knock. God's Word promises that He will open the door and reveal Himself to those who come humbly.
Understand that Jesus wants to speak to you.
You must believe that Jesus is trying to reach you. Through Jesus and the power of the Spirit, God wants to talk to you regularly on a one-on-one basis. If you don't think Jesus is trying to reach you, there is no way you'll be able to hear what He is saying to you. Yet, when you receive the fullness of the Spirit which Jesus sent us, hearing Him becomes the most natural thing. We are promised in Luke 11:13 that the Father gives the Spirit to those who seek. We can be led by the Spirit when we trust in Jesus and His promises.
Feel the love of Jesus.
When you are having trouble hearing Jesus, you must think about the fact that Jesus loves you and wants to be involved in every single detail of your life, including the small ones. John 3:16 is the perfect reminder of the incredible love that the Lord has for us. The verse says, "For God so loved the world, as to give his only begotten Son; that whosoever believeth in him, may not perish, but may have life everlasting." Even when it seems like Jesus is silent, His incredible love isn't. It never ends, even in the silence, even when we can't discern it. When you begin to feel the presence of God and all the love that we are given, Jesus' voice is so clear.
We are radically transformed when we can better listen to Jesus and understand where He is leading us. Jesus is giving us direction, even when we have trouble discerning His voice. Trust in Jesus as you grow in a relationship with Him, and you will never be disappointed.