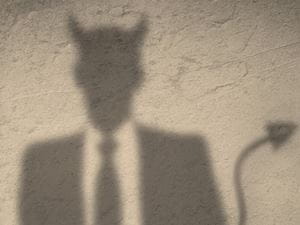 Shutterstock.com
The devil is the king of deception. He uses fear and other weapons against you so that he can separate you from God. One way he can do this is by getting you to believe in various lies about God. He also wants you to fall off your faith path, so you can live in sin. The more you do this, the more you can rely on him. You mustn't allow the enemy to control you. This is why it's so important to be aware of his tactics. Here are six lies the devil whispers in your ear.
"You can only find happiness through material possessions."
The devil will try his hardest to get you to take your attention away from God. We live in a society that is pushed by power, wealth, and status. The devil wants you to think that material possessions will make you whole and complete. This is a complete lie. The truth is anything we have on this earth is temporary. God wants us to turn to Him first. Acts 3:19 says, "Therefore repent and return, so that your sins may be wiped away, in order that times of refreshing may come from the presence of the Lord." If we place our faith and hope in God, He will never forsake us.
"Hell isn't real."
The devil will whisper in your ear that hell isn't real. He wants us to believe that living a life of sin is ok so that we are at odds with God. He also wants us to wonder how a loving God would send us to a place of torment. This is a ridiculous lie that many believers get caught up in believing. We know from Scripture that hell is real. Revelation 20:10 says, "And the devil who had deceived them was thrown into the lake of fire and sulfur where the beast and the false prophet were, and they will be tormented day and night forever and ever." God doesn't' send us to hell. Our brokenness sends us there. God does everything in His power to keep us from going there.
"The church is no more than a structure."
The devil will tell you that the church is nothing more than a structure. Yet, we know that the church is a body of believers. Church means "an assembly" and is also recognized as "the call out ones." Ephesians 2:20-22 says, "Built on the foundation of the apostles and prophets, Christ Jesus himself being the cornerstone, in whom the whole structure, being joined together, grows into a holy temple in the Lord. In him, you also are being built together into a dwelling place for God by the Spirit." We also know that the enemy has no dominate over the church. Matthew 16:18 says, "And I tell you, you are Peter, and on the rock, I will build My church, and the gates of hell shall not prevail against it." You may not think of this as a significant lie, but if you believe the church is an isolated group of people and not a fellowship of Christ's disciples, it can be problematic. If you see the church as a building, and not a body of believers, this could keep you from sharing the gospel and God's message of love with those around you.
"The devil has more power than God."
This is a lie he will whisper with great vigor. The adversary wants you to think he is more powerful than God so that you will lean on His understanding, not God's. The devil wants you to listen to his voice only. The way the devil's voice is heard is through anxiety, confusion, addiction, and depression, among other things. The devil is chaos. Instead of trusting in the devil and his false promises, we need to trust God. Proverbs 2:6 says, "Trust in the LORD with all your heart and lean not on your own understanding in all your ways submit to Him, and He will make your paths straight." Don't allow the devil to break you.
"God doesn't care about you."
The devil wants you to believe that God doesn't have your back. This is a lie he will whisper in your ear when you are at your darkest, lowest point. He wants you to think that God doesn't love you because if He cared, He would never put you in that situation. Always remember God has an incredible plan for your life, even when you don't know it or understand it. Isaiah 43:2 says, "When you pass through the waters, I will be with you; and through the rivers, they shall not overwhelm you; when you walk through fire you shall not be burned, and the flame shall not consume you." God always has your best interests in mind. Don't allow the enemy to tell you something different.
"There is no life past earth."
The devil wants you to believe that the only life we have is on this earth. If you think this, then there is no need to worry about anything because we simply exist, then die. Sin doesn't matter, and breaking God's law doesn't matter according to the devil. We can do anything we want with no consequences to our faith life. He wants you to believe that there is no reason to concern yourself with God or life after death because it isn't real. This lie will devastate your life. We know from Scripture and Jesus' teachings that God promises salvation and eternal life for those who believe in Him.
The devil is a con artist, with full intentions of destroying your life. Don't allow him to tell you these lies and derail your faith walk. You are stronger than his false promises. Allow God to lead you on the path of righteousness and salvation. He wants nothing but the best for you.