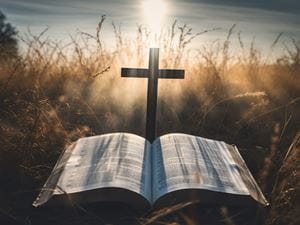 Lightstock
Psalm 1:1-2 tells us that those who don't walk in step with the wicked or stand in the way that sinner takes, but whose delight is in the Lord's law and those who meditate on his law day and night are blessed. The rest of Psalm 1 says that the person who meditates on God's Word is like a prosperous tree planted near a stream.
Meditating on the Bible is a beautiful invitation from God that encourages our hearts daily and changes us from the inside out. Often, we can focus so much on quiet time or Bible reading time, a specific time set apart for reading God's Word. However, we shouldn't just retain God's Word but apply it. Perhaps you need a reminder of some ways to live out God's Word daily. Here are some ways to apply the Bible to your everyday life.
Put scriptures in places where you'll see them.
In Hebrews 4:12, God's Word is described as active and alive. Current books typically speak to this generation in a way that they understand and on relevant topics. One beautiful quality about the Bible is that it's a timeless truth. It's 100 percent understandable and relevant to the Holy Spirit's power to every generation. Psalm 119:90 tells us that our faithfulness continues through every generation. The Bible is impactful and lasting to all who come across it. It gives the message of salvation, convicts us, heals our hearts, and reveals His Will. His Word is the only message, book, and voice that lasts eternally.
When we put scriptures in significant places around our workplaces, homes, school desks, or cars, we're given reminders amid our regular lives to reflect on the life-changing messages from God Himself. This is no minor deal. We have the Bible in our language, which is something to be celebrated. We can be doing the dishes and looking at scriptures on a note card or set it as the lock screen on your phone. Perhaps some beautifully hung art would brighten our day. How can we get creative in putting God's Word in front of our eyes daily? This is how we remind ourselves to meditate on His Words.
Pray God's Word.
Have you ever considered praying a scripture verse or passage over your day? For example, if you wake up one day and start praying Psalm 23:1-2, you may say, "Lord, because you are my Shepherd, I lack nothing. Please help me lie down in green pastures and lead me along quiet waters today. Amen." Since the Bible is active and living, you're praying the Word of God back to Him, proclaiming His truth over your life and inviting Him into your situation and day.
Have a verse of the week/scripture memory card.
Memorizing God's words will help us know Him more and live according to His ways, leading to a lot of blessing and benefit in our lives and, most importantly, connecting to our Savior. How often do we set aside Bible memorization because it's too time-consuming or challenging? The truth is the amount of time we spend watching TV, on social media, gardening, or doing a hobby we love could be given to Bible memory.
A simple way to incorporate this is to start using a notecard, write a memory verse of the week, and put it somewhere you'll see it daily. Read the verse, think about it, and repeat it until you learn it. Do this with a spouse, alone, or with your roommate. Practice with your kids or grandchildren. Consider including whoever is around you in your routine for accountability.
Listen to Bible apps.
If you have a long commute or want to listen to something around the house while you clean, listening to a devotion with Biblical content or the Bible can bring God's Word throughout the day when you wouldn't otherwise read it. You can listen to different versions of the Bible, which is a way to bring Bible verses into the most ordinary moments, such as brushing your teeth, driving your car, doing your hair, or cooking dinner. We have numerous opportunities to think about the Bible in our day and age. We only have to be intentional to seek Him out in every moment.
Remember the gospel.
If you asked someone, "What does the gospel mean?" there would be various answers. The gospel is about the good news found in John 3:16. God loved the world so much that He gave His only Son, and whoever believes in Him shall have eternal life. We've all sinned, and our sin separates us from God. So because we couldn't be with Him anymore, Jesus came as the Savior for those who believe in His life, death and resurrection. He gives the gift of His Holy Spirit to all who believe in Him. Romans 8:11 tells us that His Holy Spirit is always with us.
This is the Bible's central message. Because of this unchanging truth, we can apply the gospel in our daily lives by preaching that message to ourselves, praying it over others, and inviting them to receive Jesus. We can be mission-minded in all that we do. That trip to the library is no longer about just a book but who we'll meet and interact with once there. That lunch out is about fueling our bodies and reaching out to our waitress. Our mindsets change because Jesus changed us. His Word is the means of delivering this message to us.
We emphasize other aspects of our lives, like scrolling through social media, spending time with family and friends, and putting time into our hobbies. Imagine how fulfilled our lives would be if we put that same emphasis on spending time in God's Word. Applying the Bible to our everyday lives shows that we're dedicated to living for God.