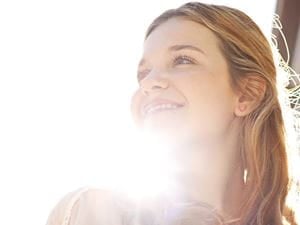 Shutterstock.com
Jesus emphasized the Holy Spirit, so much so that He told His disciples it was better for them that He go away so that they would receive the Holy Spirit. John 16:7 says, "Nevertheless, I tell you the truth: It is expedient for you to go away." One of the great powers of the Holy Spirit is that it can always be everywhere. We also know from Scripture that the Holy Spirit is a Helper. John 16:7 continues, "Unless I go away, the Advocate will not come to you; but if I go, I will send Him to you." When we trust in the power of the Holy Spirit, incredible things are revealed to us. Here are five ways the Holy Spirit prays for you.
The Holy Spirit prays that we are empowered.
One of the fruits of the Spirit listed in Galatians 5 is patience. We can share our desire to allow the Holy Spirit to take control of our lives, filling us, empowering us, and directing us in our waiting. We are authorized to be stronger when we are filled with the Spirit. Christians should know that the most significant source of will in our lives comes through our faith in God and our trust in the Holy Spirit. We can call on the Holy Spirit to pray for us, not only empower our lives but also for strength to help us through any situation we face.
The Holy Spirit prays for God's intercedence.
We must recognize that God is always speaking o us. When we have seen the face of God in others, it is a big sign of the presence of the Holy Spirit. Know that in that very moment, God is interceding. This is why we must know the ways in which God is speaking to us. When we receive the fullness of the Holy Spirit, which Jesus promised to send to us, God's presence couldn't be more apparent. Luke 11:13 tells us that the Father will give His Spirit to those who seek. Allow the Holy Spirit to pray for you, and help you understand God's Word so that you can apply the necessary wisdom in your life. We can hear from God and be led by the Holy Spirit each day.
The Holy Spirit prays that God's will be done.
The Holy Spirit will guide us to help us know God's will. First Corinthians 2:6-7 says, "Yet among the mature, we do impart wisdom, although it is not a wisdom of this age or the rulers of this age, we are doomed to pass away. But we impart a secret and hidden wisdom of God, which God decreed before the ages for our glory." In these verses, Paul addresses God-centered wisdom in this text. Ultimately, the Spirit of God that motivated Jesus conveys spiritual knowledge, wisdom, and understanding. The Holy Spirit is also the essence of God's mind, which allows us to work out His will.
The Holy Spirit prays that we will be able to understand God's messages to us.
The gift of understanding allows us to know and comprehend our faith more clearly. God wants us to draw closer to Him, so He grants us the Holy Spirit to get us there. The Holy Spirit wants us to grow in our understanding, so we can better grasp the meaning of God's truths. When we do this, our faith life grows. When we can understand the messages God is trying to send us, it bears testimony to the faith that is already in us. God also provides the gift of knowledge so that we can be better instruments of His. The Holy Spirit wants us to be guided in the light of God's Wisdom.
The Holy Spirit prays for our steadfast devotion to God.
The Holy Spirit wants us to pray with true devotion to God. He wants us to love God and see Him as our perfect, loving Father.
When we see God in this way, we can better understand His only Son's sacrifice and how that matters to us. One incredible power of the Spirit is God's divine energy and authority released in our everyday lives. When we rely on God's Spirit, we may get tired, but we won't burn out. There may be times where we experience distress, but we won't become desperate. We may also be overwhelmed with obstacles and discouragement, but we are still enabled to do the will of God. When we complete God's work through His strength, with His Wisdom, our lives will be blessed beyond measure. If we are devoted to God and walk in His wisdom, we can get through all situations we face.
The Holy Spirit is a gift and a privilege. When we allow the Spirit to pray over us and guide our lives, we are better able to exemplify God in our lives, through our words and acts. Ultimately, our actions should build up the Kingdom of God, not tear it down. Will you allow the Holy Spirit to work in your life today?