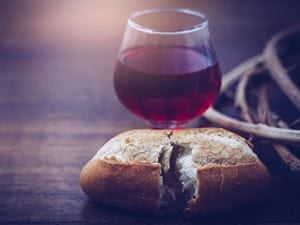 Shutterstock.com
Let's be super honest! Do you experience anxiety before taking communion? Are there a number of questions running through your head? Maybe you're feeling like your problems or faults aren't worthy of forgiveness. Or perhaps you have multiple questions about the process of communion. Guess what? You're not alone. The PEW Research Center has conducted studies on communion and what people really believe happens when they participate.
In 1 Corinthians 11:28, the Bible tells us that we should assess what is going on in our heart before we partake in communion (the Lord's supper). "Let a person examine himself, and so eat of the bread and drink of the cup." Before communion, it's important to revisit Christ's sacrifice and remember God's forgiveness. The process of communion allows the individual to depict union and solidarity with Christ as the Savior through eating and drinking. Through the act of transubstantiation, the bread and wine offered change, and are no longer bread and wine – they become the body and blood of Jesus Christ.
Before communion, there are some important things everyone should know.
Holy Enough?
Some Christians will opt out of communion because they do not feel like they are holy enough to partake. However, the level of holiness is not the question at hand. Instead, Christians should share communion if they are willing to renounce sin and humbly hold fast to Jesus. Nonetheless, before taking communion don't question whether or not you are good enough. Ask yourself if you are willing to ask for forgiveness.
Romans 8:39 says, "Neither height nor depth, nor anything else in all creation, will be able to separate us from the love of God that is in Christ Jesus our Lord." Everyone is worthy of Jesus' love. There is no expectation of holiness to participate in communion.
Purpose of the Bread and Wine
The bread and wine represent the tangible elements to stir our minds and hearts. Jesus took bread, blessed and broke it in Matthew 26:26-29. "Take, eat; this is my body." Then he held the cup, and gave thanks and gave it them. "Drink from it, all of you. For this is my blood of the new covenant, which is shed for many for the remission of sins. But I say to you, I will not drink of this fruit of the vine from now on until that day when I drink it new with you in My Father's kingdom."
The physicality of eating and drinking is designed to remind Christians that we spiritually ingest and depend on Jesus. He provides for us through his life, death, and resurrection – just like food sustains our physical existence. The blessings of Christ's body and blood are essential to our spiritual existence.
Communion is Personal
In order to stay true to their faith, Christians need to always remember Jesus. The intentionality of communion provides a tangible way Christians can authentically pay their respects to Jesus. 2 Corinthians 13:14 says, "The grace of the Lord Jesus Christ, and the love of God, and the fellowship of the Holy Spirit, be with you all."
The personal act of communion provides an individual with the opportunity to combat personal struggles, identify how God can guide them into the right direction, and confess sins.
Representation of Hope
Biblical hope is the confident expectation of what God has promised and its strength in His faithfulness. Hope, outside of the biblical sense, represents a wish and a person's desire. Deuteronomy 31:6 says, "Be strong and courageous. Do not fear or be in dread of them, for it is the Lord your God who goes with you. He will not leave you or forsake you."
When remembering the Lord's death, Christians are also proclaiming hope for the future. Communion recognizes the past and offers redemption – even in the darkest of times. Everyone needs hope in their life. If we do not identify the potential of goodness, we will live a life saturated in sadness and that will create discontent within your soul.
He Will Come
Paul wrote that taking the Lord's Supper is a remembrance of Christ. However, not a remembrance so that His children won't forget about him; instead, it's a remembrance of the price he paid. 1 Corinthians 11:26 says, "For as often as you eat this bread and drink the cup, you proclaim the Lord's death until he comes."
Essentially, communion is a form of gratitude. While you are asking for guidance through prayer and forgiveness from your sins, communion also serves as a time to remember the blessings. Identifying the blessings, in your life, can serve as a launch pad for a better understanding and outlook for the future.
Communion is many things – a memorial, a proclamation, a time of reflection, a symbol of unity, and foundation for gratitude. The key thing to remember is communion can be any and all of those elements at the same time. In reality, these are interchangeable because no two people are the same. God creates each individual uniquely therefore, their path is also unique. Communion offers a sacred time for Christians to find peace within one's self and life in general.
Next time you partake in communion, remember the memorialization, proclamation, reflection, unification, and/or gratification taking place within yourself and your circle. Avoid the urge to compare yourself with others and don't allow feelings of inadequacy to rob you of your joy. During communion, proceed with an open mind and heart. Take the time to reflect on your past and present, and invite others to guide you through prayer.