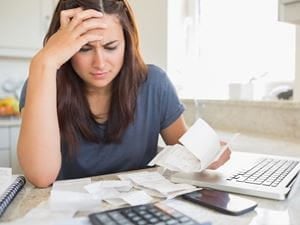 Shutterstock.com
There have been times when even spending three dollars to get ice cream with friends can call you a well of anxiety. The thought of a night out fills you with guilt when you have bills piling up on the counter. It might affect you so much that you constantly calculate and recalculate how much is needed to get through the upcoming months. You can't sleep because your brain is reeling through the ways you overspent or could have cut down costs. How are you supposed to make ends meet? What is your spouse thinking? How are you going to provide for your family?
The Bible tells us we can bring these questions and worries to God in 1 Peter 5:7. When we feel like there's no way out of our bottomless money pit, we can ask God to take care of us. We can rely on His love for us even when the bank account runs dry. That's the greatest riches we could be blessed with. These Bible verses will help when you're stuck in financial trouble.
Luke 6:38
This verse says: "Give, and it will be given to you. A good measure, pressed down, shaken together and running over, will be poured into your lap. For with the measure you use, it will be measured to you." If you read the passage leading up to this verse, you can probably tell that it isn't all about money. This verse doesn't say give money and you'll get money. In truth, Jesus is talking about forgiveness. What could that have to do with financials problems? Imagine forgiving a debt. You could really use that money that so-and-so owes you right now for the new car you lent them. Instead, consider forgiving that debt, and your debt will be forgiven as well. Jesus looks over those to provide for others.
Isaiah 41:10
This verse is a popular one that says: "Fear not, for I am with you; Be not dismayed, for I am your God. I will strengthen you, Yes, I will help you, I will uphold you with My righteous right hand." While the idea of "fear not" is much easier said than done, it's important that we trust that God will come through for us. Even if you swapped out "fear" with "worry" or "stress", the message would be the same. God is going to guide you through the financial hardships you are facing. Trust that He will not leave you alone.
Matthew 6:31-34
This Bible verse says: "So do not worry, saying, 'What shall we eat?' or 'What shall we drink?' or 'What shall we wear?' For the pagans run after all these things, and your heavenly Father knows that you need them. But seek first His kingdom and His righteousness, and all these things will be given to you as well. Therefore do not worry about tomorrow, for tomorrow will worry about itself. Each day has enough trouble of its own." Some of this scripture is possibly one of the most quoted verses in the Bible. When you find yourself stressing about how we're going to pay the next medical bill, remember what God said here. You are reminded to stay in the present moment and appreciate what you do have. You are told not to stress out about tomorrow, because that is tomorrow's problem. Even then, God is with you.
Philippians 4:19
This Bible verse says: "And my God will supply every need of yours according to His riches in glory in Christ Jesus." Since God owns everything there is, is it too hard to trust Him to supply the needs for you or your family? Of course not. Yet most of us still worry needlessly over things that God promises to provide for. The key word here is "need" because He knows what we need today, and not just what we want. The truest richest are already in our possession if we have repented and trusted in Christ. Everything else is secondary in nature to salvation, so don't get too wrapped up in paper money.
Psalm 37:21
This verse says: "The wicked borrows and does not pay back, but the righteous is gracious and gives." In today's culture of 'get it now, pay for it later', it's too easy to not take debt very seriously. However it's clear that God has a very negative view on debt, and an even more negative view of not repaying that debt. Yet, note that it doesn't say "but the righteous repays his debt." It says "the righteous is gracious and gives." God simply wants us to be focused on helping others. This is where God wants your heart to be. Just think of the good that you will do for others once you are free of debt once and for all.
Don't forget to lean on the Lord a little more when you're facing financial trouble. Ask Him for help more, and you'll feel confident in knowing that He is fighting for you. God gives us what we need to get through every situation, even when we feel there is no way out.