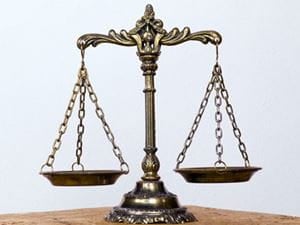 Can Christians and Muslims live in peace side by side? The African nation of Nigeria has for years been an experiment in coexistence – and it's never been easy. Today the nation is believed to be split about 50-50 Christian and Muslim, but numbers are disputed.
Voice of the Martyrs, a Christian advocacy group, says the split is Christian 51.3%, Muslim 45.1%. The Central Intelligence Agency's World Factbook estimates it at 50 percent Muslim, 40 percent Christian. A 2009 Pew Forum report says the Muslim population is 50.4 percent. According to a 2010 report, in the last national census, 47.20% were Muslims. The government officially quit collecting religious information in 1963.
The Nigerian constitution guarantees a secular state and freedom of religion, and vests in Nigeria's 36 autonomous states the power to establish their own court systems. However, "at both constitutional and practical levels, these guarantees are incompatible in light of the fact that Islam rejects separation of political from religious authority and proposes a unified theocratic system of governance," says Consultancy Africa.
A recent attack on the largest Christian community in Muslim-dominated northern Nigeria has raised religious tensions throughout Africa's most populous nation. At least 25 people were killed and 60 others injured following a suicide bomb attack in a bus station in the Christian district of Sabon Gari. The bus station is primarily used by passengers heading for the Christian south. Five buses were destroyed, one full of people. No group has yet claimed responsibility. The manner of attack is, however, similar to previous ones by the Islamist Boko Haram group. Its scale prompted Christian, Muslim and political leaders to urge the federal government to take urgent measures to avert a major crisis.
The Christian Association of Nigeria and its main Muslim counterpart, Jama'atu Nasril Islam, the Society for the Victory of Islam, expressed deep concern. JNI's Sultan of Sokoto is spiritual leader of Nigeria's 70 million Muslims and has huge power and influence. The country's two religious organizations worried the Kano suicide attack was capable of threatening the unity of Nigeria and its future as a nation.
"Nigeria's two major religions, Islam and Christianity, are sometimes depicted as monolithic entities that confront each other in pitched battles, with formal implementation of the criminal aspects of the Muslim shari'ah legal code (or the likelihood of implementation) providing the spark that touches off violence," says Global Security.com. "Riots based (at least ostensibly) on religious affiliation and religious policies have indeed occurred, the worst such being the two confrontations that took place in Kaduna. Such descriptions, however, can be misleading."
After the attack on the bus station, Christian Association of Nigeria President Pastor Ayo Oritsejafor condemned "the barbaric and sustained bomb and gun attacks on innocent Nigerians" and called on the government to support his call to declare Boko Haram a terrorist organization. "I plead with the government to fish out the sponsors of Jama'atul Ahlis Sunnah Lidda'awati Wal (commonly known as Boko Haram) and the Islamic group, Jama'atu Ansaril Muslimina fi Sudan, better known as Ansaru, an al-Qaeda-aligned group and a splinter group whose specialty is the kidnapping and killing of Christian foreigners."
In January 2012, more than 100 Christians were killed in a single day of coordinated attacks after Muslim extremists warned Christians to leave the north or face the consequences. Religious riots are common in northern Nigeria. Churches, mosques, schools, homes, government buildings and businesses are burned and destroyed by angry rioters during these outbreaks of violence. Recently, nominal Christians have retaliated with their own brutal attacks. Christians in northern Nigeria complain of discrimination by the Muslim-controlled government. In some cases, young women are kidnapped, compelled to convert to Islam and forcibly married to Muslim men.
The Sultan of Sokoto called the attacks "disturbing and alarming. It seems there is a design to set the entire north in crisis and, by extension, the whole country, starting with Kano. It calls for concerted efforts and better strategies to avert such ugly situations." He called on government officialss "at all levels to, as a matter of urgency, nip in the bud future re-occurrence and the perpetrators of these barbaric acts be brought to face the wrath of the law. Human lives are sacred and must be treated as such, in line with the teachings of the revealed books."
Nigeria's President Goodluck Jonathan said "the government will not be stampeded into abandoning its war against terrorism, including collaboration with local and international partners to check the menace of terrorism." But concerns remain. Can Nigeria remain united? Or will we eventually see the country partitioned like Cyprus and Sudan -- as separated, segregated Muslin and Christian nations?