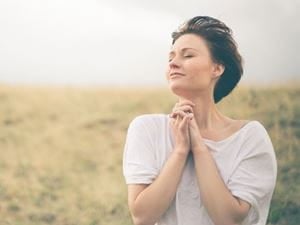 Lightstock.com
When we trust God, we expect Him to deliver the goods and the answers our prayers, right? Tell that to Abraham who waited on God to answer Him about the timing of having a son, seeing his own faith fail as it was not time yet. For Abraham, it worked out and God answered, but this is not always the case. "God does not always respond to our desires and he frequently allows circumstances we wish he would not. Theologically we call this sovereignty," Christianity Today shared. The Apostle Paul asked to be healed of his "thorn in the flesh." The rejoinder from the Lord from denial. "My grace is sufficient for you, for my power is made perfect in weakness," the Lord instructed Paul. We bet Paul was not thrilled about this answer, which is expected. We read in Biblical times that faith played a large role in people's lives and when Jesus came, it was supposed to be easier. There is a belief that the Savior is our meal ticket to a stress-free life and yet, we are unsettled and struggling. Well, dig in, here is what you need to consider when your faith falls flat.
You can't go backward.
You've done all the right things and prayed, tithed and still, your faith has taken a nose dive of Biblical proportions. We believe that God has to come to our aid on our timing because we did the right thing. If we are taught or believe that God will show up when we want Him, we are lying to ourselves. There will be times that He will and there will be occasions, you will remain in the murk. You can't go back, you can't move forward. "Don't be afraid, for I am with you. Don't be discouraged, for I am your God. I will strengthen you and help you. I will hold you up with my victorious right hand," Numbers 23:19 encouraged. Going backward is never the answer or will it help your faith.
Accept that we just don't know.
We need faith, this is true--but this blind faith is getting harder and harder when hope is deferred. If your prayer was not answered or people were not healed when you prayed, you have to accept that we just don't have the answers. King David and others didn't get their prayers answered. David's son that he had with Bathsheba dies, despite him fasting and praying. He then had Solomon and he became the king of Israel. Even if David never had another son and all his prayers went unanswered--he would have to accept that God remains a mystery sometimes.
Start to praise Him.
We get it, who wants to praise the One who can make things better and who turned a deaf ear? Look at it another way, the devil already smells blood, so don't give him a foothold. "Enter His gates with thanksgiving and His spirits with praise; give thanks to Him and praise His name." When we worship God we forget our own troubles and shift our thoughts to a higher purpose. "Satan will ensure you see that those who are most interested in worshiping God are the poorest and most despised of all," challies.com explained. Additionally, when you do this, God can move without you getting in the way because you want to control everything. Read the Bible, pray and look honestly into your heart if you need to forgive Him and maybe forgive yourself.
Find rest.
When your faith really is hijacked, you need to disconnect. When we don't leave ourselves much time for rest we will not be as productive. Schedule a time to give your soul a break. Travel somewhere where you can unwind. Find an encouraging book and review favorite Scriptures. Taking a break will help the body recover because everything is impacted in your life when your faith hits rock bottom. Stepping back can lower your blood pressure, heart rate and it can reduce the stress hormones such as cortisol, which influences, regulates or modulates many of the changes that occur in the body. Proverbs 3:5-6 acknowledged that we must "Trust in the Lord with all your heart, and do not lean on your own understanding. In all your ways acknowledge him, and he will make straight your paths."
Tackle fear.
"Fear looks; faith jumps. Faith never fails to obtain its object. If I leave you as I found you, I am not God's channel. I am not here to entertain you, but to get you to the place where you can laugh at the impossible," Evangelist Smith Wigglesworth said. You've probably heard about failing forward. Perhaps, it sounds too saccharine, but you need a reboot. Even though obstacles may force us to redirect our path, we need to press on despite our fears. Living life doesn't mean it will be comfortable, but knowing that fear challenges everyone, makes it easier to master. James 1:2-4 said to "Count it all joy, my brothers, when you meet trials of various kinds, for you know that the testing of your faith produces steadfastness."
It's hard to count things for joy when our faith fails. Yet, maybe it's not a representation of how good or how bad we are in our faith. It could be that it is a process and that God knows what He is doing, even when we don't have a clue.