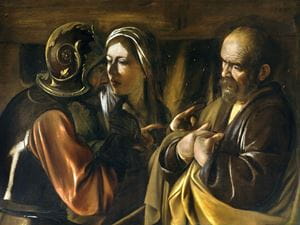 Peter the Apostle was one of the closest disciples of Jesus Christ. A fisherman turned missionary (including a name change from Simon), Peter made a decision to become a loyal follower and spread the Good News. Many stories in the Bible involved his relationship with Jesus, but one of the most iconic was his renouncement of Him before the Resurrection.
Peter pledged his unwavering loyalty, but Jesus knew that it would be short-lived, forewarning Peter of what was to come.
"But he replied, 'Lord, I am ready to go with you to prison and to death.' Jesus answered, 'I tell you, Peter, before the rooster crows today, you will deny three times that you know me.'" - Luke 22:33-34
As Jesus said, Peter publicly rejected Him three times, becoming more emotional and outraged as each statement flew.
"A servant girl saw him seated there in the firelight. She looked closely at him and said, 'This man was with him.' But he denied it. 'Woman, I don't know him,' he said.
A little later someone else saw him and said, 'You also are one of them.'
'Man, I am not!' Peter replied. About an hour later another asserted, 'Certainly this fellow was with him, for he is a Galilean.'
Peter replied, 'Man, I don't know what you're talking about!' Just as he was speaking, the rooster crowed. The Lord turned and looked straight at Peter. Then Peter remembered the word the Lord had spoken to him: 'Before the rooster crows today, you will disown me three times.' And he went outside and wept bitterly." - Luke 22:56-60
In that moment, Peter was fearful, forgetful, and unfaithful. He was afraid of facing the same death as Jesus, instead of showing his willingness to lay down his life for His Maker; the one that provides true salvation. He was forgetful of God's grace, mercy and strength to hold him up in his weakness. And Peter was unfaithful to God's love, rejecting everything that God is.
Christians serve as witnesses to God's role in their life and others. This is shown by the everyday practice of their faith. Publicly renouncing their relationship with Christ, much like Peter the Apostle, is a demonstration of shaky faith. But it is also indicative of the Christian walk, as all Christians stumble and fall.
It's one thing to pray in secret than to pray openly with others. Fear of persecution and judgment can sometimes hold the most loyal disciple back, and as a result, faithfulness becomes a casualty.
Christians can apply the lessons of faith, repentance, and transformation from Peter the Apostle. Although he denied Jesus, once he became aware of his wrongdoing, he "wept bitterly." God used the situation to strengthen Peter's faith and he finally understood that God was in control.
Being a Christian is a 24/7 calling. The acceptance of God as Lord and Savior should always be a proclamation.