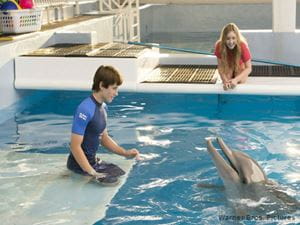 It was you homeschoolers that made the Dolphin Tale a smashing success at the box office. It was also you moms and dads to help bring awareness, and introduce your kids to the theme of hope, faith, and respecting marine life. To build upon this, homeschoolers and "Dolphin Tale 2" will have their own curriculum and aquamarine site.
Marine biologist Sheri Seligson along with The Home School Movie Club will unite education and fun to encourage students to learn more about our seas. Learn more about Winter, Hope and explore the ocean depths. There will be activities for all ages from preschool through to the higher grades.
Cozi Zuehlsdorff, who plays Hazel in the film, and also a spokesperson for the Clearwater Marine Aquarium, said homeschoolers are awesome (her words to you) and that the sequel will be a great experience for all of you.
"If you've seen the first one, you're going to love the second one," Zuehlsdorff said. "It's as good of a sequel, like "Father of the Bride" [where] the second one was just as good. Different, but [it] still had all the same flavors."
There are testimonies on how the first film moved people, including musician Harry Connick Jr. (Dr. Clay Haskett ).
"When somebody who's an amputee or disabled in some way comes up and says that this movie helped me, [and] I see it all the time--that's what makes critics and stuff not matter," he said.
"If there's one person that you can touch, you've done more than what you've set out to do."
The curriculum is live on the Home School Dolphin Tale 2 website www.homeschoolmovieclub.com.
Join Christian homeschooler Zuehlsdorff and Nathan Gamble to help launch the theatrical release of DT2 on Sept. 12.