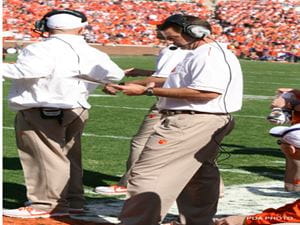 Clemson head football coach Dabo Swinney probably has nothing better to do during the off season than to defend why he schedules team devotions, Bible studies, and arranging transportation for church.
The Freedom from Religion Foundation, a watchdog group based in Wisconsin, feels that the coach and Clemson needs to explain.
The non-profit recommended that team devotionals, prayers and religious outings be cancelled and the coaching staff to be schooled on the First Amendment since the college is a public institution, according to a report from ESPN.com.
Swinney does schedule devotionals and allows coaches to offer free Bibles if requested.
"What we'd like to see is the end of this chaplaincy position and end to Bible distributions by coaches, an end to devotionals scheduled and put on by coaches and staff. The coaches need to step back and just coach and not coach in religious matters."
A spokesperson at Clemson fired back at the accusations in a statement that student athletes who engage in religious activities do so voluntary with no repercussions, and Swinney or his staff didn't violate the Constitution.
"We are not aware of any complaints from current or former student-athletes about feeling pressured or forced to participate in religious activities." Swinney, who was hired as Clemson's 25th head football coach in 2008, never apologizes for his faith. He said he welcomes players of all faiths or no faith into the program. Players need to be talented, meet academic requirements and have a solid character.
"I try to be a good example to others, and I work hard to live my life according to my faith. I am proud of the great success we have had in developing good players and good men at Clemson," according to a statement.
"We win at the highest level and we graduate players who excel on the field and in life because of their time in Death Valley. I want to thank Clemson University and all the people who have reached out to offer their support and encouragement over the past few weeks."
Tell us your thoughts. Do you think Clemson is violating the Constitution?