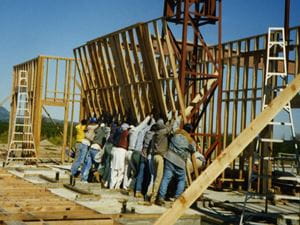 It's a poignant story of hope and solidarity, in spite of hate. The documentary, An American Mosque, reveals the history of the first American mosque, destroyed by arsonists, but later rebuilt by "community members of all faiths."
In 1994 in Yuba City, a small, rural town in California, farmer Khalid Saeed donated five acres of his land to help build a traditional mosque for the Muslim community. On August 31 of that same year, a deadly fire ravished the mosque, burning it to the ground.
Many members of the church and the community were devastated.
"I parked my car and the only thing I see is ashes, journalist Saleem Shah Khan tearfully describes.
It would be considered the first hate-crime involving the destruction of a mosque in the U.S. With a lack of national press and further investigation, no indictments were made for the arson. The case would later be closed, permanently.
In an effort to regain what was lost, Saeed and others looked to rebuild. What they didn't expect was an outpouring of support and love from the community, regardless of religious background. Churches and people of different faiths came together to show the spirit of peace and unity. In 2000, a new Islamic Center was opened.
The half-hour film shows a disheartening yet, realistic portrayal of how Muslims are treated in American society, even prior to the Sept. 11 attacks. It also gives voice to the Muslim community, who has endured religious hostility and intolerance and constant assaults on the Islamic faith, vilified by the media and others out of fear and ignorance.
Additionally, the title of the film, An American Mosque, permits us to question how we identify with the word "American," not just in the geographical context, but in the context of ethnicity, race, and religion. Rarely do we hear someone of Catholic or Christian faith add that they are American (Catholic American/Christian American), as if it must be defined in terms of American culture alone. But Muslims that live in this country do, and have been bound by it.
"How American do I have to be to be an American?" Saaed questions, whose family has lived in California since the 1950s. A raw, yet honest reflection of life as a Muslim in America.
An American Mosque, directed and produced by David Washburn, premiered on the World Channel, July 1. Airings will run through the length of Ramadan, July 28. You can also catch viewings of the film on PBS through July 6, as well as through Vimeo on Demand. It can also be purchased on DVD.