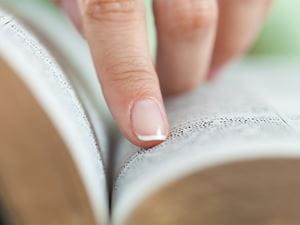 Shutterstock.com
Everyone is aware of the fact that there are levels to friendships. Each stage brings a new responsibility and closeness to the table. At specific points, you evaluate the levels of your relationship and determine if this friend should move up or down a level. However, have you ever considered your level of friendship with God? You could apply the different friendship development stages to your understanding of the shallowness or depth of your relationship with the Lord.
Most people grieve how lightly they take their friendship with God, which is revealed by the quality of their prayer life. To increase your level of companionship with God, you must ramp up your prayers because your relationship with God affects your prayers. Here are some ways to take your prayers to the next level.
Break down the barriers.
If we never pray, what does that say about our relationship with God? If we never talk to Him or come to Him in Jesus' name, changed and accepted through our connection with Christ, wouldn't the Father have the right to ask, "Do I know you?" During the Sermon on the Mount, in Matthew 7:21-23, Jesus told His disciples that not everyone who called to Him would enter the kingdom.
Jesus said true believers are recognized by their fruits, so wouldn't it make sense that one fruit of our deliverance is the yearning to talk with the Savior? First, we should study ourselves to see if we're in faith or strangers to God. If we are believers and not talking to God, it would help to get to the source of that issue, as Isaiah 59:2 describes, the barriers that separate us. We should confess our sins and not continue being a stranger in prayer.
Search the Bible.
One reason some Christians don't pray is that God still feels like a new acquaintance. It's like being a new child in the kingdom family and not knowing how or what to pray. It's already hard to admit to being a sinner. Still, after that confession, our relationship with God is established in the faith and prayer of repentance. However, that doesn't mean that you instantly become a prayer warrior.
When you're first introduced to someone, there's some awkwardness until you're more comfortable with each other. To take your prayer to the next level, search the Bible because that's how you'll get to know God. The Bible talks about God and how He works with His people from Genesis to Revelation. From the start, God told us about Himself, and the genuine Christian will want to know God better. We get to know Him through the word of God.
Be transparent.
There are some warm feelings in a casual friendship, but we still keep our friend at arm's length. Perhaps we're a "fair weather" friend, and a casual relationship suggests a part-time fellowship. In some casual friendships, we might not be honest or transparent. We don't want people to get too attached because we're scared they might see our true selves.
Sometimes, we do the same thing with God. He may be omnipresent and all-knowing, but we still somehow think we can hide our true intentions, which is laughable. Our prayers can become hypocritical and empty. Though we may have other plans, God will never be happy with a standoffish relationship. He will keep drawing us closer with unfailing kindness and love. He encourages us to move past simple prayer to something more significant. To take your prayer to the next level, you must be transparent and honest.
Draw closer to God.
Like the songs of previous generations, many modern worship songs call us to be closer to God. For example, Steffany Gretzinger's "Closer" says, "Pull me a little closer. Take me a little deeper. I want to know your heart." As we grow closer to God, we experience more togetherness, familiarity, and affection. We're moving to our prayer closets more often and learning more about God's ways. The Holy Spirit is our teacher, and He prays for us through wordless cries when our yearning for God grows, but we don't know what to say.
Close friends talk about particular goals. We want to know His will when we draw closer to the Lord in prayer. To take your prayers to a new level, pray for God to show you how He works and teach you His ways. It would be best if you also asked for the desire to walk in His light and discernment.
Choose a relationship with God.
Significant rapport, attachment, confidentiality, and affinity are involved when we build a friendship. To ramp up your prayers, try to have a consistent relationship with God. A friend is someone we spend lots of time with, more like an ally or partner. Encouraging and rubbing shoulders with other Christians helps us grow in the fellowship of the saints. Still, we should also rub shoulders with Jesus if we desire to stand in fellowship with Him and experience His blessings and wisdom.
Friendship requires intentionality; it's the everyday decision to walk with someone in agreement with them. The Lord called Abraham his friend because Abraham listened to God and kept His commandments. The Lord also confided in Abraham, so the loyalty was mutual in their friendship. The two were faithful to each other. Similarly, Jesus told His disciples about His desire to confide and open up to them to show them God's will.
Put your desire for God first.
When we deeply desire an intimate relationship with the Lord, our prayer life reflects that urgency and passion. Still, our desire for God doesn't compare to His desire for us. God takes delight in all His children, triumphing over them with singing as He delighted in Zion. Our prayers about Jesus will differ when we see His mercy toward us.
Jesus showed his desire to save and befriend us when He died on the cross. He's an example of a friend who sticks closer than a brother, as described in Proverbs 18:24. If He was willing to lay down His life for our salvation, we should do what we can to ramp up our prayer lives.