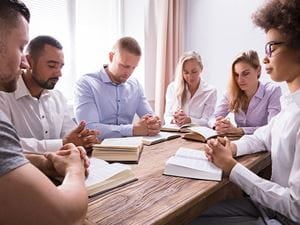 Shutterstock.com
If we think of life as a game, our enemies are those people who intentionally try to prevent us from winning. Some of their vicious deeds include fighting us, pushing us face down, robbing us, misleading us, and misrepresenting us, all done with an apparent hatred. Praying for them is not our automatic response, but it may be the best thing we can do.
Luke 6:28 says, "Bless those who curse you, pray for those who mistreat you." Before assuming that we would rather not deal with the troublemakers, you should know that there is a place for enemies in everyone's life. See why praying for them can enhance your character.
It's the benevolent thing to do.
We can respond to the misdeeds of our enemies with our evil deeds, but we would only enlarge the hostility field around us. On the other hand, praying for them seems like the most benevolent thing to do. It benefits them, and it helps us, according to in Luke 6:32, 35. Luke 6:32 tells us, "If you love those who love you, what credit is that to you? Even sinners love those who love them," while Luke 6:35 tells us, "But love your enemies, do good to them, and lend to them without expecting to get anything back."
Instead of nurturing bitterness toward them, we can speak blessings on them in our prayers. We can pray that God's goodness in their lives would become a reason for them to share love instead of hate. Our benevolence towards them could strengthen our resolve to act with integrity, and it can also weaken or dissolve their ill-will toward us.
It improves our attitude.
It is wise to pray for ourselves first when tackling another person's problem. In this situation, we can pray for a divine perspective to replace the human judgments we have already made about our enemies. When we look at our problems through God's eyes, we're able to change our perspective and respond to our issues with a different attitude.
It cancels resentment.
Resentment towards an enemy is understandable, but considering how it can enslave our spirit and sabotage our spiritual, mental, and emotional health, it pays to pray that negative feeling away. Prayer can make the following Ephesians verse practical in our dealings with our enemies. Ephesians 4:31-32 tells us, "Get rid of all bitterness, rage, and anger, brawling and slander, along with every form of malice." Verse 32 continues, "Be kind and compassionate to one another, forgiving each other, just as in Christ God forgave you." It may seem challenging to forgive our enemies. Our for spiritual strength to offer genuine forgiveness will enable us to live comfortably and without ill-feeling toward them.
It helps transform our enemies.
Without judging the enemy, we can conclude that anyone who intentionally wants to hurt another person needs some soul transformation. Lecturing, punishing, playing tit-for-tat may never change them, but if our prayer for them is motivated by love, the divine love we receive from God, the transformation can happen. 1 Corinthians 13:4-7 reminds us of the definition of love; love is patient, love is kind. It does not envy. It doesn't boast; it is not proud."
The enemy's lousy conduct may be the symptom of misplaced aggression, guilt feelings, mental disorder, or any other reason which qualifies him for help. Many reports of changed lives result from mediation or praying for others. Intercession also develops love, caring, and compassion and may lead your enemy to seek practical and professional help on behalf of hostile individuals seeking transformation.
It removes the desire for personal revenge.
Some evil deeds of our enemies deserve to be punished, and we readily think we know the appropriate punishment. However, the text of Romans 12:19 says, "Do not take revenge, my dear friends, but leave room for God's wrath, for it is written: 'It is mine to avenge; I will repay, says the Lord.'" We can visualize ourselves finding refuge from our enemy's attack in God's bosom. He comforts us, saying, "Don't worry, my child. Don't even think of avenging your enemy; I can do that more effectively than you."
When it is time for the enemy to face the consequences of their actions, we can pray that they seek divine strength to endure the discipline. We can also pray for the opportunity to help them hold up while they're hurting. Wise people benefit from discipline, and one benefit for the enemy might be that they learn to treat others with the kindness they want for themselves.
It produces inner peace.
Nothing we do for our enemies might bring the results we anticipate. We cannot control their responses to our prayers or God's blessings on them. However, because we nurture thoughts of peace and harmony toward them, their actions will not cause anxieties or restlessness within us. Psalm 119:165 tells us, "Great peace have those who love your law, and nothing can make them stumble.
If we continue to listen and obey our God-given instruction on repaying evil with good, we will continue to pray for our enemies and enjoy a clear conscience. We can rest in the assurance Jesus offers, described in John 16:33 as, "I have told you these things, so that in me you may have peace. In this world, you will have trouble but take heart. I have overcome the world."
Perhaps one of the hardest commands Jesus gives to us as His disciples are to bless, love, and pray for our enemies. Still, all things are possible through the power of God's Spirit working through us. Through Jesus, we can pray for our enemies. We should pray for our enemies because Jesus did. He prayed for those who opposed Him, devised evil against Him, and ultimately as He hung on the Cross, Jesus prayed for His Father to forgive all those who had a part in His death because they didn't know what they were doing. Jesus modeled unconditional love and how we should pray for our enemies, and as His children, we should follow His lead.