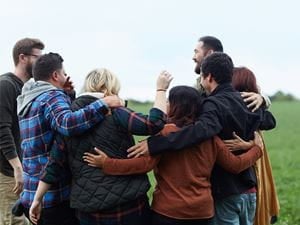 Lightstock.com
High school can be challenging for many students as they face changes in life, emotions, and friendships. School isn't always a place of encouragement and peace. Do you remember what it felt like to be in high school? Did those years fill you with dread, anxiety, excitement, or a mix of the three?
For modern teenagers, high school and college are chaotic times with ups and downs. With after-school commitments and higher academic demands mixed with social media and the drama these environments and years bring, today's teens seem to cope with more than previous generations.
Sometimes, prayer can be awkward and uncomfortable for teenagers. However, James 5:16 reminds us that the prayers of a righteous person are effective and powerful. With this in mind, here are some prayers for your high school student that will keep them encouraged and hopeful.
A prayer for alleviating anxiety.
Dear Lord, my studies come with anxiety and jitters. I'm worried about my classes. I'm anxious about my homework, if my clothes are good enough, and who I'll sit with at lunch. I wonder if my friends have my best interests at heart, just everything.
Please help me keep Philippians 4:6-7 in my heart, which says we shouldn't be anxious about anything. Lord, help me successfully cope with high school anxieties and let me maneuver around without getting lost. Please remind me to be conscious of your presence and overcome my fears and anxiousness. In Jesus' name, I pray, amen.
A prayer for friendship.
Dear Precious Lord, Proverbs 13:20 reminds us to walk with the intelligent, and we will become intelligent because a friend of fools will suffer. I pray that my friendships and those that haven't been made yet are positive. I pray that my friends lead me away from harm or sin and instead lead me to righteousness.
I also ask that You help me be the best friend I can be. Please help me be there for my friends when they need my help, pick them up when they're down, and be a positive force in their lives. If I have a friend that starts making bad decisions or going down the wrong path, give me the nerve to talk to them about it. Help me show them the decisions they're making can affect their future. Also, if I stray from the path You made for me, let one of my friends show me the error of my ways. God, I thank you for my friends and pray that You continue to bring me good ones. Amen.
A prayer for balance.
Dear God, you know how busy the school year can be. With clubs, classes, homework, family, sports, work, and everything in between, my plate can sometimes seem so full. Please help me prioritize my schedule and keep me from feeling overwhelmed.
Help me recognize when I need to stop any activity taking up too much of my time or affecting me negatively. Please allow me to make time for You, knowing that You come first. Please, God, help me to strike a balance. In Jesus' name, amen.
A prayer to continue honoring God.
Dear Lord, some of my peers participate in many things that aren't good for them. Alcohol, drugs, sex, sexting, partying, being ugly online and gossiping have become the norm. At times, the pull I have to engage in these sinful activities is also powerful.
Sometimes, I feel like I'm missing out on an experience that I'll never get back. Still, in my heart, I know I'm only missing out on sin, which always brings negative consequences. God, please help me ward off temptation whenever it rears its ugly head. Please give me the power to rise above what people around me are doing and the strength to say no. Allow me to see the fruit in making positive choices in my life and following You. Keep me near today and always. In Jesus' name, I pray, amen.
A prayer to light the darkness.
Dear God, it feels like many of my peers, including myself, deal with so much pain. Obsession with social media, anxiety, depression, trying to fit in, overscheduling, broken families, parents' marital problems, and financial issues are some of the issues attacking my generation.
Despite this, God, I know You're in control and that Your ways are better than mine. God, I pray to be a light amongst the darkness. Some people at my school are hostile to religion or don't know You. I ask that You help me recognize opportunities to show Your truth and love. Please help me know when to keep quiet, wait, and speak up. Let people see You shine through me and make a path for them to follow. In Jesus' name, amen.
A prayer for guidance after high school.
Dear Precious Father, the pressure to know what I want to do after graduation seems more real now that I'm in high school. What should I do? Go to a tech school, college, the military or go straight to work? How am I supposed to know what to do when I'm unsure what my interests are? Everything seems confusing, but 1 Corinthian 14:33 says that You are the author of confusion.
Please help me consider Proverbs 3:5-6, which reminds me that I should trust in You with all my heart and not lean on my understanding, but acknowledge You in all ways so You can direct my path. I pray that You continue controlling my way, so I'll know what to choose as high school goes on.
Please lead me to specific opportunities, experiences, and jobs that will give me an idea about my future. Help me gain the skills and knowledge I need to lead me to the good works You have for me. In Jesus' name, I pray, amen.
The high school years are some of the most challenging you'll face as you transition into pre-adulthood. However, your high schooler can face anything if they keep God first. Your high schooler will be fine if they only seek Him for guidance instead of outside guidance.