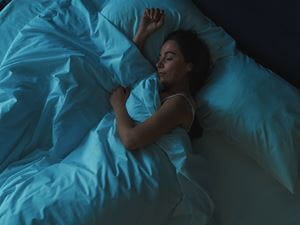 Shutterstock.com
Our worries, fears, and struggles tend to wake us up in the middle of the night. Your thoughts start swirling around in the dark, and peace feels miles away. It's hard to think and gain clarity. Sadly, in the moments when we need prayer the most, we can't find the words. Luckily, we serve a God who knows our hearts when we can't find the words to speak. God knows; He's close and understands.
His words are the only things that can bring us comfort in life, whether through the glow of day or the dark of night. If you've been struggling to sleep during the night, here are some Bible verses and prayers to get you through the night and focus your mind on God.
Prayers For When You Can't Sleep
Dear Lord, the Bible gives us constant reminders that we shouldn't be afraid. You are with us and protect us from harm, seen and unseen. We come to You in prayer to ask that You cover us and remind us that Your angels are always close by. Thank You for watching over us so we can sleep. Right now, we are choosing faith over fear and ask that You would surround us with Your peace. In Jesus' name, amen.
Dear God, our hearts are breaking. We feel grief and sadness. We miss our loved one that has joined you in Heaven. We know that nothing can fill the void we're feeling, but we thank You. We thank You for reminding us that You keep the brokenhearted close and save us who are crushed in spirit. Please bring us Your comfort and help. Soothe the pain we feel in our hearts and send us reminders that You are with us. We know that You can change any circumstance in the late-night hour. Please bring us to the other side of our storm and grief as we choose to hope in You. In Jesus' name, amen.
Lord, we are hurt, feeling betrayed, and brokenhearted. Sometimes, we wonder if we can ever recover from the hurt we feel in our hearts. You know what we've been through and the burdens we bear. Please help us to forgive and let go. When the enemy insults us with lies and brings up the pain of the past, please silence that voice and let us walk free. We understand that we can only move forward with Your peace and freedom. We also pray for those who hurt us and ask that Your power work within their lives. We leave them in Your trusting hands and hope they can find strength in Your spirit. Amen.
Dear God, our hearts are hurting and filled with despair. The dark cloud hovering over us is what we feel inside. We're struggling to find our way, feeling lost and desperate. The nighttime only exacerbates our worries. Please help us as we cry out for relief and hope. We desperately need Your peace and healing. Thankfully, we know that You'll never let us go. Thank You for keeping Your promises to lift us out of our despair. We know the plans You have for us will exceed anything we can come up with and give us a future and hope. Amen.
Bible Verses For When You Can't Sleep
"Do not be anxious about anything, but in everything by prayer and supplication with thanksgiving, let your requests be made known to God. And the peace of God, which surpasses all understanding, will guard your hearts and your minds in Christ Jesus."- Philippians 4:6-7
"Come to me, all you who are weary and burdened, and I will give you rest. Take my yoke upon you and learn from me, for I am gentle and humble in heart, and you will find rest for your souls. For my yoke is easy, and my burden is light."- Matthew 11:28-30
"The Lord is my shepherd; I shall not want. He makes me lie down in green pastures. He leads me beside still waters. He restores my soul. He leads me in paths of righteousness for His name's sake. Even though I walk through the valley of the shadow of death, I will fear no evil, for You are with me; Your rod and Your staff, they comfort me. You prepare a table before me in the presence of my enemies; You anoint my head with oil; my cup overflows. Surely goodness and love will follow me all the days of my life, and I will dwell in the house of the Lord forever." - Psalm 23:1-6
"God is our refuge and strength, an ever-present help in trouble. Therefore we will not fear, though the earth gives way and the mountains fall into the heart of the sea. He says, 'Be still, and know that I am God; I will be exalted among the nations, I will be exalted in the earth.' The LORD Almighty is with us; the God of Jacob is our fortress." - Psalm 46:1-2, 10-11
"The LORD gives strength to His people; the LORD blesses His people with peace." - Psalm 29:11
"So do not fear, for I am with you; do not be dismayed, for I am your God. I will strengthen you and help you; I will uphold you with my righteous right hand." - Isaiah 41:10
"The LORD is close to the brokenhearted and saves those who are crushed in spirit." - Psalm 34:18
"Draw near to God, and He will draw near to you…." - James 4:8
Everyone goes through troubling times where we don't know how to get to the other side. We toss and turn, praying that we'll get through it. Luckily, our God is an excellent protector. He knows the things that burden us and keep us up at night. If we take our problems to Him in prayer, He'll come up with a solution by the morning.