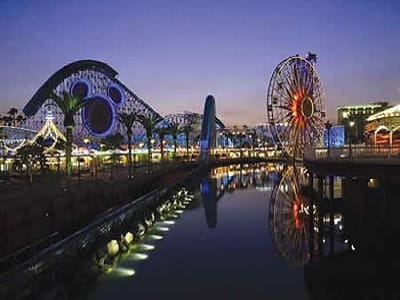 En 2012, 42.7 millones de personas visitaron la ciudad de Anaheim en California. Es la cuarta ciudad más visitada anualmente en los Estados Unidos. Walt Disney construyó su primer parque, la famosa Disneylandia, en esta ciudad que, para aquel entonces, era pequeña y rural. Desde la apertura de Disneylandia en 1957, Anaheim sufrió sucesivas transformaciones que la han hecho una ciudad muy grata para hospedarse, hacer compras, comer bien, divertirse, hacer deporte, o bailar y fiestear.
Hay mucho que ver y que hacer en Anaheim. A continuación le damos algunos lugares a visitar para que disfrute al máximo su visita a este polo turístico californiano.
Grove of Anaheim
Es un moderno y espacioso teatro que recibe los mejores espectáculos y conciertos. Desde Sesame Street Live, hasta Rent y Stomp; desde Seal hasta Cindy Lauper. Es también un lugar donde cenar antes del show de que se trate. Las cenas se escogen dentro de un menú prefijado de pasta, pollo, carne o pescado y sus precios van desde $17 hasta $35. Hay que llegar 2 horas antes del show para cenar antes de que comience.
Disney's California Adventure
Este parque, también de Disney, fue abierto al público en 2001 y es un tributo al Estado de California. Las secciones del parque están dedicadas a distintos aspectos del estado: Sunshine Plaza, Hollywood Pictures Backlot, The Golden State, A Bug's Land and Paradise Pier. Hay, por supuesto, atracciones para todas las edades y show especiales a distintas horas.
Medieval Times Dinner and Tournement
Cada noche, 1.000 comensales disfrutan de una cena y de un divertido show con caballeros que combaten en justas, por el amor de las bellas damas, sobre engalanados caballos de hermosa estampa. Una noche distinta que hay que disfrutar al visitar Anaheim.
Honda Center
Este moderno estadio deportivo es el hogar de los Anaheim Ducks de la Liga Nacional de Hockey. Cuando no está siendo usado para los juegos de hockey, este enorme espacio que puede acomodar 18.900 personas, también es usado para grandes conciertos con artistas como Madonna o Elton John y para grandes espectáculos como el Ringling Bros.

and Barnum & Bailey Circus.

Y si de comer se trata, en Anaheim hay cientos de restaurantes de todo tipo y para todos los bolsillos. Aquí le recomendamos algunos muy populares: