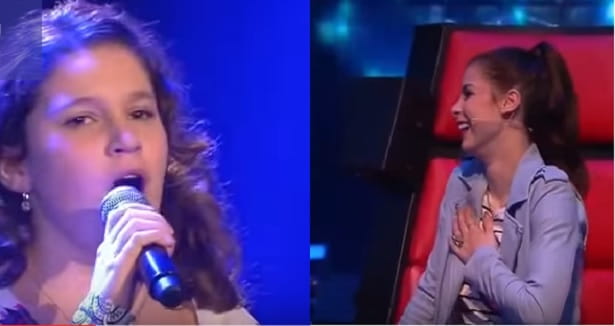 Alrededor del mundo existen muchísimos concursos de cantos, " The Voice" es uno de ellos. Este concurso ha alcanzado fama internacional; y en él sus presentadores y jurados representan a los mejores cantantes del mundo.
Al programa asisten muchos niños con voces maravillosas, unas más que otras; pero existen unas que definitivamente marcan nuestras vidas, y esta es una de ella, ya verás por qué lo digo.
"Time to say goodbye" (Por ti volaré), tema de Andrea Bocceli, que fue interpretado por Solomia, niña cuya voz cautivó a la audiencia y al jurado entre aplausos y lágrimas.
La presentación tuvo lugar en la segunda jornada de las audiciones a ciegas, donde el jurado escucha y evalúa a los aspirantes dándoles la espalda. Pero en el caso de Solomia tan solo comenzó a cantar y dos del jurado se dieron la vuelta de inmediato.
La interpretación fue tan hermosa que hasta a mí me ha dejado sin aliento y con lágrimas en mis ojos.