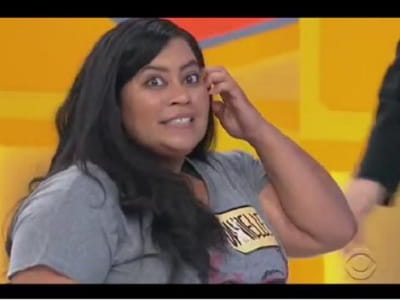 Danielle Pérez es la ganadora de una súper caminadora en un popular programa de juegos por televisión.
Pérez es comediante, dice que ella pensó que el premio era una "gran broma".
El viaje de Danielle Pérez a "The Price is Right" parecía el sueño cumplido de una fanática del show. Pero no sólo eso, Pérez ganó una caminadora y un sauna. Ambos premios están geniales, excepto que Pérez no tiene piernas y utiliza una silla de ruedas para desplazarse.
La victoria de Pérez fue inmediatamente publicada en YouTube y recibió una increíble reacción en los medios sociales.
This poor woman in a wheelchair just won a treadmill on Price is Right. pic.twitter.com/X5XnXFGw8A

— Chad Neidt (@chadneidt) Mayo 5, 2015
"Esta pobre mujer en una silla de ruedas acaba de ganar una caminadora en Price is Right," escribió Chad Neidt en Twitter.
For the first time ever I saw a woman in a wheelchair make it on the Price Is Right. Her prize was a treadmill. God is very very cruel.

— Sterling (@TeamSterlo) Mayo 5, 2015
Otra persona en Twitter dijo: "Por primera vez en la historia veo a una mujer en una silla de ruedas en The Price is Right. Su premio fue una caminadora. ¡Dios es muy, muy cruel".
Un amigo de Pérez dijo que ese momento tan incómodo en el programa demuestra que el espectáculo no está amañado, publicó en Twitter: "Mi BFFDivaDelux ganó una caminadora en The Price is Right, ella está en una silla de ruedas. Lol ... Por lo menos ahora sabemos que nada está arreglado ".
when you win a treadmill on national TV, but you have no feet @DrewFromTV @PriceIsRight pic.twitter.com/NlqTG1HJPT

— Danielle Perez (@DivaDelux) Mayo 5, 2015
Pero, posiblemente, la mejor reacción vino de Pérez, pues twitteó una foto de ella en el programa, diciendo: "Cuando ganas una caminadora en televisión nacional, pero no tienes pies".
Pérez, quien es una comediante, ha estado en una silla de ruedas desde 2004, después de que perdió sus piernas en un accidente. Ella dijo que lo más extraño de su victoria fue la reacción de los miembros del personal en el programa.
"Yo seguía pensando que era una broma muy grande", dijo con una sonrisa, "Pero no había ironía en sus ovaciones o aplausos".
Ella dijo que Carey se ofreció para ayudarla a girar la rueda cuando era su turno, pero quería hacerlo ella misma y logró por primera vez conseguir que la rueda hiciera una rotación completa, aterrizando en $ 0.75...CONTINÚA EN LA PÁGINA SIGUIENTE