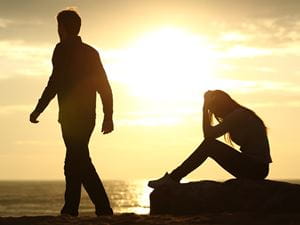 Shutterstock.com
Reality television is a hotbed of scandal, voyeurism, backstabbing, jealousy, confrontation and of course dramatic implosion of relationships are aplenty. We remember when television personalities Kourtney Kardashian and Scott Disick ended their 9-year relationship on "Keeping Up With the Kardashians." After 22 years of marriage Bruce (Caitlyn Jenner) and Kris Jenner also divorced and made news. Oh, we can't forget the drama that unfolded when Khloe Kardashian and Lamar Odom were dealing with their complex relationship that ultimately led to a divorce. Tarek and Christina El Moussa of the HGTV show "Flip or Flop" broke up amid rumors of violence. In a statement, the couple said: "Like many couples, we have had challenges in our marriage. We had an unfortunate misunderstanding about 6 months ago and the police were called to our house in an abundance of caution. There was no violence and no charges were filed." Whoa, these breakups are becoming pretty scary while keeping fans on the edge of their seats. But as we snap back into a reality, this doesn't have to be your life. Here are 7 reasons why break-ups from reality shows shouldn't matter.
The show is staged.
When couples are in a relationship they often become intertwined and this happens on shows as well. However, the show has writers and producers to make a relationship look worse or better than it really is. You know who you are and you know your identity as a couple. It is important to not allow a show or their stars to influence your decisions or influence your relationships.
Perfection is deceptive.
Women who we deemed as "perfect looking" are being cheated on. Look at the case of Tiger Wood cheating on Elin Nordegren and Ben Affleck cheating on Jennifer Garner. Infidelity has little to do with appearance, money, education or social status. Lamar struggled with substance and cheated on Khloe and while they appeared to have everything, they didn't have fidelity. Some people view a breakup as a form of rejection. While there are people who view the rejection as a personal reflection on the desirability, others see the dismissal as a burden of having to find another partner in the future. Lamar and Khloe didn't have a perfect life and it came to an end as we all have ghosts we need to deal with. There is no such thing as perfection in a relationship.
Don't allow fear in.
After watching some of these reality shows, you might become paranoid that your relationship is doomed! This doesn't need to be your reality. People with solid relationships struggle in their relationships. Many of the problems come from us making poor choices like not making time for our marriage, not making needed sacrifices and a lack of intimacy. Use positive imagery, thoughts or pray through the fear that seems to be gnawing at you.
Their baggage is not yours.
Some of these stars really have issues that the average person doesn't have to deal with. Most of them are wealthy, which leads to temptation. They have people wanting to sleep with for their fame and money, and some were divorced several times. Don't go by your feelings to determine if you are in love or not. You really can't gauge them by this. It may start as a small annoyance and develop into an avalanche, but all relationships go through this. If you both rely on each other, you will be fine. Yes, we all have baggage, but if you add cameras and tabloids to it? Then you have a recipe for disaster.
We all have insecurities.
We all have insecurities in our relationships like "Am I good enough?" or "What is wrong with me that we fight?" It's relatively common for people to feel insecure and as we can witness on reality TV, there is a lot of that going on. Reality shows negatively impact our lives because they create a deceptive reality that things are fine.
They force chemistry.
When it comes to reality TV, they work to force chemistry on dating shows. Fake or forced chemistry will never work, even though they pretend that it is. We are sure that if you didn't feel a connection with your partner that you would be single. You don't have to smile for the cameras or speak on cue in real life. In order to have and to attract true love, you have to be true to yourself. When there is dishonesty and materialism love can't grow. No matter what show it is, you can't force chemistry, regardless how scripted it may be. Usually, the couple that gets together will end up breaking it off.
They profit off of break-ups.
Reality shows really profit from exploiting the economic status, gender and relationships. With this, most of the time the communication is just fighting. Poor communication is usually a problem within relationships. You're probably communicating better than what is being witnessed on the small screen anyway. Maybe most of the relationships are fake and the actors are on contract to make it look like they are together. Effective communication does little for ratings.
In a world of false reality that tells us to go with our feelings all the time, we need to become more aware that reality TV doesn't mean that we will end up in a divorce or will experience a broken relationship. There are many things that influence a relationship's health, your favorite reality show is not a factor unless you permit it.