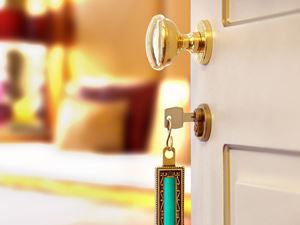 Shutterstock.com
From Vrbo to AirBnb, the vacation rental business has certainly increased in recent years. Many travelers prefer short-term rentals due to their privacy, space, and price options. Still, these accommodations have also gotten a bad rap due to reports of scammers using fake listings to con families out of their hard-earned vacation money.
Last year, Florida Attorney General Ashley Mood and New York Attorney General Letitia James warned travelers about vacation rental scams, urging renters to stay on their toes as they consider listings. These scams can happen on any online platform, and scammers are consistently testing new deception methods, hoping to lure in unsuspecting victims.
The majority of vacation renters experience scam-free trips. However, booking travel with your eyes wide open is always best. Here are some tips on how to find a vacation rental scam.
The rental is too good to be true.
If a listing seems too good to be true, it likely is. You can quickly sense the area's standard pricing as you search for your vacation rental. Take note of the listings that seem like an outstanding value for the location or offer luxury features that don't align with the cost. Whether it's the facilities they offer or the general price, it would be best to read the reviews for the host and property to grasp whether the deal is truly genuine. Always trust your gut.
The host insists on external communication.
There are some signs to consider when booking a vacation rental, one of the primary ones being the host insisting on external communication. It's essential to keep all communication on the booking platform to ensure the safety and security of your information and details. A host may offer a WhatsApp link or their phone number before or after you arrive at the property for accessible communication. However, if they push for speaking solely outside of the booking platform from the start, consider that a red flag.
The host requests direct payment.
Just as you should be cautious about external communication, you shouldn't agree to send direct payments outside the booking platform. Most times, scammers will ask renters to pay them directly for the trip via Zelle, PayPal, Venmo, or a bank transfer, so it's essential to book directly through the listing's owner, like Airbnb, Evolve, or Vrbo, using a secure procedure.
Scammers will try to explain why they need direct payment, so travelers should stay vigilant and book and pay through established platforms. Trusted booking platforms provide security and other protections that can't help if you pay the host directly, so don't fall for the trap. The host may propose a lower price if the customer agrees to direct payment, but they may sneak a link that moves the customer away from the platform or ask for the money via a bank transfer or a payment app like PayPal.
The reviews are debatable.
If you book through a reputable platform, you can look at the property's reviews from other guests who have stayed there. It may also help to check out review sites like Yelp and TripAdvisor. If the rental property doesn't have reviews, that could be a sign to stay away. However, it could also mean it's a new listing, so you should look at the host's profile and other properties to check out the reviews.
Even if you see numerous positive reviews, you should critically examine them as you read through them. Renters should look for properties with many reviews and read them, examining the dates to determine if they're legit. If too many evaluations were written in a short period or sounded the same, that's a red flag.
There's pressure to book.
It's one thing for a host to let you know their property is in high demand, but if they seem to be relentlessly bugging you to book quickly, that could mean it's a scam. High-pressure sales tactics should be your first red flag. If someone puts intense pressure on you to pay for something quickly or sign an agreement before you're ready, you should take a step back and ask yourself why.
Your Google search shows inconsistencies.
It's common for vacation rental owners to list their property on multiple sites, so you should search for a listing on various platforms to ensure consistency on each site. Ensure the details, like amenities and location, are the same on every platform. You could also do a reverse image search on the listing's images to ensure they're not stock images or misrepresentative. If all else fails, you can contact the booking platform to ask about the property and confirm its legitimacy. You can also Google the property's address to ensure the street view matches the listing.
You have questions leading up to your trip.
Leading up to your trip, you should contact the host to guarantee everything is in order and ask any questions regarding the property. Ensure you got a confirmation email, and keep tabs on the reviews on the listing. If you have concerns, determine what information will make you feel better and take your concerns to the host. Suppose you're working directly with the property owner. In that case, you can request a copy of their short-term registration and permits, ensuring they're registered with the local jurisdictions to run a short-term rental.
Verifying that your host has the appropriate paperwork can reduce your chances of becoming a scam victim or receiving a visit from the authorities while you're on vacation. These documents are public records, so the rental owner shouldn't have a problem presenting this information. If you want to go a step further, take the material and cross-examine it with the local government agencies.
Suppose you fall victim to a vacation rental scam. In that case, it's essential to immediately report it to the site where you saw the listing and state or local authorities to help find the scammer, find a resolution, and prevent someone else from getting scammed. Unfortunately, if you've already paid the scammer outside the booking platform, your money likely won't be reimbursed, so you'll have to talk to your bank.