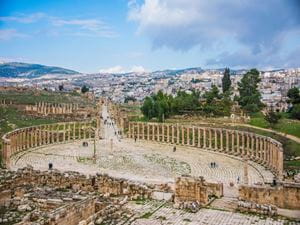 VisitJordan.com
The historic Decapolis League consisted of Greco-Roman cities in the Middle East that were renowned for their trade routes, impressive archeology, biblical stories, and successful civilizations. Many of the Decapolis cities were located in present day Jordan. While this league was established thousands of years ago, some of its cities in the Jordanian kingdom remain accessible and maintained for visitors from across the globe to visit and explore, obtaining a unique opportunity to learn about the religious references and ancient characteristics of these places.
Established in 64-63 BC, the Decapolis was a league of 10 known ancient cities in the Levant region of the Middle East with most of them situated across different parts of Jordan. Decapolis translates to deka for "ten" and polis for "cities" in the Greek language. These cities included, Philadelphia (modern day Amman), Gerasa (Jerash), Pella (Tabaqat Fahl), Scythopolis (Beisan), Gadara (Umm Qais), Damascus, Hippos (Qal'at al-Husn in the Golan Heights), Canatha (Kanawat in southern Syria), Dium, and Raphana. The League was mostly formed due to the cities' common language, culture, and location; however, each city operated as an independent, free-state with its territory consisting of various villages and settlements. The cities of the Decapolis League also embodied mutual security and protection and their distinctive location in the region was beneficial for trade purposes and travel routes. With the support of Rome, the unique characteristics of the cities helped the League flourish, strengthen, and become an immensely important region in the world. While the cities continued to strongly exist and grow for many years, earthquakes and invasions eventually led to the destruction of most of the League.
Decapolis in the Bible
Referenced in multiple verses in the holy Bible, the Decapolis League was an extremely significant religious region filled with stories and experiences of Jesus Christ. Specifically, the New Testament gospels of Matthew and Mark reference the location with verses discussing that it was not only one where Jesus performed his ministry but also where Jesus healed and helped those who were sick. In this specific area, Jesus discovered the tremendous need for healing with stories of Jesus performing miracles on those who were ill. According to Mark 7:31-37, it states the following, "Then Jesus left the vicinity of Tyre and went through Sidon, down to the Sea of Galilee and into the region of the Decapolis. There some people brought to him a man who was deaf and could hardly talk, and they begged Jesus to place his hand on him." The verse continues by explaining that, "after he took him aside, away from the crowd, Jesus put his fingers into the man's ears, then he spit and touched the man's tongue. He looked up to heaven and with a deep sigh said to him, "Ephphatha," which means, 'be opened.' At this, the man's ears were opened, his tongue was loosened and he began to speak plainly." These biblical references and stories of Jesus Christ further enhance the importance of the Decapolis cities.
Many of the sacred places of the Decapolis League were re-discovered, well-preserved, and continue to exist in present day Jordan, including the cities of Jerash, Umm Qais, Amman, Pella, and Raphana. Visitors to the kingdom can plan trips to these cities and experience unique opportunities that will allow them to explore and learn about the places and stories that existed many years ago. Visitors can also reflect on the biblical significance of these cities and enjoy a journey of holiness and spirituality by seeing these historic places first-hand. For example, those who choose to visit the ancient city of Jerash, which is home to some of the Middle East's best-preserved Greco-Roman ruins and architecture, can explore some of the city's stunning colonnaded streets, temples, theaters, and monuments and imagine how it functioned during those times. Jerash is located north of Jordan's capital city of Amman and within an easy day-trip distance, making it one of the top Decapolis cities to visit during a trip to Jordan.
Additionally, guests can visit Umm Qais, a city suspended on a beautiful hilltop overlooking the Jordan Valley and the Sea of Galilee in Jordan's northern region. During a trip to Umm Qais, tourists can visit two museums that include ceramics dating back to the Hellenistic period as well as statues and monuments from the Roman period. Guests can also explore ruins of two ancient theaters, which are part of the Umm Qais archeological site. For those looking for outdoor activities, they can learn about beekeeping with a professional beekeeper who will introduce visitors to the exciting process of honey-making or enjoy a cycling experience for those wishing to see the rolling farmlands of Umm Qais through the Jordanian social venture, Baraka Destinations. While the city of Raphana located north of Umm Qais is not as popular as the others, it is worth visiting for those who enjoy exploring historic, untouched archeology. It lies amidst agricultural fields at the modern Ain Quweilbeh spring and consists of Roman temples, Byzantine churches, and early baths and tombs. Similarly, the city of Pella situated above the country's beautiful Jordan Valley is especially important to archeologists as it reveals evidence of thousands of years of continuous settlement and civilization. Pella offers visitors the opportunity to see ruins from the Greco-Roman period including a theater as well as remains from the Bronze and Iron Ages and Byzantine churches and houses.
Moreover, Jordan's capital of Amman may have been the ancient city of Philadelphia during the Decapolis period but today, it is a vibrant, modern, and diverse city. It is home to incredible restaurants that offer international cuisines as well as traditional Jordanian food, an impressive arts scene, and a bustling cultural atmosphere. Visitors in Amman can explore local art galleries such as Wadi Finan Art Gallery and Darat Al Funun that displays artworks of Jordanian and regional artists, and hosts various workshops, film screenings, and cultural events. They can also visit beautifully-built churches and chapels that offer both English and Arabic masses as well as religious gatherings and events throughout the year. For example, in the heart of Jabal Amman, one of the capital's best places to walk around and enjoy the city's vibrancy and local stores lies the Saint Joseph Church that offers heartfelt masses as well as masses in Italian.
The ancient Decapolis League once included many Greco-Roman cities in the Middle East region that distinguished themselves for their strength, trade, location, and biblical importance, succeeding as a unit for many years throughout history. Today, although the cities may not exist as they used to in the past, many of them, especially those located in Jordan, embody fascinating archeological remains and biblical references. These cities in Jordan allow people to better understand and experience the stories of Jesus Christ and past civilizations.