A staycation is a vacation spent in one's hometown rather than abroad, or one spent at home and involving day trips to local attractions. Planning a vacation abroad is exciting, but planning a staycation can be just as rewarding, not to mention a lot less stressful and affordable. A staycation generally involves a lot less planning and is an excellent opportunity to be creative. The best way to plan a great staycation is to figure out what you want to gain. If your desire is to have the feeling that you have gone on an adventure, but money or other restrictions are keeping you at home, you can focus on an exploratory staycation. If you want to relax or deviate from your regular routine, you can plan your staycation in the luxury of your own home. Here are some fantastic and cheap staycation ideas that are super fun and easy to schedule.
---
Pitch a Tent

pexels
You may not be able to get away from a wilderness camping trip, but what is stopping you from enjoying the great outdoors in your backyard? Pull out the camping gear if you have it or borrow a tend if you do not have one. Your backyard camping trip is a great time to pull out the s'mores and the hotdogs. If your area prohibits fires, you can make that inside. If you have kids, feel free to share old memories, tell jokes, and some spooky stories with a flashlight. You do not need a campground to have a fun time in nature. Be sure to pack drinks in thermoses and snacks in Ziploc bags. Also, bring your sleeping bags, blankets, and mosquito repellent for everyone.
---
---
Play Tourist in Your Hometown

pickpik
Even if you have lived in your city for years, that does not mean you have experienced all it has to offer. We often spend so much time in our daily routines – working, running errands, and being home. Playing tourist in your hometown is a great way to switch things up and have a lot of fun while doing it. Check out the beach, historic districts, and state parks if your area offers them. Museums and local attractions are also great options when things open back up. This is a great time to rediscover your hometown and show loved ones everything you love about the place you call home.
---
Host Your Own Film Festival

Shutterstock.com
Another fun thing you can do at home is host your own film festival right on your couch. Try picking a theme and choose films that fall into those categories like the top 3 Rom-Coms, Road-Trip Movies or Classic Tearjerkers. You can also focus on series like Harry Potter, Star Wars, and Lord of the Rings. The great thing about this film festival is it does not require invitations or a press pass. Just pop some popcorn, pull out your favorite drinks. You do not even have to get out of your pj's. This is also an excellent opportunity to spend time with your significant other, your children, or both. Movies and quality time with loved ones. What more can you ask for?
---
---
Have a Spa Day

pexels
Who does not love a good spa day? Whether you are stuck at home or trying to save a dollar, an at-home spa day is a great staycation idea. Grab a few face masks, some mani-pedi supplies, and invite your closest friend over. If you want to get fancy, buy a bottle of prosecco or champagne like you would have at a real spa. You can also turn your bathroom into an aromatherapy spa. Pick out a selection of essential oils in the scents you like. Some of the top recommended scents include lavender, chamomile, and lemon verbena. Then, run a warm bath and let go of the day's stress by allowing the water and scents to calm you.
---
Host a Cooking Night

If you are a lover of food, a fantastic staycation idea is to host your own cooking night. For some, cooking alone in the kitchen can seem like a chore, especially if you are not gifted in culinary arts, but turning your cooking into a party can be exciting. You can transform your kitchen into a dining destination. You can invite your loved ones or a few friends to try a few new recipes, all in the comfort of your own home. If you are feeling creative, pick a culture or cuisine and turn it into a multi-course affair. You can take it a step further by completing the dinner with beverages, dessert, and décor.
---
---
Have a Yoga Retreat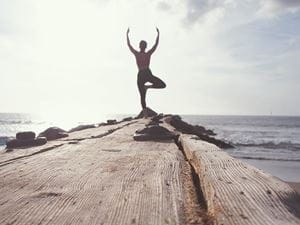 unsplash
The benefits of yoga are endless. Some of those benefits include increased flexibility, improved muscle tone, calmness, and lower stress. Many who practice yoga say that it is offered them relief from physical and emotional ailments. With all the advantages of yoga, it makes sense to have a yoga retreat right in your living room. All you need is a couple of blankets or towels and the right instructional video. You can set the mood by turning on some calming music or sounds. There are tons of online teachers and YouTube channels that are great for this. There are also books on the market that can help here.
---
You can make weekend getaway ideas work at home. These staycation ideas also provide great opportunities to spend quality time with friends and loved ones. If you do decide to try any of these ideas, apply the same rules you would use on a vacation you would take out of town. Try not to answer work calls and emails so you can relax and enjoy the moment. We all need to release our anxiety and stress sometimes. Now is your opportunity.