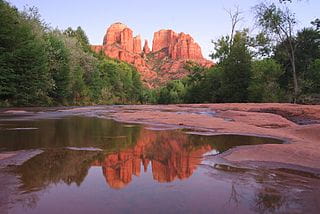 Excerpted from The Call of Sedona : Journey of the Heart, by Ilchi Lee. Copyright © 2011 by Ilchi Lee. Excerpted with permission by Scribner, a Division of Simon & Schuster, Inc.
Chapter 1
THE DAWN OF A NEW ENLIGHTENMENT


In early 1996, 1 was reading a newspaper in Los Angeles when I saw a photo that immediately grabbed my attention. "Hey, where is this place?" I asked. The red rocks were so real they felt like they might jump out of the paper at me. I read the caption beneath the photo and learned it was a place called Sedona, in the state of Arizona.
I couldn't get there fast enough; I wanted to see those red rocks, so I asked an acquaintance to come with me. It was a long drive of nearly eight hours. We cruised along from Los Angeles to Flagstaff until we came to Sedona. It was the middle of the night, so we settled into a motel that hugged Oak Creek Canyon.
It was a dark night, so there was little chance to see the scenery aside from the sparkling stars that filled the night sky with their refreshing twinkling. I wondered what Sedona would look like when I opened my eyes in the morning. As I filled my lungs with its clean, crisp air, I went to sleep with excitement and anticipation in my heart.
As soon as I opened my eyes the next morning, I threw back the curtains. The view was of a mountain of blended red and white rocks, standing tall above the verdant juniper trees. At the top of the mountain were large and small rocks shaped like various animals. Then I saw one that caught my attention. At a flat part on the top, there was a modest rock whose form resembled a person meditating while seated in the lotus position.
I thought to myself, "Wow, even the rocks in Sedona meditate!"
I couldn't tell whether that was true or if those were the only rocks my eyes could see, no matter where I looked, but my initial feeling was very good.
After a simple breakfast, I wandered about Sedona, here and there, wherever I felt like going. It seemed like the entire city was embraced by arms of red rock. The green of the junipers and cacti that dotted the red turf proffered a dramatic contrast of color. The sky of Sedona, wrapped around the red burnt earth, seemed clearer and bluer than any sky I'd seen. There was a sanctity circulating in the air between earth and heaven. Though it was winter, warm sunlight was shining down through the clear air. As I looked at the dazzling beauty of Sedona's earth and sky awash with the morning sun, my heart skipped a beat, and it occurred to me that this just might be the place for which I had been searching for so long.
I came to the US from Korea in 1993 to share the traditional Korean mind-body training methods known as Dahnhak (which became Dahn Yoga in the US). At the time, the Dahn Centers that I had established in Korea had increased to around fifty and I was sharing a modernized and systematized form of Dahnhak with many people.
I handed over the management of the Korean DahnCenters to my students and started anew in the US with a pioneering spirit. The place where I first settled with my students was NewJersey. It was not easy, however, to put our roots down in a land where the culture and even the language were so unfamiliar. Our first attempts were ones of trial and error.
During that time, I would sometimes walk on the banks of a lake near Bear Mountain, New York. One day, as I gazed out across the surface of the lake reflecting the light of the setting sun, I asked myself, "What should I do?" What occurred to me then was that I should get to know the US inside and out. I felt that I really needed to experience the US for myself, with my own two eyes and feet.
I decided to get a car and travel across the country from east to west. Our itinerary would take us from New York to California, along the western coast up to Vancouver, through Toronto, and then back to New York. For several months, I wandered through the beautiful mountains and valleys of the US. I went inside the busy metropolitan areas as well, and felt the confusion of their people's hearts. It was a good opportunity for me to feel the energy of this massive land with my own body, mind, and senses.
As I crossed the country, there was one thing I waslooking for: a new land where I could put down my roots and thrive. The moment I saw Sedona, I felt a strong intuition that this would be that very place. However, although I stayed in Sedona for three days, I was still unable to make a final decision.