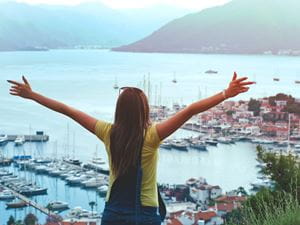 Oleksandr Pidvalnyi/Pexels.com
Vacation planning typically involves months of asking for recommendations, research, strategizing about costs, making reservations and preparing for an escape from your daily life. However, that's not the only way to travel. Many people like planning more last-minute trips, making it their favorite travel method.
The spontaneity removes much of the stress of grueling planning and trip anticipation. It can be uplifting to see that planning procedures aren't as necessary in some cases as we think they are. A spontaneous trip is an excellent way to allow flexibility to guide you and explore places you didn't consider before. Also, it doesn't mean you must spend much money, so don't be afraid to leave your comfort zone.
It's doubtful that someone returns from a trip regretting it. Still, spontaneous travel doesn't mean booking a flight the day before you leave and traveling for a month. It can be as simple as seeing an excellent flight price and booking a weekend or week-long stay when you didn't intend on taking the trip. Here are some benefits of spontaneous travel.
You can be more present.
One benefit to spontaneous travel is it lets you appreciate living in the moment. Instead of feeling like you have to check everything off of your itinerary, you can take everything in and not feel pressured to rush to your next stop. These spontaneous trips tend to come with more bare-bone itineraries or no itinerary, allowing you to have a calmer, slower experience. With spontaneous travel, you don't have time to find the top spots to see. Instead, when you arrive and find something you enjoy, you don't have to rush to leave to get to your next stop.
You're more open to the endless possibilities of traveling.
The Skyscanner team, in consultation with psychologist Emma Kenny, recently created a report on the happiness benefits of spontaneous travel. Kenny shared that spontaneous trips help promote a positive attitude and remind travelers of endless possibilities. When travelers can live in the moment, they can experience adventure without the stress of planning a trip and making decisions while on the trip. For example, you could take a last-minute trip to Phoenix and surprisingly make lifelong friends.
Spontaneous travel is an excellent way to discover destinations and meet new people you wouldn't typically visit or meet. It also stops decision paralysis, which hinders many people from traveling in the first place.
You'll learn about new sides of your travel personality.
For the "Type A" and organized kind of traveler, spontaneous travel might allow them to take a different and fresh approach to travel, and they might be shocked at how much they like a more flexible schedule. Perhaps they'll find that they're less stressed in general. Naturally, there are perks to planning for a trip, but having to be more spur of the moment while traveling can lead to amazing adventures and pleasant surprises. If you planned out your meals by looking for the highest-rated restaurants on TripAdvisor, you might not have found a hole-in-the-wall restaurant where you can talk to locals about their country.
Instead of having your trip planned out when you get there, spontaneous travel also gives you a chance to ask locals about their favorite hidden places or gems to see, and that can lead you to some fun and unique adventures that you wouldn't know about if you planned in advance.
There are numerous mental health benefits.
Countless surveys affirm that travelers are happier, healthier, and more productive than non-travelers. By adding on spontaneous travel, these benefits will likely increase your happiness, health and productivity. Spontaneous travel has the power to free us from our daily stressors, sparking creativity and a sense of adventure when we dive into a new place. In a time when many people live super-scheduled lives, there's value in escaping from a routine and taking a last-minute trip. It can be beneficial if you feel like you're stuck in a rut.
While going on a well-planned and long vacation can be incredible, it might not mean you'll feel transformed the whole trip. A Dutch study at Radboud University showed that trip length might not correlate to increased well-being and health. Respondents said their wellness and health peaked on the eighth day, going back to pre-trip levels, so three one-week trips might be more beneficial than one three-week trip for overall well-being.
How to make spontaneous travel work for you.
Spontaneous travel might initially feel unfamiliar and daunting, but there are some ways to make the most out of it. The first step is to be strategic about booking your flights. Buying your flight is an excellent chance to use the credit card points you've been racking up and save money. Don't be scared to book each leg with separate airlines, especially if you have loyalty points with different companies. It would also help to fly during the week because flight prices tend to be cheaper during the week than on the weekend.
Tuesdays and Wednesdays are the best days to fly regarding crowds, costs, and cancellations, so think about booking those days if you can. Working remotely in a location for a couple of days can help maximize your time if you're short on vacation days.
Another way to make the most out of spontaneous travel is to snag deals when they become available. If the opportunity presents itself, don't be afraid to take it. Watch flight prices, look for good deals online, and keep in contact with family or friends who also like traveling. Numerous apps and websites, like Scott's Cheap Flights or The Points Guy, share good travel deals. Book it if you see something that's good for your wallet, whether it's an itinerary, flight, or accommodation. You can ask around and make a trip with memories that'll last forever. Even if you go alone, solo trips can be the most rewarding vacation.
There aren't a lot of people who enjoy being spontaneous. However, when it comes to spontaneous travel, there are numerous benefits, and it may turn out to be one of the best trips you've ever taken.