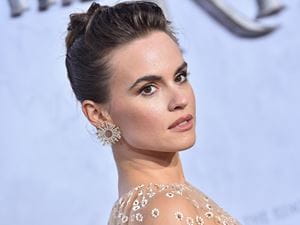 DFree / Shutterstock.com
In development since 2017, Amazon Studios' ambitious new "The Lord of the Rings" television series, "The Rings of Power," hits the streaming platform beginning Sept. 2. Using the Middle Earth world of the two popular film trilogies directed by Peter Jackson, the series takes place in the Second Age, thousands of years before the likes of Frodo, Bilbo, Sam, and Gandalf. The series features younger versions of Galandrial and Elrond, along with many characters written for the show and some derived from J. R. R. Tolkien's writings.
"Rings of Power" is led by showrunners led by showrunners and executive producers J.D. Payne & Patrick McKay. The ensemble cast includes Cynthia Addai-Robinson, Robert Aramayo, Owain Arthur, Maxim Baldry, Nazanin Boniadi, Morfydd Clark, Ismael Cruz Córdova, Charles Edwards, Trystan Gravelle, Sir Lenny Henry, Ema Horvath, Markella Kavenagh, Tyroe Muhafidin, Sophia Nomvete, Lloyd Owen, Megan Richards, Dylan Smith, Charlie Vickers, Leon Wadham, Benjamin Walker, Daniel Weyman, and Sara Zwangobani.
Eärien, daughter of Lord Elendil of Andúnië, is among the new characters fleshing out the new story. Played by Ema Horvath, who recently appeared in the Netflix thriller "What Lies Below," she makes her first appearance in episode three. The actress joined the cast in 2019 and quickly caught herself up in "The Lord of the Rings" mythology.
"When the movies came out, my childhood was quite censored, so I wasn't allowed to watch them," she said. "But everyone in my neighborhood had seen them. I sort of cobbled the story together orally from my neighbors. Then when I was 10, I went to a performing arts school, we did a musical production of 'The Hobbit' and I played a dwarf. So, getting the job was surreal, and I hadn't seen the movies until maybe right before I was hired. So, I, in relation to some of the other members who were of the cast, who were very intense about Tolkien, I was newer to it, but had some exposure. I was delighted when I got the job"
In addition to the films, Horvath also frequented the online message boards of Reddit to glean information and check the pulse of the fanbase "for better or worse." While there was a lot of discussion, she found very well-researched and lengthy posts about Middle-earth and what that world should be like.
"That's been kind of fascinating to me," she said. "I guess my response to that was facing the fear of that head on and looking at the stuff is probably the scariest to look at during filming."
Who is Eärien and what are her motivations? According to Horvath, her story is yet to be seen, but the actress did provide some observations.
"She's Isildur's little sister," she said. "There is a middle brother, Anárion, who's run away to the western shores of the island. Their mother has recently died. And all three siblings have kind of dealt with that loss in different ways. Isildur is kind of starting to reject sort of ideas of societal norms and duty and things like that, and he's sort of toying with the idea of also running away. My character has thrown herself into work and balancing her own ambition with trying to keep her family together, trying to keep her brother from running away as well. They have a father, who's a very famous character in the lore, Elendil, played by Lloyd Owen, and he's kind of stoic character who's also trying to keep the family together. But because my character is more capable and not threatening to run away, she kind of gets overlooked by him. That lack of attention leaves her kind of vulnerable to attention from other sources that may or may not be good."
The world was shutting down with the Covid-19 pandemic in 2020, but Horvath said filming the series in New Zealand, which closed its borders, secured the set and very few restrictions were in place because of that.
"There was basically no COVID there for a very, very long time," shes said. "So I went to concerts with Maxim (Baldry), I went out to bars and talked this close to people. The threat of it hadn't really arrived yet when we were shooting. I did stay in a quarantine hotel when I arrived for two weeks. But that was that was really the only big precaution we needed."
Now years after her first day of shooting, "The Rings of Power" is premiering and for Horvath, there's a sense of excitement and relief.
"I think it's very, very beautiful show," she said. "I think the themes are universal. I'm very interested to see how different parts of the world responds to certain storylines. I'm just curious. I got the job in 2019, and it's 2022 so this is the longest I've been attached to a project before it's come out. So, I think there will also be a sense of relief."
"The Rings of Power" is currently streaming on Amazon Prime Video.