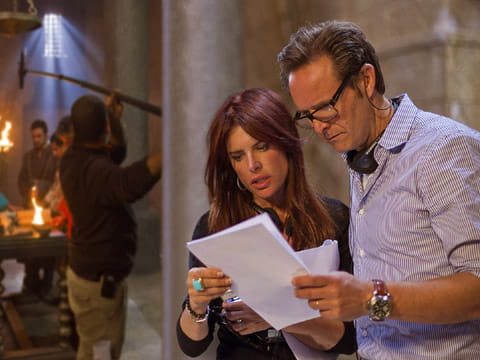 It's a passion project.
The new 10-hour mini-series The Bible is "a story of enduring love," says Mark Burnett, producer of TV mega-hits Survivor (CBS), The Voice (NBC), The Celebrity Apprentice (NBC), and Shark Tank (ABC). "It's many, many stories that have endured over thousands of years. It's how God has used many flawed characters and doesn't give up on them."
Roma Downey as Mary in "The Bible"
But the History Channel's upcoming Easter presentation is also a labor of love, a long-planned first-time co-production by Burnett and his wife Roma Downey – best known for her nine seasons as Touched by an Angel star Monica.
Their mission? To bring the Bible to generations who may not know the stories told and re-told so many times over the centuries, says Burnett.
For six long, hot, dusty months, the couple shot the docudrama on location in the Sahara Desert with an international cast of over 400 actors.
Premiering Sunday, March 3, the project spans Genesis through Revelation, presenting more than 30 beloved Bible stories from Adam and Eve to John's Vision of the Apocalypse, from Noah's Ark through Jesus' life. The final segment, scheduled for Easter Sunday, includes Christ's Last Supper, Betrayal, Crucifixion and Resurrection – with Downey playing Mary, the mother of Christ.
"We only had ten hours," sighs Downey, "and we wished we could have had more and we could have told more. There were two ways to handle it. Either we could go through more stories, but tell them more quickly, or we could tell fewer stories and have an opportunity to go deeper into them – in the hope that we could engage the audience more emotionally with a deeper experience, inviting them to walk in the shoes of these wonderful, historic characters.
"That's what we ended up doing," she says. "In 10 hours, we knew we couldn't do a Bible series and not tell the story of Abraham or Moses or
David. One of the episodes that was of the most importance to us bridges from the Old Testament to the New Testament."
Abraham and Isaac prepare for a sacrfice in "The Bible"
"We did that through the story of Daniel in the Lion's Den, which, of course, tells how the conquering Persian king saw without a doubt that Daniel's God is the only true God – and releases the Jewish people from their exile, allowing them to go back from Babylon to Jerusalem.
"There's great celebration, but Daniel's prophecy is such that he knows that the worst is yet to come – and we fire forward showing the clash of shields and marching of feet of the Roman Empire as we find ourselves in Galilee during the hard times, that oppressed era the Savior chose to dwell among men."
Were there times when Burnett and Downey wondered why they took on such a massive undertaking?
"Oh, there were tough days obviously, but we never really wondered why we were doing it. It's a project we've wanted to do for a long time," says Burnett. "We love the Bible and, you know, when you have a couple of hundred people in a difficult location like the edge of the Sahara desert, anything can get difficult.
"We had a good sense of humor and we surrounded ourselves with an incredible film crew, a special kind of people. They're problems solvers, not problem creators or complainers. That was the key, surrounding ourselves with the right kind of people to take on such an important project as this which means so much to both Monica and me.
"Nothing was that hard when you look back on it," he said. "If you
asked the same question maybe a year ago on the wrong day, when we were exhausted and we were thinking 'Oh, wow, this is so tough–'"
Roma Downey portraying Mary, mother of Jesus
"It was a little bit like carrying a baby," interjects Downey. "I think after the point of delivery, most women forget how uncomfortable their pregnancies were and so, here we are on the eve of delivery and we are just so grateful for the experience of making this series together, co-producing as a husband and wife team.