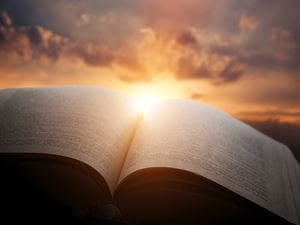 shutterstock.com
Faith is usually a taboo subject to broach as many believe it should be treated separately. Threading this needle of faith throughout the fabric of our lives makes sense as our spirit, minds and bodies are one.

We have a problem, however.

Many people minimize the importance of faith by stuffing in it a box explained Dr. Oz of the show of the same name, who started a segment called "Faithful Fridays" with film producer and preacher DeVon Franklin. The segment covered how faith factors into a person's happiness, physical health and general well-being.
The show resonated because people in America today are battling an overwhelming fear regarding the future.
Faith can't be contained for just a church service. For you Type A personalities, this is going to be uneasy.
"Faith and spirituality don't live just in a Sunday-sized compartment, or even week-long just within the walls of a church building," said Dr. Oz. "It's a thread through every aspect of life that makes life better—whether someone attends church or not," Oz said.
The show conducts surveys to gauge how people are feeling and the consensus is less than exceptional.
"A lot of people are worried about things that they don't control," he said. "Faith has always been a machine for us to use whether it is sitting and praying in the ICU for a loved one or when you are not sure what is next because money hasn't worked out well. Whatever the issue may be--there are topics much bigger than that in our lives that should lighten our load."
To lighten the burden and to encourage faith, the team launched "Faithful Fridays" that aired in February.
With over 200 scientific studies done on how church, prayer and faith lead to numerous health benefits such as reducing the risks of heart disease, cancer and addiction--the idea was stellar.
Franklin advised this was one of the reasons they concluded the special series on the impact that faith has in our lives. From your career, finances and to your love life, faith is a powerful force said Franklin who has been in Hollywood for over 20 years and has been an outspoken person on his faith. Those who watched the show were shown how they could unlock this power "and use it to create the life that they are praying for and dreaming of," said Franklin.

This is an enigma that we might never get the answer to while we are on earth. Yet, it is not a question of your faith not being mighty enough to open up the doors to Heaven. Dr. Oz put it in a way that could help you. "We shouldn't be arrogant enough to think that we know what we need in life. We know what we want. My kids want ice cream all the time, but I don't give it to them all the time." When we pray "Thy will be done," it is a very difficult leap for us to take as sometimes the answer is "no."

"There is a bigger game plan, and it makes death easier to process. Yes, we [had] shows on miracles and those who should've survived and didn't. But maybe there were reasons it didn't work out where they are, depending on your cosmology and what your faith is, there is a lot of reasons to go in that direction."

When people think that they have the answer-- they usually don't listen on a given subject as faith is not black and white. Franklin gathered like-mind pastors and guests to open up the dialog. Carl Lentz (Hillsong), Rev. Samuel Rodriguez (National Hispanic Church Leadership Conference), and Priscilla Shirer (author and star of "War Room") participated in the discussions about living a blessed life to change old narratives in our health and our faith. Narratives that needed to be challenged. The bottom line is that your faith and your body are intertwined.
"The bottom line is that your faith and your body are intertwined."
Marrying your health to your faith is vital. "If you have a tool that can meaningfully help you cope with stress and I think having a faith does," said Oz. "Faith and belonging make a difference. You don't want to ignore that." Just talking about the illness is not enough as we don't exist in a test tube, we need action.
Faith encourages healthy behavior by helping people avoid cigarettes, drugs and alcohol. It helps us eat better and helps us take care of our bodies more. For example, this can be to watch your portion size and choosing better eating habits. We need to take the reins for a healthy body and for the sake of our faith.
Our faith and our health will always be connected. When we allow them to collide, we open up a way to become even more connected than on a Sunday morning. We can read the Word of God to build ourselves up both in the mind and in the body, or we can pray for inner peace. We can go back and review shows that will give us insight and help us along the way on our respective journey. In the end, we are all trying to figure what path to take.
Oz and Franklin were asked if they would tackle the faith and health subject again on the show?
"Yes," they acknowledged.
See, faith and your health
doesn't
need to be a taboo subject. Stay tuned.