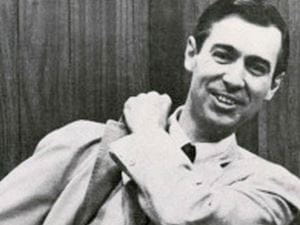 Public Domain
Fred Rogers, or Mister Rogers, is a beloved children's television icon. While he wasn't overly outspoken about his Christian faith on his television series, the man was actually one strongly defined by his faith and the messages he taught on each episode were shaped by it. His faith is more foundational to his overall legacy than you might realize.
Unknown too many, Mister Rogers graduated from Pittsburgh Theological Seminary in 1963 and was an ordained Presbyterian minister. Jonathan Merritt of the Atlantic wrote, "If Protestants had saints, Mister Rogers might already have been canonized."
Changes in American Home Life
Mister Rogers came onto the television in a time of intense political and cultural uproar. In the 1960s, Americans more increasingly had television sets in their homes which allowed them to see first-hand the tragedy of war. Furthermore, civil rights activists and feminists were speaking up and seeking equal rights for themselves. They fought racial discrimination and economic injustice through protests, which previously had not been witnessed on such a wide scale.
Programming on television then began to reflect these social changes in the 1970s. For example, Norman Lear, who is typically referred to as the father of modern-day sitcoms, brought the comedy series "All in the Family". The show explored topics like racism, homosexuality and women's liberation. The writers used the series to allow audiences to think critically about how their world was changing. The show "The Mary Tyler Moore Show" also brought these social issues to light.
Mister Rogers would bring that similar approach to his children's program, "Mister Rogers' Neighborhood". Much like the writers of those sitcoms, Rogers saw the television not as a way to entertain the masses, but as a tool that could be used to shape individuals. He made sure to teach the children about what it means to be a good human: showing love, compassion and kindness for others.
Spreading the Word of God
"I want to be a vehicle for God, to spread His message of love and peace..." Rogers said in an interview with the "Vegetarian Times," a Southern California periodical.
"I want to be a vehicle for God, to spread His message of love and peace..."
Rogers's theological messages could be traced to the biblical notion of "neighbor" and Jesus' parable about the Good Samaritan. As Jesus tells it, a Jewish man was mugged and left for dead, and his body was ignored by the religious elite who passed by. Then a man from the despised country of Samaria stopped and showed kindness. This was Jesus' roundabout way of answering the question "Who is my neighbor?" This echoes the enthusiastic "Hi, neighbor!" Rogers would greet the viewers in each episode, making them feel as if they were part of a close-knit community.
He was a pastor on television in the golden era of televangelism, but unlike televangelists, Rogers's focus wasn't on eternal life, but our own interior lives. Christian evangelists were making a name for themselves preaching about the wickedness of mankind, but Rogers was more interested in his viewers' inherent value and worth. Evangelists were finding ways the human race didn't measure up to God's moral standards, while Mister Rogers said over and over again: "You've made this day a special day by just your being you. There is no person in the whole world like you, and I like you just the way you are."
Rogers wasn't telling children that they were so perfect that there was no room for them ever to improve as people, rather just that he loved them as they were, regardless of whom they were or what they had done. He even called the children who watched his television show his congregation.
"I think everybody longs to be loved, and longs to know that he or she is lovable," he said in the 2003 documentary "America's Favorite Neighbor." "And, consequently, the greatest thing that we can do is to help somebody know that they're loved and capable of loving."
Mister Rogers Personal Faith Life
You always knew exactly what to expect from his programming: he would feed the fish, change his jacket, and greet audiences with a hello among other rituals. Rogers' real life included the same sense of simplicity that his television show had. His daily routine was always followed. He awoke at 5 a.m. for prayer, reflection, and Bible reading; took a 7:30 a.m. swim at the local pool; followed his usual workday routine; and kept to a 9:30 p.m. bedtime. Even his diet was easy and strict: no alcohol and no meat.
To many, Rogers seemed to fit the bill of something that was of a higher calling. Cameramen on is show have been moved to tear by his kindness. One woman even remarked to her husband upon meeting Fred for the first time, "I think I just had a religious experience." People joked that he was Mother Teresa in a cardigan.
His prayer life really reflected that of someone who had a true, passionate dedication to the Lord. Each morning he prayed for his family and friends by name, still offering his gratitude for those on his list who had passed away. He didn't stop praising God there, either. Each time before he dove into the pool he would sing "Jubilate Deo," a song Henri Nouwen had taught him from the Taizé community in France. He would emerge from the pool ready to face the new day as if he was just baptized again for the first time. From there, each time he walked through his studio doors he prayed once more, asking for God to guide Him to sharing the Good Word.
Mister Rogers was an iconic character on television back in the day, but his legacy lives on even to today. He was man that had an incredibly powerful faith, and used his platform to share that faith with others in their most important and formidable years. We can look to him to see a positive example of how we can live our own lives out for Jesus.