There are many different ways to make it in Hollywood, but one way to fast-track fame and success is by landing a position on a reality TV show. For these stars, what may have started out as funny shows spiraled into their own personal, professional career. There is a whole fleet of reality TV stars that now have become huge icons.
These celebrities first got their start on reality television. From competition shows like "The Real World" and "American Idol" and more, these stars were able to ensure they stayed relevant in the limelight and followed their dreams to stardom. Some of them are so famous now that many don't even remember where they got their start from.
---
Jennifer Hudson

Fuzheado/WIkipedia
Jennifer Hudson
rose to fame after the third season of "American Idol", where she placed seventh. She took the fame she got from the show and chases her singing and acting dreams. Hudson made her film debut as Effie White in "Dreamgirls" (2006). For her performance, Hudson received an Academy Award, a Golden Globe Award, and a Screen Actors Guild Award. Following her movie debut, Hudson went to sign with Arista Records and released a self-titled debut studio album which sold over a million copies worldwide. She was also named one of the 100 most influential people in the world in 2020 by "Time Magazine".
---
---
Josh Henderson

iDominick/Flickr
Josh Henderson got his start on the WB singing competition show, "Popstars", which was the inspiration for Simon Fuller's "American Idol" franchise. Popstars only lasted a few seasons in the United States, but still opened the door for Henderson to grow in Hollywood. He is now best known for his lead role as John Ross Ewing III in "Dallas" (2012-2014). Critics of the show called Henderson the "breakout star" of the series. He also played Austin McCann in ABC's "Desperate Housewives" (2006-2007), the male lead role in the E! drama series "The Arrangement" (2015), and appeared in the movie "Step Up" (2006).
---
Lucy Hale

JJ Duncan/Flickr
Lucy Hale is best known for her role as Aria Montgomery in the series "Pretty Little Liars" (2010-2017). However she first got her start on the 2003 reality show "American Juniors", which was a children's spin-off of Fox's "American Idol". She was one of five winners. She eventually continued her singing career and had her debut album, "Road Between", come out in 2014. Some other notable roles in television played by Hale include Becca Sommers in "Bionic Woman" (2007), Rose Baker in "Privileged" (2008–2009), Stella Abbott in "Life Sentence" (2018), and Katy Keene in "Katy Keene" (2020). Hale also appeared in minor roles on "Drake & Josh", "Ned's Declassified School Survival Guide", and "The O.C."
---
---
Kelly Clarkson

vagueonthehow/Flickr
Superstar
Kelly Clarkson
took the world by storm after winning the first season of "American Idol" in 2002, which landed hear a record deal with RCA Records. "A Moment Like This", Clarkson's debut single, topped the US "Billboard" Host 100 chart and became the country's best-selling single of 2002. It was followed by her studio album "Thankful" (2003), "Breakaway" (2004) and "My December" (2007). Her most recent album, "Meaning of Life" (2017), hit number two on the Billboard 200 and garnered her a record fifth Grammy nomination for Best Pop Vocal Album. Clarkson has sold over 25 million albums and 45 million singles worldwide, earning her several Grammy Awards, MTV Video Music Awards, American Music Awards and more.
---
Cardi B

Frank Schwichtenberg/Wikimedia
Rapper and songwriter Cardi B first became an internet celebrity through her popular Vine's and creative Instagram. She then got picked up as a regular cast member on the VH1 reality television series "Love & Hip Hop: New York" from 2015 to 217. It depicted her purist of her musical aspirations, and she released two mixtapes before finally getting signed with Atlantic Records in 2017. Her debut studio album, "Invasion of Privacy" (2018), debuted at number one on the "Billboard" 200, broke several streaming records, was certified triple platinum by the RIAA and named by "Billboard" the top female rap album of the 2010s. Critically acclaimed, it won the Grammy Award for Best Rap Album, making Cardi B the only woman to win the award as a solo artist, as well as the first female rap artist in 15 years to be nominated for Album of the Year.
---
---
Carrie Underwood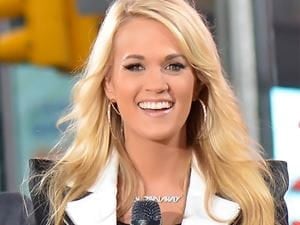 Dephisticate/Flickr
Much like Kelly Clarkson,
Carrie Underwood
found extravagant fame after being on "American Idol". Underwood won the fourth season of the show in 2005. Her debut single, "Inside Your Heaven", made her the only country artist to debut at number one on the "Billboard" Hot 100 chart. Her debut album, Some Hearts (2005), was bolstered by the successful crossover singles "Jesus, Take the Wheel" and "Before He Cheats". Underwood has sold 70 million records worldwide. Her accolades include seven Grammy Awards, 11 Billboard Music Awards, 15 American Music Awards, a Guinness world record and inductions into the Hollywood Walk of Fame and the Grand Ole Opry.
---
Jamie Chung

David Shankbone/Wikimedia
Jamie Chung began her career as a cast member on the 2004 MTV reality series "The Real World: San Diego". She continued by appearing in the spin-off show, "Real World/Road Rules Challenge" before chasing dreams as an actor. She has since become known for films such as Dragonball Evolution, Grown Ups, Premium Rush, Sorority Row, The Hangover Part II, Sucker Punch, and Big Hero 6 (2014). Chung received critical acclaim for her lead performance in the independent drama film "Eden" and was a regular on the series "Samurai Girl" which lasted two seasons. Beginning in August 2020, Chung began appearing in the recurring role of Ji-Ah on the HBO series "Lovecraft Country".
---
---
There are many paths to making it in Hollywood, and starring on a reality TV show is a fast-pass to the big leagues. These stars started out as regular people, and are now bringing in millions of dollars from their acting and singing gigs. Even if the reality show didn't make it big, it still opened doors for these stars to find success.