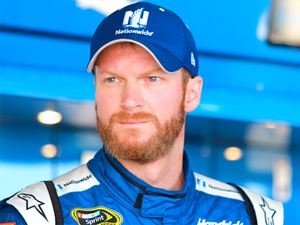 ActionSportsPhotography/Shutterstock.com
One of NASCAR's most iconic drivers Dale Earnhardt Jr. will retire from racing. Earnhardt came on the scene in 1998, winning the Busch Grand National Series points championship at the age 24 with DaleEarnhardt Inc., a team that his father founded. He left for Hendrick Motorsports in 2008 after a fallout, but he continued to thrive. His success throughout his career made him a fan favorite for 18 years. He won the "Most Popular Driver Award," a whopping 14 times and accumulated 26 career cup victories and made his 600th career series start before his decision to leave. Despite his success, Earnhardt was diagnosed with concussion symptoms and missed most of the 2016 season, until he was medically cleared. Seemingly, his health was not the only factor--it was winning. "I'm 42, and I look online at statistics of other drivers and not many of them had a ton of success beyond 45," he shared with NPR's Lulu Garcia-Navarro in response to the then rumors of retirement. "There are a few. But I haven't really decided when I'm going to hang it up." What also became clear was that the sport was really taking a toll on his body. With the combination of being a newlywed and the overall dangers, the choice was clear--it was time for an exit. Here are 5 takeaways from Earnhardt Jr.'s retirement that we all can embrace.
Making the tough decisions.
Whether it is deciding to leave a company for another position or making the decision to move to another state for a better life, decision making is tough. There will times that things won't work out, but it will make you bolder because you took the risk. Deciding to retire was not easy for Dale Earnhardt Jr., who has raced full-time since 1998. He said during a press conference: "I just don't like letting people down and worry about disappointing my boss and my friend, and my crew. These guys, we all depend on each other to be there every day and to come in and say I'm not going to be here one day is very difficult. We all kind of wish we could stay together forever."
Know when to move on.
Earnhardt Jr. made the decision to retire on his own terms. "You're wondering why I reached this decision, it's really simple," said Earnhardt. "I just wanted the opportunity to go out on my own terms." Sometimes even those who are supposed to be looking out for you can underestimate your value. You need to make the decision to know what is good for you. The bottom line is knowing when a particular part of your life is over. Whenever we take the reins, we take back control. With Earnhardt Jr., he wanted to finish his career with grace. Sometimes we know when it is time to move forward and let things go. We know it is not easy, but it could be a blessing.
Acknowledge those who mentored you.
In life, it is rare to find someone who is a solid leader and mentor, especially in one's career. When you do find this person, you want to do the best you can for them as they are a gem. Team owner Rick Hendrick was not just a boss, he became a trusted friend. "I just didn't want to disappoint you. You mean so much to me," Earnhardt Jr. said to Hendrick onstage. "You gave me guidance and direction that will reward me for as long as I live," he added. Always acknowledge those who took the time to guide you, help you and who motivated you.
Celebrate the people who supported you.
There was a reason that the driver won "Most Popular Driver Award" 14 times. Earnhardt Jr. used social media to be in communication with his fans over the years. Having the support of fans during the times when the team wasn't doing well, was an encouragement to him. He gained a new appreciation for their dedication and their enthusiasm. "I don't think that anything in my professional career has meant more to me than the treatment that I've received from track to track by the fans that so dearly love our sport." You might not have a huge fan base, but show your thanks to the people who talked you through tough moments, cheered you on when nobody else did or simply believed in you.
Reinvent yourself.
Don't say goodbye to Earnhardt Jr. just yet, as it was decided that he will remain active in the sport. He will be running NASCAR XFINITY Series races in 2018 and said he will be involved in the sport on some level. He has 2 XFINITY races to run for JR Motorsports in 2018. "So even after this season is over, you've not seen the last of me on the racetrack. But more than that, I want to be a part of the future of this sport for many, many years to come." We need to revamp ourselves during the course of our lives because we will remain stagnant if we don't. If you are compelled to make a decision, look at it from another angle. Maybe you can go back to school, start your own business or become a consultant. Never stop learning no matter where you are. Remaining teachable allows us to invariably evolve in our personal and in our professional lives.
Making a change that will take us beyond our comfort zones is really unnerving. Yet, it is when we bow down to the fear of the unknown that we become even more fragmented. Although Dale Earnhardt Jr.'s retirement from his career is mystifying to some, he made a resolution to let go of the old season to embrace a new season of life.