Defender of Faith
By Corine Gatti
This is not an article on Nashville Predator forward Mike Fisher's stats as a player or how much ice time he will receive in October, nor his love for checking players into the boards. It's more about a quiet leader of sorts who does seem to have it all. He's married to country singer Carrie Underwood, living his childhood dream and has access to a vast amount of opportunities that professional athletes enjoy. The native from Peterborough, Ontario accepted Jesus into his life when he was only six year old and had the support from his parents Jim and Karen, he seemed spiritually set. Yet fame and money snaked into Fisher's spiritual backyard causing him to backslide, along with the party scene, until God snatched him back for a bigger calling-serving Him and mentoring children.
Traded by the Ottawa Senators where he spent over 11 years, Fisher was traded in February to the Predators. Heartbroken, the soft-spoken player continued to make Jesus Christ a priority and reach out to others through his faith, baffling his new teammates with his work ethic. Fisher, 31, desires teens to have a mentor, and he's willing to take on that role in his new book Defender of Faith that will be released in September and his nonprofit hockey camps.
I talked to Mike from Nashville via phone and believe that his story will encourage you not give up on God's plan for your life despite your mistakes and even if your are the only Christian at your workplace or neighborhood.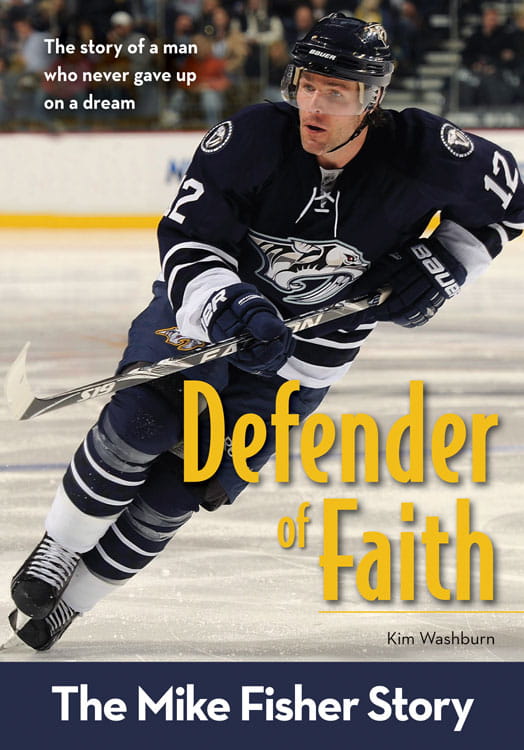 "Having a relationship with Jesus and making him the center of everything I do is the most important thing to me in hockey and whatever I am doing," Fisher said. "...it took me living through some things to understand."
You can read more about Mike's inspirational story and follow him at http://www.mikefisher.ca/.
All of the proceeds for Mike's Hockey Camp are donated to charity. For more information on MFHC follow the link: http://mikefisherhockeycamp.com/.