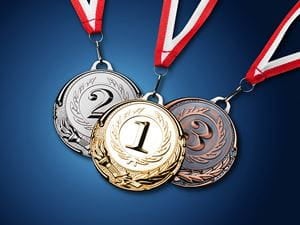 Shutterstock.com
Team USA is looking to make a mark at this upcoming 2018 Winter Olympic games, and they won't let anything get in their way from achieving their goals. Starting on February 9th, the games are being held in Pyeongchang, South Korea.
Each member of the Unites States team is bringing their own unique story. From a 17-year-old who has already made history as the first black woman to qualify for Team USA's short track speedskating team, to freestyle skiing star Gus Kenworthy who is the first openly gay male athlete to compete at the Winter Games, this year is sure to be one of inspiration.
Here are the top athletes to keep your eye on during the games.
Chloe Kim
At only 17-years-old, snowboarder Chloe Kim is a favorite to win gold in the halfpipe event. Kim easily secured her spot on the team in December – she sits at the top of the world rankings for the sport. She is the first woman to land back-to-back 1080s in a competition, and TIME named Kim one of the 30 Most Influential Teens in 2017.
"It'll be a good experience to go through such a crazy event with my family," Kim told TIME. "But at the same time, I'm very worried, 'cause it's the freaking Olympics. I want to do really good. I've got to nail it."
Nathan Chen
This will be Nathan Chen's first Olympics, but the 18-year-old has already made history. Earlier in 2017, Chen became the first male figure skater ever to land five quadruple jumps in a single performance. A month later, he was able to do this exceptional physical feat again.
"I think that my very best performances are the times when I completely block everything out and it goes on auto drive — I don't think about anything," Chen told People.
Maame Biney
The 17-year-old Maame Biney made history by becoming the first black woman to qualify for the short track speed skating U.S. Olympic Team. Biney became a viral sensation when she dominated the 500m races at the U.S. Olympic Team Trails. A video of her qualifying was watched by over four million times on Facebook. She also won bronze in the women's 500m at the 2016-2017 Short Track Junior World Championship.
"It's short and fast and those are my two favorite things about skating, going really fast in a short race." Biney told TeamUSA.org.
Brianna Decker
Brianna Decker is currently Team USA's top scorer for the women's national ice hockey team. The team is gearing up for another intense match against rival Canada. Team USA won silver in Sochi in 2014 after a 3-2 overtime loss to Canada. But the U.S. is looking to make a comeback against its northern neighbor this time around. Recent international matches have gone back and forth between the U.S. and Canada, with the U.S. posting a 5-2 win against Canada on Oct. 22, and a 1-5 loss just three days later on Oct. 25.
Decker is not going home without a medal this time around. She recently told NBC Sports that success in Pyeonchang means "a gold medal." As for Team USA's rivalry with Canada, Decker says, "Though some of us may be friends off the ice, we are not friends on the ice."
Gus Kenworthy
A veteran of the Games, Gus Kenworthy will be returning with Team USA to perform in the halfpipe and slopestyle skiing events. He earned silver in 2014's slopestyle but is a favorite to win gold this year. Kenworthy's life off the slopes has also been a hot topic. He came out in 2015, which will make him the first openly gay male athlete to compete in the Winter Olympic Games.
"I've got more eyeballs on me. My platform's a lot bigger. I signed a bunch of Olympic sponsors and I have the LGBT audience watching me, and I want to do right by them," he said to NBC News.
Lowell Bailey
Three-time Olympian Lowell Bailey is looking to secure Team USA's first Olympic biathlon medal. Bailey earned Team USA's highest ever finish in the Winter Olympic sport with 8th place in the men's 20-kilometer in 2014. However at the 2017 IBU World Championships in Austria, Bailey became the first American in history to win a biathlon world championship, taking home the gold. He is the first male athlete to qualify for the 2018 U.S. Olympic Team. If anyone can grab the gold, it's him.
Mikaela Shiffrin
Mikaela Shiffrin is the reigning Olympic gold medalist and overall world champion for alpine skiing, and she doesn't plan to give those titles up at the Winter Games this year. When Shiffrin was only 18, she became the youngest athlete ever to win an Olympic gold in the sport of slalom, a gold medal she wants to take again at the age of 22. She has the second-most World Cup victories of any U.S. female skier.
These athletes aren't coming home from the Pyeongchang Winter Games without the gold. They are representing the United States so honorably and we cannot wait to see what these amazing athletes can do.