Bob Beamon's World Record Long Jump
Bob Beamon was so amazed at his record-smashing long jump at the 1968 Mexico City Games, he had a cataplectic seizure. On what has since been named the Leap of the Century, Beamon broke the world record by 21 3/4 inches. The American's jump of 29 feet, 2.5 inches actually outdistanced the measurement equipment set up for the Games. It took over 20 minutes to find the right equipment so they could judge his leap accurately. Upon learning the distance he accomplished, Bob broke down and fell into a seizure because he was so overwhelmed by emotion. Beamon's achievement is all the more extraordinary when you realize it's the oldest Olympic record still standing.
Nadia Comaneci Gets a Perfect 10
Nadia Comaneci was so smooth on the uneven bars at the 1976 Montreal Games that judges agreed she deserved a 10.00. No one had ever accomplished this tally before. It was not technically possible to even show on the scoreboard! Her amazing win showed everyone that gymnastics and women were something to be reckoned with. Then she did it six more times on her way to three gold medals. The Romanian gymnast became a celebrity overnight with the performance. She earned gold in uneven bars, balance beam and all-round for an individual.
Greg Louganis – Greatest Diver of All Time
Though Greg Louganis was a favorite entering the 1980 Moscow games, he had to wait until the 1984 Los Angeles Games to beat record due to the USA boycott. But when he finally had a shot, Louganis demolished his competition and became the only male diver to sweep both springboard and platform gold. His score of 754.41 in the springboard event was more than 100 points better than the silver medalist. His 710.91, the best in history, in the platform event was more than 70 points better than the silver medalist. Four years later, Louganis captured both gold medals again, helping him on his way to being named the greatest diver of all time.
Steven Bradbury's Most Unexpected Gold Medal in History
Australia's Steven Bradbury achieved an unexpected gold medal in the short track speed skating event, taking advantage of a mistake causing his fellow finalists to fall at the Salt Lake City 2002 Winter Olympic Games. Coming into the five-man final, Steven Bradbury was the outsider. With each passing lap Bradbury's chances looked slimmer and slimmer of ever reaching a medal. But as the leading skater rounded the final bend, Lia Jiajun tried an over-ambitious maneuver outside skater Apollo Ohno which sent them both into the ice. This also brought down skaters Mathieu Turcotte and Ahn Hyun-soo in the process. This left the way clear for Bradbury to cross the line unchallenged and claim the most unexpected of gold medals.
Rosa Mota Becomes Portugal's First Gold Medalist
Portugal's Rosa Mota's gold medal winning performance in the Women's Marathon event at the 1988 Seoul Olympic Games was nothing short of incredible. Her victory made her the first female from Portugal to win Olympic gold. The emotional moment where she won for her country is undeniably inspirational. She became an idol for many young women to look up to and feel proud of their gender, knowing they could accomplish anything. Mota went on to become the first woman to win multiple Olympic marathon medals as well as being the only woman to be the reigning European, World and Olympic champion at the same time.
Phelps Wins Record Breaking 19th Olympic Medal
The win by Michael Phelps in the Men's 4 x 200m Freestyle Relay wasn't just a coronation, but also a dethroning. Phelps secured the medal he needed to become the most decorated Olympian of all time as he took his career tally to 19 game medals, beating the 48-year-old record of 18 held by former Soviet gymnast, Larisa Latynina. It was a moment of awe and excitement for Phelps, the U.S. swim team, and Americans everywhere. Phelps went on to earn more medals, finalizing his career at 22 medals in three Olympiads. He also holds the all-time record for Olympic gold medals (18, double the second highest record holders), Olympic gold medals in individual events (11), and Olympic medals in individual events for a male. In winning eight gold medals at the 2008 Beijing Games, Phelps also took the record from fellow American swimmer, Mark Spitz for the most first-place finishes at any single Olympic Games.
Yelena Isinbayeva's Amazing Pole Vault Comeback
Yelena Isinbayeva arrived at the 2004 Olympic Games already holding the world record for pole vaulting, and therefore was the favorite to win. However, Yelena Isinbayeva missed two attempts for 4.70 and 4.75 meters. This left her in third place with Russian athlete Svetlana Feofanova in the lead. In a jump that could define a bronze or gold medal, she made her final attempt directly for 4.80m. This time, a perfect jump took Isinbayeva to the lead. Yelena Isinbayeva then came back to pass the 4.85m barrier and after that settle a new world record at 4.91m. She is widely considered the greatest female pole-vaulter of all time.
Torvill and Dean's Daring Performance Gets Perfect Scores
Ice Dancing may not be considered the most exhilarating of the Winter Olympic sports, but at the 1984 Games in Sarajevo, one British pair managed to change all that. In their performance of Ravel's "Bolero," Jayne Torvill and Christopher Dean's daring choreography and technical abilities earned them perfect scores from every judge, as well as the gold medal. The pair became the highest scoring figure skaters of all time (for a single programme) and left the world in awe of ice skating. They went on to be professional skaters that toured the country for many years.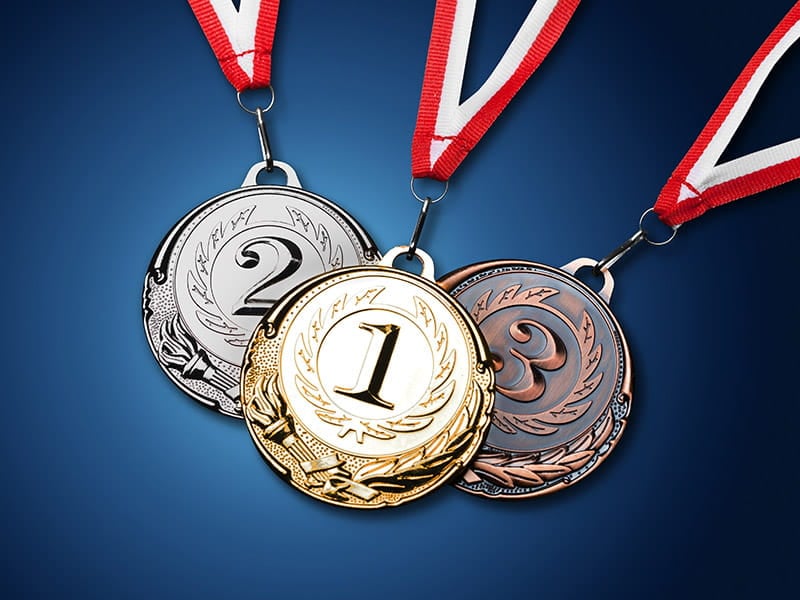 The 5 Greatest Olympic Upsets of All Time