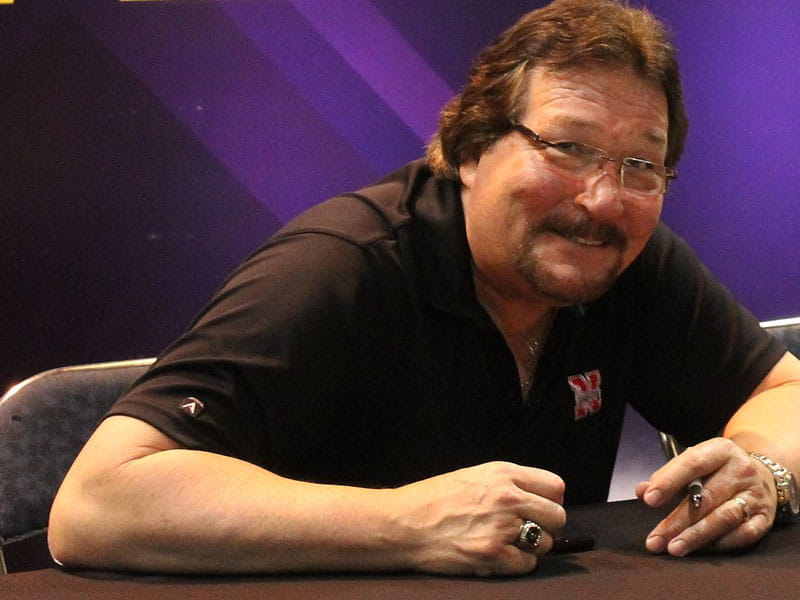 When Ted DiBiase called his wife in the morning to check in, he hadn't bothered to sleep the night before.
After he and Irwin R. Schyster clashed with two mammoth opponents known as The Natural Disasters at WrestleMania VIII in 1992, The Million Dollar Man did as one would expect that character to do. He bounced around Indianapolis' hot spots in a high-priced suit. He lounged in the back of a limousine. A pair of pretty girls nestled under his arms through much of it all.
When he picked up the hotel lobby phone and dialed his home number, reality tore into that fantasy world.
His wife, Melanie, confronted him about his ongoing adultery. She had discovered that her husband had been bedding other women while he was on the road for the World Wrestling Federation (now WWE). When DiBiase tried to console her, saying he wanted to wait until he got back home to discuss this, she pushed back.
She told him he didn't live there anymore.
That moment ended up triggering a monumental change for the wrestler. It woke him up to the fact that he had only been a Christian on a superficial level. It inspired him to cleanse himself, to fully embrace his relationship with God and eventually serve as a minister.
For wrestling fans who watched DiBiase on TV in the late '80s and early '90s, that is a hard transition to imagine.
The Million Dollar Man was a greedy, heartless, wealthy heel with a trademark maniacal laugh fit for a supervillain. In 1988, DiBiase paid off Andre the Giant and an evil twin referee in a plot to buy the WWE world title. He once told a young boy he would give him $500 if he could bounce a basketball 15 straight times, only to kick the ball away on his 14th try.
"The character The Million Dollar Man is all about everything we shouldn't be about. Total worldliness. His God would be money," DiBiase told Bleacher Report.
And even though DiBiase had never turned into his character, he had turned into something he didn't like. Standing by the phone, knowing his wife was hurting miles away and that he had risked everything he loved, he felt foolish.
It's that kind of jolt that forces self-reflection. "You see yourself for who you really are, and it's really ugly," DiBiase said.
It was only a matter of time until she found out, his second life bound to bleed into his first.
DiBiase explained, "The Bible says, 'Whatever's done in darkness will be revealed in the light.' It's not if, it's when. It will be revealed."
Now that his unfaithfulness had been exposed, DiBiase reached out to a man of faith—Hal Santos.
Santos is a pastor based out of Fairview Heights, Illinois. The Hall of Fame wrestler had known Hal since they met in Baton Rouge, Louisiana, in 1982. The two men met before DiBiase had entered the WWE. Santos met him at a gym, later asked him what his greatest spiritual need was, and eventually, a friendship bloomed.
Even though DiBiase lived the vagabond life of a wrestler, he and Santos had remained connected.
"The last thing you want to do is give your phone number because I will bug you," Santos said.
Santos often called to check in on DiBiase in the years to follow. The wrestler didn't see it as bugging him in the least. "He kept in touch with me. He didn't beat me up with religious questions. What he demonstrated to me was the unconditional love of Christ," DiBiase said of Santos.
Santos set up a meeting between DiBiase and Melanie in St. Louis. He was to play the peacemaker between the splintered couple.
The first attempt to reach her ended quickly. "She hung up the phone on me. I think she thought it was Ted," Santos remembered.
He eventually got her to speak with him and listened to her grievances.
The pastor picked up both husband and wife from the airport separately. As Santos drove DiBiase to meet with Melanie, the wrestler knew that the road ahead would be steep. "Hal took me on the longest 30-minute drive of my life, knowing what I had to face in front of me," DiBiase said.
A Father's Influence
DiBiase didn't find God in 1992; he rediscovered him. Christianity had been in his life long before he turned to the ministry.
"I had a very strong faith as a young man," he explained.
He attributes much of that to his late adoptive father. "Iron" Mike DiBiase was a wrestler himself, first a star at the collegiate level for the University of Nebraska, where he lettered eight times. Mike later succeeded as a pro, wrestling in rings across the U.S. in the '50s and '60s.
As both an athlete and a man, Mike inspired his son.
DiBiase remembered his father telling him about growing up in a poor Italian neighborhood in New York where many of his peers' lives were rich with alcohol and jail time. Mike sought a cleaner path, set on making an impact as an athlete.
"It takes no courage to do what everybody else is doing," Ted remembered his father telling him.