9. Blake Griffin steals show at NBA Slam Dunk Contest, wins Rookie of the Year honors
I believe Blake Griffin can fly. Pretty sure he can touch the sky too. If you're not convinced, Google the words "Blake Griffin" and "NBA slam dunk contest" or even the words "Blake Griffin" and "dunk" will probably do.

After sitting out the 2009-10 season due to injury, Griffin provided Los Angeles Clippers fans hope for a bright future with his spectacular post play, defensive prowess and—okay, let's not get too carried away. Griffin turned the 2010-11 season into the "Year of the Dunk." Yes, he was pretty good at that other stuff too, enough so to earn him Rookie of the Year honors. But it was his rim rattling throw downs that gave the entire basketball world goose bumps.
7. Robert Griffin III wins Heisman Trophy
Baylor may be in a major conference, but let's not kid ourselves here. When Robert Griffin III won the Heisman Trophy while playing for a private school not known for gridiron greatness, it made an incredible statement to the college football establishment: it's officially time to quit blindly handing all the post-season hardware to traditional powerhouses like Alabama, Oklahoma, LSU and Florida.

Yes folks, the little guys are ready to take a seat at the adult table.

Of course, it wasn't hard for voters to give Griffin (famously known as "RG3") the nod. His Playstation stats and game changing moments were the stuff of highlight reel legend. RG3 finished the season with 4,293 passing yards, 37 touchdown passes and 10 more touchdowns on the ground. Baylor's 45-38 victory against Oklahoma provided one of the season's most incredible moments when a broken play with :08 left in the game led to Griffin's Houdini-like escape and subsequent 34-yard touchdown strike to Terrance Williams.
5. U.S. women fall short at 2011 World Cup; Lauren Cheney, Tobin Heath, Heather O'Reilly shine on the international stage
ABC's now-defunct series "Wide World of Sports" had an iconic line from its opening sequence that talked about "the thrill of victory" and "the agony of defeat." Perhaps no better words could describe U.S. women's soccer team at the 2011 FIFA World Cup.

From Abby Wambach's exhilarating late game-tying goal against Brazil (a game that the Americans won on penalty shots) to the shocking championship game loss against an inspiring Japanese team (also decided by penalties), the World Cup was full of incredible highs and unbelievable lows for Team USA.

Some of the brightest spots came from a contingency of Christian athletes led by Tobin Heath, Stephanie Cox, Heather O'Reilly and Lauren Cheney. O'Reilly scored a goal in a 3-0 victory against Columbia while Cheney scored a goal in the 2-0 victory over North Korea and another goal in the 3-1 semifinals win against France. For her efforts, Cheney was named to the World Cup All-Star Team.
3. Aaron Rodgers, Jordy Nelson and Greg Jennings lead Green Bay to Super Bowl victory and dominant 2011 regular season
Throughout the 2010 season, the Green Bay Packers were never considered favorites to win the Super Bowl much less represent the NFC in one of the world's biggest sports spectacles. In fact, Green Bay entered the playoffs with a 10-6 record and the #6 seed.

But thanks in great part to a trio of Christian athletes, the Packers made history by defeating the Pittsburgh Steelers 31-25 in Super Bowl XLV.

Strangely, it was Aaron Rodgers' least impressive season as a starting quarterback, but once the playoffs rolled around, the former University of California star pulled out all the stops including a stellar effort in the title game. Rodgers completed 24 of 39 passes for 304 yards and three touchdowns.

All three of those touchdowns went to a pair of Christian teammates. Greg Jennings caught four passes from Rodgers for 64 yards and two scores (including the one that put Green Bay ahead for good) while Jordy Nelson led the team with nine receptions for 140 yards and one touchdown.

Green Bay entered the 2011 season with much higher expectations and the team has certainly lived up to the hype. The Packers went 13-0 before a shocking 19-14 loss at Kansas City. Going into the final game of the regular season, Rodgers had passed for 4,643 yards and 45 touchdowns while Nelson was having a career season with 59 receptions for 1,101 yards and 12 touchdowns. Jennings (who compiled 67 catches for 949 yards and nine touchdowns) suffered a sprained MCL late in the season and was expected to return in time for the playoffs.
2. Trevor Bayne wins the Daytona 500
No one saw it coming, especially Trevor Bayne. On the day after his 20th birthday, Bayne pulled off one of the greatest upset victories in NASCAR history with a final lap win at the Daytona 500. After just his second career Sprint Cup start, Bayne was thrust into the national spotlight where his steadfast Christian faith shone through.

"If I was doing this not for a purpose but just to race, then this year, I would've been a disaster," Bayne said. "But when you have a purpose to work for something…it changes your whole perspective."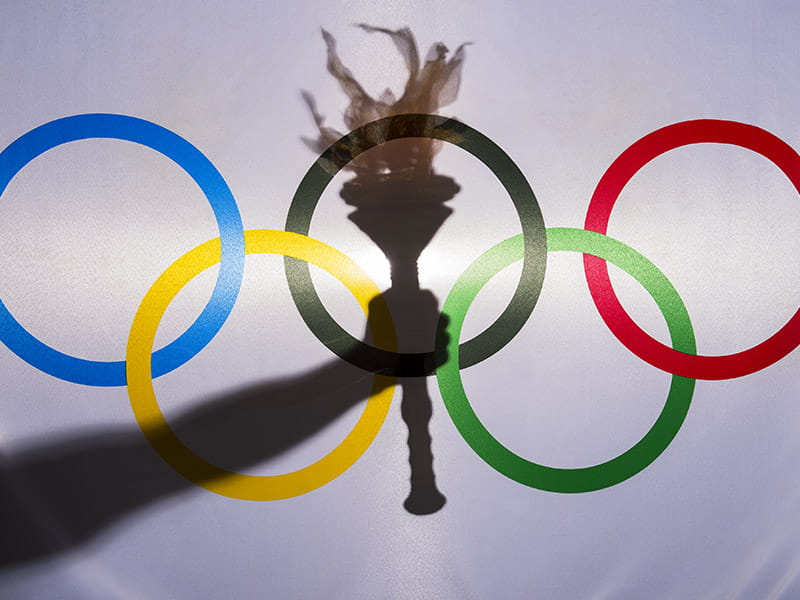 Does Faith Give Olympic Athletes a Competitive Edge?