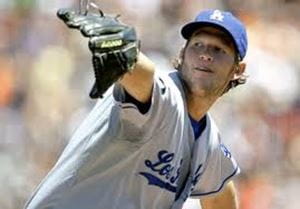 Los Angeles Dodgers left-handed pitcher and 2011 Cy Young Award winner Clayton Kershaw is famous for his wicked curve ball, but the first-round draft pick (2006) is taking his talents off the mound by sharing the love of Jesus Christ.
Kershaw visited Africa with his wife Ellen and mission-based organization Arise Africa prior to the 2011 season. It inspired them to write their first book, Arise: Live Out Your Faith and Dreams on Whatever Field You Find Yourself , which shares their encounters on the mission field. Clayton also dives into his experience in the Majors and keeping his wits during the highs and lows of celebrity life. After completing a stellar season with a 21-5 record and an ERA of 2.28, the Dallas native said he's continually humbled by the favor of God on his life. With this, and a strong woman by his side, Clayton, who is arguably the next Sandy Koufax, and will be a world changer off the field.
"It is good to know the Lord gives us a lifetime to work out our identities and sort out who we are in Christ. His calling for our lives will undoubtedly compete with daily struggles of temptation to take an easier path. The battle to maintain a Christ-centered identity is the most worthy fight we will face."
In your book you talk about that we all are a work in progress.
CK: When you live in a country like ours with so much excess, you can try to buy your happiness, try other avenues to find your happiness. It doesn't work like that. I truly believe that with Jesus in your heart you can truly be happy no matter what your circumstances are. You can have contentment and almost feel complete. A lot of people are searching for that.
How hard is that with the platform God has given you?
CK: You definitely have to keep things in perspective. I know that baseball is something I've been blessed with to get to do. When you have success and when you struggle there's two ways you can take that. For me, it's just a game, or another platform to get to do other things with God. Sometimes you want to make baseball your everything, especially when you're at the field 10 hours a day, [or] there for 162 games. You just can't make it your No. 1. That goes with a lot of people and their jobs. You just have to keep Christ in the center of what you are doing. You might not have time to read the Bible at work every day, but if you have Jesus in your heart and you're thinking about Him constantly at work, that's how I think you kind of combat that.
Has it been difficult to be a leader in the locker room because of your faith?
CK: Everybody gets along. We have a great group of guys that believe in Christ and are Christians. As far as being a leader in that, I think vocally is not the way to do it most of the time. I think you lead by your actions. It's how you represent yourself on and off the field.
How do feel about how other athletes have been so vocal about their faith. Players like Tim Tebow and Jeremy Lin?
CK: Everybody has their own way of showing their beliefs or actions of faith. You know, I respect that. That is something that is a powerful thing. I think I can relate to Jeremy Lin a little bit more. He's a little more reserved about talking about it but at the same time when he's approached, he doesn't have a problem talking about it either. I think both those guys are doing an awesome job for their sports.
Why did you decide to write this book?
CK: We thought that we had a message that could help people our age and older, just try to make a difference. We didn't think our lives were that interesting or worth reading about. But I think the message (serving others) seen throughout the book can help people, including Ellen and I.
Tell us about your experience in Africa.
CK: This year was the second time I went. The Zambians are such a joyful culture. They're the happiest and the most joyful people I've ever been around. We can learn so much from them over here. We have so much more material things than they do, and yet we are still searching for that happiness. When they hear the words of Jesus, it clicks. They just drop everything and believe. It's a pretty cool thing. It's almost like they're searching for something to believe in and over here we're almost searching for ways not to believe in it.
Which Bible verse anchors you?
CK: My favorite verse is Colossians 3:23. "Whatever you do, work at it with all your heart, as working for the Lord, not man." I think I am so blessed to have the talent to play baseball and I realize that. At the same time I think God gives us time to work at it so we can get the most out of it to glorify Him with it in everything we do. There are going to days where you don't want to go to the field and workout and do whatever you have to do. You have it back of your head that you're not doing it for yourself; you're not doing it for the coach, you're not doing it for your teammates—you're doing it to glorify God.
The Kershaw's Challenge was set up to benefit children in need and donated $100 for every batter struck out during the 2011 campaign. The couple has raised $492,300 towards building an orphanage in Lusaka, Zambia, named Hope's Home. To find out more about Kershaw's Challenge.
Make sure to pick up the Kershaw's new book, Arise: Live Out Your Faith and Dreams on Whatever Field You Find Yourself, and get ready to be inspired by this power couple!