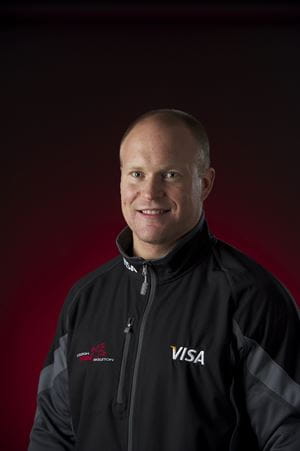 At the 2010 Winter Olympic Games in Vancouver, Canadian bobsled driver Lyndon Rush was the comeback kid. After a disappointing wreck took his two-man team out of contention, he bounced back with a surprising bronze medal performance in the four-man race. Now that the 2014 Games in Sochi are upon us, Rush is back again for more one more shot at Olympic glory.
In this interview, the college football player turned bobsledder talks about how he got into the sport, the role that faith plays in his life and his ultimate goal as a competitor:
Chad Bonham: How did you get involved in bobsledding?
Lyndon Rush: I played football at the University of Saskatchewan. I had just finished my last year and that was the same year that Vancouver had won the bid for the Olympic Games. Canada started a program called "Own The Podium." They started raising money to put into the winter sports and they were doing a lot of recruiting at that time. So I went out and gave it a try and I really enjoyed it and it just went from there. But most of the guys come from track or football. In Europe there are some guys that grow up doing luge and then they go over to bobsled. You're not even allowed to slide until your 18 years old. So those luge guys will turn 18 and then switch over to bobsled.
Bonham: What does it take to be an Olympic athlete?
Rush: When I first started, I was right out of college and my wife and I were living in a small town in Saskatchewan. The bobsled program was located in Calgary, Alberta, and we moved over there. I took a job at a home improvement store and my wife got a job at a clothing store and we did that for a while. We both grew up in a small town but my wife especially didn't like Calgary because it was such a big city. While I was going to college, my folks moved from Saskatchewan to a town that's pretty close to Alberta. So I went to work for my dad in real estate. I was doing bobsledding and real estate for my first four years. I decided I wasn't very good at either. I needed to go all out in one direction. I was training full time and I was working full time and I was a husband full time and I was a dad full time. It was too much. So I decided I was going to quit working in real estate and just train year-round. My results got a lot better but my income went down (laughs). But I made the Olympic team and we ended up winning the medal. That's what I wanted to do. I wanted to do it the best that I could and not just do it halfway.
Bonham: Tell me about your spiritual journey.
Rush: I was raised in a Christian home. Both of my parents are believers. We did family devotions and went to church all the time. I became a Christian when I was six years old. I was a little guy. It's kind of cloudy, but I remember asking Jesus into my heart when my dad and I were golfing. I knew the story but he explained it to me that I needed to ask Jesus into my heart. I remember sitting down on a park bench and saying the prayer. And then I guess growing up and getting older, I had a lot of good spiritual experiences at summer camp. I'd get recharged out there. I remember a few times when I'd get rededicated. But I don't remember my life as a non-believer. I never really had a time when I didn't believe. I screwed up lots but I can't imagine my life without Christ. I guess it's sort of boring, but that how it happened for me. I'm so blessed.
Bonham: Can you talk about a biblical principle that God has revealed to you through your Olympic experience?
Rush: We have a chaplain in Calgary named Steve Sellers. Leading up to the Vancouver Olympics, he kept telling me, "You need to be spiritually fit for the Games." Everybody knows you need to be physically fit, but he kept pounding that in me. I took that to heart and I really was (spiritually fit). I was in a really place in my walk at that time. During my Olympics, we had chapels every night at seven o'clock. There were chaplains from all over the world and it was really neat how one night we'd have the Austrian chaplain and the next night it would be the Russian chaplain. There were two really good American chaplains. It was awesome. We had praise and worship and a message. It wasn't a big group, but there was a solid group that would come together every night.
In the two-man race, we were one of the favorites to win the gold medal. We were really good. But then we crashed. That was sort of my highlight of the Olympics—the way it all worked out. I remember clearly. After the first heat, we were sitting in third place but we were pretty close to first place. In the second heat, when we crashed, I was really devastated. I was really mad. I remember laying in the sled when it was still upside down and had finally come to a stop. My spiritually training kicked in and I said to myself, "What do you have to be thankful for right now?" And immediately I thought about one of my teammates Chris Le Bihan who races with me in the four-man. His wife had a baby that same day. And I thought, "Thank you God for that healthy little boy." Happiness is about what's happening and sometimes you're not happy, but joy is more of a choice. You can develop joy. And the trick to developing joy is to think about what you have to be thankful for. No matter how bad things are, you can always think of something to be thankful for. So during that time, I started to develop some joy. I wasn't happy at the time, but I got up out of the sled and I had to talk to the media right away. If it hadn't been for the Spirit giving me some joy, I would have said some stupid things, but I didn't. I handled myself not like I would've on my own. I remember going home that night and I was in the shower just weeping with joy. What I thought was this terrible thing happened. I'd been training for this so long, but I was in a really good place and I wasn't devastated.
We had to regroup and move on to the four-man race. I shared that experience with my other teammates and we all thought of something we were thankful for, because they were devastated too. So in the four-man competition, we were in a really tight battle for second place. I was quoting Philippians 4:6 over and over again in my head: "Be anxious for nothing, but in all things, through prayer and supplication let your requests be made known to God and the peace of God will grant you all understanding and guard your heart through Christ Jesus." As I said that over and over, the peace of God started to guard my heart and it took the weight off and my request was that I do my best and that my guys would be safe. I knew He would do that for me. We went on to have a great race and we got beat out for the silver by one-hundreth of a second. We weren't even a medal favorite in that event but we just nailed it those two days and we ended up having an Olympic medal experience. The whole Olympics was really a spiritual experience for me—the ups and downs. It was so cool. I remember it so clearly. I was so thankful for so many things.
Bonham: What do you want other people to take away from your story?
Rush: What's really important in life is what God wants us to do and how He wants us to be used and how we handle all sorts of situations, good or bad. You just have to give glory to Him. We don't really know what God's plan is for us. You need to remember that in good times and in bad times. For me, in was a bad time where God really used me. It was the worst thing that could ever happen in my mind. The way it all turned out, God was being glorified through the situation.
Bonham: I assume you've seen a lot of athletes deal with depression when they've failed or fallen short of their goals.
Rush: Yeah, but it goes both ways, even in the success stories. People rest on that and then they're miserable afterwards. You can't be fulfilled by success. The praise of man feels really good. We need to fight that. That's not what we're here for. We're here to please our Maker. It's really easy to get caught up in hearing people tell you how awesome of a job you did and how proud they are of you. Because it feels really good when people tell you that. That's something I fight daily. We want to be praised by other people. I always try to remember that it's not my goal. People get depressed from success because the praise of man goes away and humans let you down. But if your life goal is to glorify your Maker, you'll never have that empty feeling.
Follow Lyndon Rush and all of the Olympic athletes at www.NBCOlympics.com.
For more great features on Inspiring Athletes, visit Chad's blog today.
Photo by Todd Korol