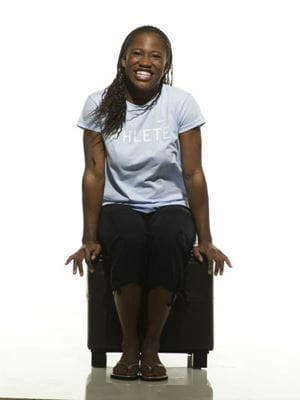 It's hard to think of Lauryn Williams as a veteran Olympic athlete. But at the age of 30, that description certainly fits. Williams dashed onto the scene 10 years ago with a surprising silver medal performance at the 2004 Summer Olympics in Athens. She failed to medal in 2008 but returned to the podium in 2012 to receive a gold medal alongside her 4x100-meter relay teammates.
Not ready to call it a career, Williams traded in her track cleats for bobspikes and has found renewed energy as a key member of the U.S. Women's Bobsleigh Team.
But more importantly, Williams has grown in her Christian faith and come to a greater understanding of what it means to have a relationship with God. In this interview, Williams talks about her athletic journey, the transition into bobsledding and how she hopes to impact others through prayer and influence:
Chad Bonham: I remember your first Olympics in 2004 when you were one of the younger competitors and you had a lot of expectations within the track community. How much of that 21-year old athlete has remained and how much has changed?
Lauryn Williams: I think I am very different now than back then. The talent is still inside me and the fight has recently resurfaced but other than that I am completely different.
Bonham: After some disappointing results in the previous Olympic relay races, how satisfying was it to finally get the gold medal in 2012?
Williams: It was wonderful to be a part of helping that team get a gold medal. The lesson for me was learning how to play my role and appreciate it.
Bonham: How did you first get interested in bobsledding?
Williams: I bumped into Lolo Jones at an airport and I asked about her experience.
Bonham: How quickly did you pick it up and what were some of the early challenges?
Williams: I am still learning each day. I stink at sanding runners and anticipating what needs to be done next. But I am a willing worker as long as someone tells me how to be helpful.
Bonham: What about the sport have you most grown to love?
Williams: It's a small culture that loves what it does and could care less about fame and fortune. Bobsledders just want to do this because they love it and it shows each and every day.
Bonham: How significant is it that you (along with Lolo) are amongst a small group of Americans (10) to compete in both the Winter and Olympic Games?
Williams: It is a great honor and pleasure.
Bonham: Tell me about your spiritual journey.
Williams: I was running away from a relationship with God because my father was forcing it on me. I went to find my own church to spite him and actually ended up loving it. From there, I began to grow in my own personal relationship with Christ.
Bonham: For you, what does it mean to be a Christian athlete and do you feel any extra pressure that comes with the platform?
Williams: It's all about understanding that God is behind every performance, good or bad, and that trusting Him will always leave you satisfied. Also, it's about being given a grand stage to show your faith and God's love through your performances. I really don't feel any extra pressure being a Christian athlete.
Bonham: What are some specific ways that your faith in God has helped you through challenges in your athletic career and your life in general?
Williams: I've been able to trust that He always has a plan for me and that everything is happening according to His plan.
Bonham: What are some things you feel like He is teaching you today through His Word, through His Spirit or through the example of others?
Williams: I am learning a lot about collaborating and understanding different perspectives. I have not worked in this sort of team environment before so I have a lot of room for growth. I'm also learning how to pray for others in a more specific way than I have done previously.
Bonham: How important is it to have teammates that share your beliefs and how often do you lean on each other for spiritual and emotional support?
Williams: It's tough when you're unsure about a teammate's beliefs or when you have to standby as you watch a non-believer struggle. As I get older, I often see how knowing and believing God's words can prevent and relieve both major and minor conflicts. I try to exercise wisdom and understanding so I can be a positive example.
Bonham: What is the ultimate message you want people to see through your life as an athlete, an Olympian and as a follower of Christ?
Williams: It is better to be happy than sad, grateful instead of entitled, and loved by the Lord than loved by the world.

Follow Lauryn Williams and Team USA at www.NBCOlympics.com.
For more great features on Inspiring Athletes, visit Chad's blog today.

Photo © NBC Universal, Inc.