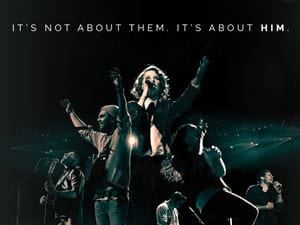 Pure Flix Entertainment
Music can be a movement and when you watch the documentary on one of the most influential Christian bands in history you will observe, that this is understated. Hillsong "Let Hope Rise" offers more than a catchy tune, or showmanship on tour, there is something special--an anointing that links millions of Christians over the world through worship.
Maybe you are thinking "It is just a movie." Yeah, this is what many people will think, but the experience goes deeper than just catching a flick on a Friday night. As sappy as this does sound, the film will motivate you to do good regardless if you are a believer or not. There is a profound message of love—a feeling of warmth, not one that is filled with hype, or flashiness. This can be a personal moment between you and God when you purchase a ticket. The film is also more than a story--it will transcend all preconceived notions of a Christian movie. It is truly remarkable, special, and is a good tool for the church to use in the community as an outreach. If you are the one that needs some inspiration, the music alone will refresh you.
One can't deny the chills felt when the Hillsong United Band starts to worship, and emotions that fill the heart. Famous Songs like "Shout to the Lord," "Oceans," "Alive," "From the Inside Out," "Hosanna," "Lead Me to the Cross," "Relentless," "Cornerstone," and "Search My Heart" have gripped the church, some songs for years. The band's music have been translated into 100 languages, and they have sold over 20 million records. Profiled on mainstream networks and television shows like Today and Good Morning America and featured in Time Magazine-- Hillsong United's influence has no borders. Not bad for a movement that started as a one-room church outside of Sydney with 70 people in 1983 by Bobbie and Brian Houston.
The feature film will take music fans on a journey that started in 1998 as part of Hillsong Church in Sydney, Australia to their sellout concerts all over the world. This is not a film to promote the band, but to share the outreach and impact that worship has on people from the big concert venues, to remote villages. "God created music to connect people, and these songs are for people to sing and not to just listen to," guitarist Joel Houston said. People are taking the journey with the members who comprise of worship leader Taya Smith, Jonathon Douglass (guitar), Jadwin Gillies (guitar), Matt Crocker (guitar), Dylan Thomas (on rhythm guitar), Timon Klein (on lead guitar), Adam Crosariol (on bass guitar), Peter James and Benjamin Tennikoff (keyboards) and Simon Kobler (drums).
Unlike many films that document the success and day-to-day outings of a world-renowned group, fans will be refreshed and even inspired by the humility of it members. "Music has always been something that connects me to God straight away and I realize, who am I to, like, lead these people? I'm just a country girl," Smith shared in an interview during the film. The movie shared these testimonies, what it is like to be on tour while recording a new album. But the story doesn't end there. The members are rooted in community projects as they support charities that feed, clothe, educate, and rescue victims of human trafficking on a global scale. Something they've all been involve in. There are scenes where the band was on a mission trip to areas of severe poverty, and ministering to those hurting. They do not want to be considered rocks stars as many of the members are employees and volunteers of the church. Gillies stressed that the success has given the band a platform to reach more people, nothing more. The members do not live like rock stars. They are about getting God out there, and the film illustrates this humility and saving souls for the Kingdom. "We want people to come on this journey with us," Gillies offered.
When approached about making the film, Houston did not believe it would be a good idea. He was afraid that people would believe it was about self-promotion. And he wanted nothing to do with it, but warmed up to the idea after realizing the positive impact it could have on people. "My fear about the movie was that people would think it was about us. Or that we were trying to promote ourselves. That's not what we're about," Houston said. Once they gave the green light for the project the filming took over eight months. The band was not used to the cameras and had to adjust accordingly. The crew would shoot in two or three-week segments. "We had to remind ourselves sometimes to just be ourselves, and we carried that out. For instance, if there was a good moment of interaction between the group that the cameras missed, and they asked us to do it again for film, we would not do that. We're not actors." Hillsong's film is creating buzz not just with fans, but with celebrities who feel truly inspired by the music. NBA star Kevin Durant, singer Selena Gomez, and actress Vanessa Hudgens are huge fans of the group's worship songs. "They really focus on you having your own personal relationship with Jesus, which is wonderful," Hudgens told the Gospel Herald.
If you loved the music in church, you will adore this film as it is remarkably exhilarating to watch. What is even more impressive is you don't have to be spectator with Hillsong "Let Hope Rise." You can actively join with the team and worship, even in the movie theater. You can't predict what the Holy Spirit will do, but just be open to the film, and how God may be nudging you. Maybe you can start a prayer group, help the poor, or start a Christian band. It can begin small just like God did with Hillsong United when they were just jamming on a Friday night. Now they are the hugest band that people now know.