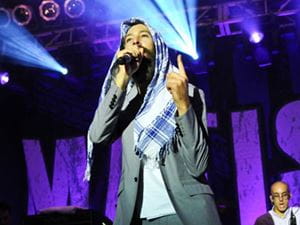 I'll be honest. I was determined to make Matisyahu smile.
The Grammy award-nominated reggae rock star who sings boldly about his Jewish faith is generally reserved in interviews. However, on stage, he rules the crowds with his rapid-fire lyrics contrasted by his slow motion dance moves. As I stood backstage at the NorVa Theater in Norfolk, VA, where Matisyahu would perform later that night, I am curious what makes moves the Hasidic Jewish man.
When we meet, he is very tall and in street clothes, but still dons his yarmulke and sidelocks. After spending the afternoon at the movies with his young sons, he is relaxed on a backstage couch during our interview, but well aware that in a few hours he will take the stage as part of a tour that goes from the heartland of America to Moscow.
"The best part of touring is the opportunity to make the music," he says. "You get to do what you love and have the ability to go out on stage every night and create."
Matisyahu makes music that is close to his heart and his Jewish faith. He's been singing reggae rhymes that give praise to God since his 2004 debut album Shake Off the Dust… Arise. He's most widely known for his live album Live at Stubb's in 2005 that eventually went Gold, led by the chart-topping single "King Without a Crown". His second studio album Youth earned him a Grammy nomination for Best Reggae Album. When I ask him if this is all too surreal, I can tell he takes it all in stride.
"I guess my whole life somehow I felt prepared. Something like this was going to be the case. I was either going to be an outcast or I would be appreciated by people," he says. "I always knew I was different and that people had opinions about me. I guess I learned as best as I can to shield out a lot and live my life from within."
Living from within is what has always set him apart. While rap stars boast about money and rock stars pin over love, Matisyahu sings about Yahweh. In the mid-2000s, he was known for performing in the traditional black hat and coat. He says he has an ever-evolving relationship with Judaism that is expressed in his songs.
"In 2004, when I started recording my first CD, I was coming right out of yeshiva. So I had spent two years completely immersed in the Hasidic culture, disconnected completely from the secular world – movies, music, people," he recalls. "Now it's been five, six years of being on the road and living my life. So when I came into it, I had this protective layer around me."
He pauses. "I think in general as you get older and have more experience you open up more and you explore. It's more of an organic evolution. [I'm] trying to appreciate the small moments and the little things. The people that I meet that are really touched by the music really affect me."
Touring offers Matisyahu a chance to meet those people. He tells me about the night prior to our interview when he was in Charlotte, Virginia.
"I was signing autographs. It was over an hour, maybe more – just people telling me their stories and how they like the music," he says. "Yesterday, we had a boy who died. I think he was 19; he died in his sleep. His favorite song was 'I Will Be Light'. He was a big fan. They made his soccer jerseys, because he was good soccer player. They made jerseys that all said, 'I Will Be Light' on them. His mom came to the show, and we dedicated the song to him last night. It was pretty cool."
Sometimes, a connection with a fan leads to something more. Recently, he launched Elijah's Song after a chance encounter with a special young fan.
"Where I lived in Brooklyn, there's a shul synagogue, but it's a central point in the community. Everybody is always in there praying three times a day," he describes.
He was approached by a man who wanted him to meet a boy who was suffering from cancer. Matisyahu didn't find it to be an unusual request, and eventually he met Elijah. "We connected right away. I really took to him. Special, special kid. We stayed in touch over the years. He would come to shows. I went to his bar mitzvah. Things were good for a while."
Doctors were not optimistic about Elijah's condition; however, he lived much longer than expected. "They didn't think he was going to make it. They told him months, and he lasted for years," Matisyahu says. "In the end, we had a show and he came to the show and then got sick and went back into the ICU. Then we knew there wasn't a lot of time. We recorded a song. We didn't know that he was going to die until the next morning."
After Elijah passed away, Matisyahu went into the studio and finished the song that he wrote with the young man. What came out of it was "Elijah's Song". The creation has a dedicated Web site and proceeds from sales go towards Elijah's mother to help pay for hospital costs. She also lost her husband to the same disease.
Matisyahu's music matters to his fans a great deal, and he makes the concert experience to match. He says, "The main thing is to give people an experience through the music – a way to be in the moment and use the music as a tool for that. When people come to a show, they can lose themselves in the music and have some inner experience."
Later that night, Matisyahu took to the stage like he was born to be there. When he dives into the crowd, he makes his way to his feet, supported by the fans below him. He looks around at all the people who he has entertained and inspired this evening. And he breaks into a grateful smile knowing he's accomplished exactly what he's meant to do.
Matisyahu's latest album is Live at Stubb's Vol. II. To see current tour dates, visit his Web site.