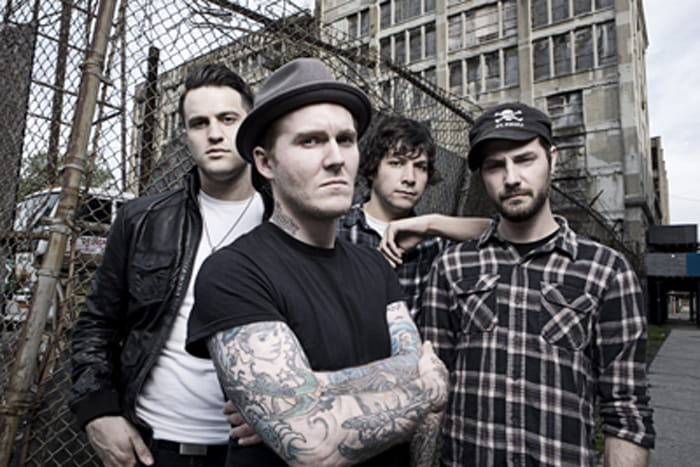 Brian Fallon, now 32 and frontman of The Gaslight Anthem, must have sparkled after he, as a 13-year-old American kid from Jersey, discovered one of the most influential records of the Redcoat punk scene: The Clash's self-titled debut which chartered dub, reggae, rockabilly, funk, and ska. Fallon discovered a British aesthetic that forever changed the musical landscape in the '70s. This revolutionary underground welded, nailed, and taped bits and pieces of rock and roll for the disaffected youth of the world. Forty years later, the punk rock sounds of the past are alive and well thanks to singers like Fallon. And while Fallon's New Jersey com padres, The Gaslight Anthem, aren't a combo pack of varying styles and tastes that were perfected by the Clash duo of Joe Strummer and Mick Jones, Fallon's attraction to the right music clearly honed his edges as the adept songwriter he is today. Handwritten, Gaslight's fourth full-length recording and first for Mercury Records, isn't perfect, but it is a full-on testament and continuation of punk sounds and folk ethos that Gaslight has embodied since their creation in 2005.
Following a side project The Horrible Crowes—a two-piece of Fallon and TGA guitar tech Ian Perkins who released a delicate, introspective record, Elsie, early last year—Fallon puts Gaslight back on the road with 15 brand new rockers to mix in the set list. Where earlier records, The band;s earlier recordings--
The '59 Sound and American Slang--are consistent with their thinking-man's post punk anthems and Fallon mixes romantic gusto, whispers of post-bebop jazz ("Miles Davis and the Cool") and a waft of a sultry lounge scene ("The Diamond Church Street Choir". Handwritten, however,is a more straight up classic martini: gin please; no lemon spirals; little vermouth; garnished simply with skewered olives.
Musically, one could draw comparisons to the fertile classic radio era of Billy Squier's Don't Say No with a bigger, glossier sound than previous records. There's a Soungarden-esque number "Too Much Blood" and notebook of jottings taken from the Tom Petty school of guitar.
The most obvious comparison to TGA's sound comes from the shallow reviews of rock journalists who are quick to pull out The Boss and his E. Street Band. It's easy to do: Fallon hails from Jersey; both are lively, charismatic, front men; and Fallon's raspy throated singing closely resembles a rugged, flannel clad, unshaven Bruce. Handwritten was even produced by Brendan O'Brien (a two-record producer for Bruce Springsteen, Rage Against the Machine, Paul Westerberg…). But while O'Brien may have put more sheen on the wax and made the young men clean the dirty fingernails before dinner, The Gaslight Anthem is a serious band with their own sound, their own charisma, and their own vision. And Handwritten holds its own.
Through 11 songs, TGA (also available in an expanded 14-song edition) clangs and rumbles like a locomotive strutting railcars at a street crossing. Perhaps it's the consistent dank-dank of the boxcars that attracts the sleeping hobo as the soundtrack and near-sided refuge. Handwritten has the same effect. It's powerful yet comforting, sort of the antithesis of a Tom Waits record to a suburban sorority girl. The accessibility of rollicking numbers like the title track, "45," and "Desire" are big. Each serves as catalysts for an arena rock band. Large pop-up anthems ascend, crash and explode with anthemic, cathartic emotion. But there are a lot of them. Without the mid tempo center starting with the fifth track "Keepsake" and through to the seventh track "Howl," Handwritten would take bit of heavy rotation on the ears before the songs establish their individual identity to the discernible listener.
One of the most interesting songs is track 3, "Here Comes My Man" (not to be confused with the Pixies' radio hit of the 1980s, "Here Comes Your Man"). Fallon immerses himself into the persona of a disparaged girlfriend (or spouse) tangled in the control of the archetypal alpha male. In fact, the song's ironic twist places the title in juxtaposition with the lyrics. On one side, the song title suggests a lovely relationship between a man and women. The lyrics, however, suggest another. "Let the good night decide who she wants me to find/And I'd never let you drop another tear in my eye," sings Fallon in the song's opening stanza, his throaty howl and gruff vocal chords remindful of a dry hard-drinking past for an invigorated traveling, fast-talking revivalist. "Here Comes My Man" urges the an abused relationship to relinquish themselves of oppressiveness. Indirectly, it advocates the de-shackling of materialism, blank emotions and encourages true men to seek honor and favor by being true men—soft when need be, understanding always, flexible at the request, and transforming from selfishness to selflessness.